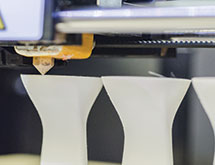 Why Outsource?
In today's discrete manufacturing ecosystem, humans and machines work in tandem to cut, drill, mold and assemble an unending variety of parts. Finished goods are pushed out to distribution through warehouses, stored and sent to customers as needed. In general, made-to-stock is far more prevalent than made-to-order.
Manufacturing locations are commonly determined by the lowest cost of raw materials, labor, facilities, freight, taxes and insurance. Factors such as quality, fulfillment reliability, production time, delivery time and public image are balanced against price incentives to narrow the field of potential manufacturing locations. 
Advanced logistics have allowed manufacturers to trade local labor for outsourced production. Remote inventory tracking, fully-integrated logistics services, port automation and a complex web of cargo carriers have made the world a smaller place. As long as the total landed cost for outsourced manufacturing outweighs the price of local production, and fulfillment lead times remain reasonable, then finished goods will continue to be shipped half-way around the globe. 3-D printing, however, is poised to upend this traditional logic. 
Disrupting Manufacturing
3-D printing provides manufacturers with the following advantages:
+ Increased raw material utilization – Instead of starting with a block of raw material and carving out desired components, additive manufacturing stacks thin layers of metal, resin or tissue to create components. As a result, very little waste material is produced, fewer seams require welding or bolts, and surfaces can be extremely thin (<16 µm).
+ Rapid prototyping – Instead of investing a pile of cash on injection molds or hand-machined components, 3-D printers can create extremely complex on-demand proofs. Production-grade prototypes can be generated by design-oriented designers, without the need to involve fabricators. As a result, turnaround time for certain products can be significantly reduced to match market demand.   
+ Reduced labor – Industrial 3-D printers can produce extremely complex components without human error or unnecessary welds. For example, NASA is now 3-D printing rocket engine injectors and combines sub-assemblies into a single part. The traditionally manufactured version required 115 parts and a year of skilled craftsmanship; the 3-D-printed version requires just two pieces and less than four months to produce.  
+ Ability to rapidly alter "production lines" – If traditional production lines are the equivalent of the Gutenberg Press, then 3-D printing is comparable to an inkjet. Traditional manufacturing generally requires time and people to retool equipment between varying batches. In contrast, 3-D printing changeover simply requires a user to upload a new 3-D print file. 
+ Reduced Footprint – Compared to assembly lines with people and robots, 3-D printers can be relatively small. While large-format industrial printers that can print entire car frames are just hitting the market, desktop models that can print complex phone-size components are widely available. The challenge with justifying the footprint of 3-D printers to date has been print speed. A warehouse full of printers that each output one component per day may not offset the benefit of injection molding. New 3-D printer models, however, such as Exone's S-Max, show massive improvements in print speed: the S-Max can produce resin objects up to 70-inches long on the x-axis with 1/7000-inch layers in just 45 minutes.
Logistics Goes Local
As the cost of outsourced labor and oil continues to increase, and the price of 3-D printing decreases, remote regions lose their seduction of total landed cost. Without a significant price advantage, manufacturers are not going to pay for overseas production when they can improve service levels, reduce logistics cost and increase flexibility by establishing additive manufacturing facilities closer to their customers. 
High-volume manufacturers that can tolerate a low frequency of customization, long lead-times and larger inventory stockpiles for bulk discounts are the exception, and they will likely stick with low-cost global production hubs for the foreseeable future. On the other hand, manufacturers that need lean inventory, short lead-times, the ability to quickly respond to market changes and a greater degree of customization are going to use 3-D printing to bring their production closer to home. In an analysis of the global aerospace industry's maintenance, repairs and operations (MRO) parts market, PwC estimates a $1 billion savings in material and transportation costs alone if just 20 percent of the industry's MRO parts are 3-D printed; if 50 percent are 3-D printed, they estimate $3.4 billion in annual savings.
Instead of transporting finished goods across the world, industrial manufacturers will establish regional 3-D printing hubs that require minimal labor and result in faster turnaround on production runs. 
By localizing 3-D printing facilities in high-demand regions, manufacturers can avoid taxes, shipping expense, customs delays and holding costs. Through this regional 3-D printing model, inventory is produced as needed by the end-customer instead of resting idle in a warehouse. 
Demand and supply communication between buyers and suppliers will become even more critical with narrower margins between orders and deliveries. Real-time visibility into available inventory, manufacturing disruptions and shipping times will be key to ensuring a lean manufacturing chain – even a local one – meets the expectations for customer service and satisfaction. 
The Future is Now
This is not a distant concept – at the current rate of improvement, additive manufacturing will be commonplace within five years. According to Morgan Stanley, "AM industry growth over the last 25 years has been 25.4 percent, and 27.4 percent in the last three years." Forecasts for 3-D printing vary by firm, but Canalys estimates the market for 3-D printed products and services will increase from $2.5 billion in 2013 to $16.2 billion by 2018. Wohlers estimates conservative growth to $10.8 billion by 2020, and Morgan Stanley predicts a bullish $21.3 billion by 2020. Although these growth estimates vary considerably, the theme of imminent massive growth seems consistent.
Rapid improvements in printer prices and speed will drive this growth and change the landscape of traditional manufacturing. By taking advantage of more localized production, companies will be able to decrease total landed costs, increase speed of delivery, reduce the reliance on skilled laborers, and funnel resources into design improvements, becoming increasingly competitive in this changing market.