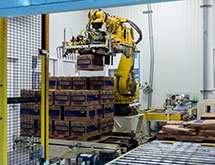 With responsibility for manufacturing, quality, safety and transportation of diverse product lines such as Fleischmann's Yeast and assorted bakery ingredients, the supply chain efforts at AB Mauri North America are specialized and unique. 
"We've got some liquid products, some refrigerated products, some dried products, and we've got a difference in shelf life from 20 days to two years," Vice President of the Supply Chain Brian Lundquist emphasizes. "A number of different products are customer-specific – one SKU, one customer. Those are a challenge to be effective at planning and manufacturing and getting to the customer on time, while still trying to maintain the right inventory and service levels. While we lack technological solutions to do all that, for us, it really has to be done through critical thinking and human intervention."
Among the supply chain improvements made within the last year is the installation of a transportation management system. "That will help us both be more effective and also leverage our overall spend," Lundquist declares. "It will give us much better visibility into each of our industry routes and lanes. It allows us to take our spend, and through the LeanLogistics network, we can then have access to about a thousand percent increase in leverage on our spend."
If one carrier has more competitive rates or if one of AB Mauri's half-full truckloads can be combined with another company's half-load, economies can be realized. "Being part of the larger AB Mauri conglomerate, we are in the process of installing a quality document management system," Lundquist adds. "That will help us be more productive and flexible on documentation to our customers and then in the quality arena."
AB Mauri North America also has the capability to track its loads using GPS. "We have the ability to do real track-and-trace," Lundquist announces. "We get real-time feedback as to where our loads are and how far out they are from the destination. Before, we were relying on cell phone contact with the driver of a truck. So we feel like we're able to better manage the exceptions, such as when an ice storm or something like that comes along."
Continuous Improvement
Additional improvements in the past 12 months include a yeast quality management system to document and audit the company's yeast manufacturing system. "Then we have kicked off a quality program that's about process tools, a review and accountability process and continuous improvement," Lundquist says.
Rather than hire employees to work on continuous improvement, AB Mauri North America has chosen external partners. "We made a choice that it would be more effective for us to partner with somebody externally than create and hire the folks internally," Lundquist says. The company selected the Phase 5 Group.
One example of an improvement is a reduction in changeover time when manufacturing equipment is being switched to produce a different product. "If you've got to take off a product contact part that needs to be cleaned and sanitized, if you have a spare set of those that can be cleaned, washed and sanitized and then in the queue and ready, you take the old ones off and put the new ones on, so you've taken that whole time out of it," Lundquist points out. 
Another improvement is reducing waste and product loss. "If you have a leak in a system or an operation that requires you to open up the system, once the product hits the floor, it's got to go to the landfill," Lundquist notes. "So you stop the leak or you put a receptacle on that's fit for use to capture the product before it hits the floor and find a way to reuse it."
Key Carriers
AB Mauri North America plans to compare its third-party carriers to concentrate its business on the best of them. "We've got well over 100 transportation providers," Lundquist calculates. "Right now, we'd like to get that to a much smaller group. Once we get our transportation management system up and running, we will look at which of our transportation carriers we think are the best overall in terms of on-time quality of service and cost. Then we will concentrate our business with a few key suppliers."
Approximately 90 percent of AB Mauri's products are shipped by truck either refrigerated below 45 F, in tankers if in liquid form or dry primarily in the United States and Canada. Dry products also are shipped by rail to the West Coast from the company's Greenville, Texas, plant where they are manufactured. AB Mauri has a sister company in Veracruz, Mexico, that handles its business south of the border. It also sends a small number of products to Europe and Asia.
For the future, Lundquist would like to improve the company's production planning. "We're not using any advanced algorithms or software to really give us any guidance," Lundquist says. "It's completely done on history. It's a pretty dynamic business that we have without a lot of technology solutions, so we rely on our people to do a lot of the critical thinking and a lot of the management."