The Advisory Board Company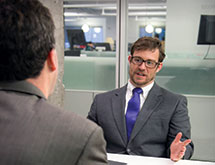 Healthcare has always been a small margin business, but the pressure to find ways to reduce costs has never been greater. In an era of aging baby boomers, the Affordable Care Act, and a new reimbursement model, hospitals are challenged constantly to improve financial performance along with improving clinical outcomes. This is why The Advisory Board Company created its Services Sourcing Impact (SSI) practice to help hospitals transform the ways they negotiate for purchased services and generate tangible results.
"SSI was created because The Advisory Board wanted to get  more deeply involved in financially oriented consulting, as its healthcare clients were looking for sourcing advice and bottom line results," SSI GM and Managing Director Rick Conlin says.    
Savings and Performance
The Advisory Board is a global technology, research, and consulting firm that serves as a performance-improvement partner for 200,000 leaders in more than 4,500 organizations across healthcare and higher education. The company created SSI in 2012 to help hospital clients maximize savings while improving service quality and performance, enabling them to move beyond high-level benchmarks and dead-end opportunity assessments to find immediate savings. 
"Contracts are typically fixed price, performance based and directly drive reimbursement," Conlin says. "We find ways to optimize contracts and ultimately save hospitals money."
SSI provides hospitals with robust value analysis. It also identifies and validates the best opportunities, engages end-users to ensure alignment with their requirements, and negotiates signed agreements with suppliers that ensure market-leading service performance and incentives for ongoing cost control. This is all done via a cadre of senior consultants and attorneys with deep experience in their respective service categories.
"We are looking at multimillion-dollar, multiyear contracts in the performance-based, fixed-price categories," Conlin says. 
SSI is also finding deeper engagement in IT categories, data centers, energy services, transportation and capital improvement projects. The healthcare sector is looking for consulting services like those provided by SSI to take on the execution aspect of contracts. Rather than just devising plans, hospitals are looking to SSI because it can carry out plans in many categories. 
SSI's approach includes detailed purchased-service metrics to guide end-users to the right specifications for client needs, maximizing outcomes and quality. SSI engages in rapid market discovery to validate savings and confirm the best approach for rapid gains, and it can level the playing field with vendors. It has integrated legal expertise that allows it to hold vendors accountable and establish standards for performance improvement.
Phased Approach
SSI's solutions proceed through three distinct phases: opportunity and strategy identification, negotiation, and contract creation. During the opportunity and strategy identification phase, SSI develops a custom sourcing strategy that best correlates clients' opportunities with feasibility of implementation. 
In the negotiation phase, SSI finds all possible value levers to drive optimal award scenarios and integrates all total cost factors to prevent vendor cost shifting and enable true cost assessments aligned with client needs. In the contracting phase, SSI creates negotiated term sheets that are category-specific, drafting and negotiating contracts according to a client hospital's terms. SSI's legal team partners have completed more than 100 contracts, which have yielded an average savings of 10 to 15 percent in every category.
"We have sourced about $500 million of events for American hospitals and helped save +$80 million in actualized, not theoretical, results," Conlin says. 
What may be surprising is the fact that vendors are fairly open to this process. They are aware of the negative effects of bad contracts and know that they can end up taking a loss if their commercial relationships don't reflect the right level of need or are not adequately detailed. 
"We can cut costs for the hospital while creating higher-margin contracts for the service provider," Conlin says.  
SSI is further scaling its services and investing in new capabilities and technologies based on the needs of clients.  
"We must consistently deliver results while getting into new categories and more complex areas of spend," he says. "We work closely with hospital leaders to help them become engaged and keep things moving in the hospital outside of the c-suite. This momentum's fruition carries our results to the bottom line."