Beth Israel Deaconess Medical Center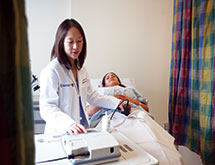 Beth Israel Deaconess Medical Center takes a more strategic approach to its supply chain by implementing new practices and state-of-the-art technology that have helped it cut costs and obtain better products. 
"We need to make sure we have the right products in the right place and with more financial and cost-cutting pressures, the supply chain has become more strategic by working closely with all departments," Director of Purchasing and Contracting Steve Cashton says.
Beth Israel Deaconess Medical Center was established in 1996 after two hospitals became one. Today, Beth Israel Deaconess Medical Center is a major teaching hospital of Harvard Medical School in Boston, Mass., and is a fully integrated hospital providing adult services. 
"We are one of the top recipients in the country of biomedical research funding from the National Institutes of Health," Cashton notes. "There is a lot of research being done on a lot of diseases. We focus on the most complex cases because we have the most sophisticated equipment and the best-trained doctors. Beth Israel provides the highest level of care."
Value Analysis
The Beth Israel Deaconess Medical Center supply chain is responsible for ensuring the hospital is equipped with the right materials and products to perform procedures and studies that make it one of the best hospitals in the country. To do so, Cashton says the center four years ago developed a clinical quality value analysis (CQVA) process whereby six major focus groups were formed to review products by specialty. 
The areas of focus include the operating rooms, the medical/surgical departments, the pharmacy, clinical services and interventional procedures. "Each focus group identifies a target savings based on what they see as opportunities to reduce cost," Cashton explains. "They have exceeded their total target savings and have saved about $35 million over the last four years." 
The CQVA program consists of six teams involving a total of 95 hospital employees. The team works with clinicians and department heads to evaluate products and make a decision on the right products to use moving forward. 
When trying to narrow down which products to use, the biggest challenge Beth Israel Deaconess Medical Center's supply chain team has is working with what it calls physician preference products. "Physicians have preferences based on what products they were trained to use and products they feel most comfortable with," Cashton explains. 
To overcome this challenge, CQVA teams analyzes each physician's total product cost for the same procedure and can then determine which physician had the lowest cost with the best patient outcome. "We try to figure out a way to work with our clinicians to move towards a standardized best practice, which should result in the lowest overall cost," he explains. 
Best Price
Once the right products are chosen, Cashton begins local contracting discussions to negotiate product cost. Prior to negotiation, analytics and benchmarking software is used to see what other hospitals are paying for the same product, which allows Beth Israel Deaconess Medical Center to find opportunities for cost-savings.
"We look across all departments and facilities to ensure everyone is paying the right price and if there might be an opportunity to consolidate vendors for a cost-savings," he explains. 
Beth Israel Deaconess Medical Center forms strategic partnerships with its suppliers, but is also careful not to get too close so they do not take advantage of the hospital. "The best way to be taken advantage of is being a long-term, loyal customer and not too look outside of that vendor," Cashton explains. "We do periodically test the market because it changes."
The analytics software provides the hospital with more data than ever before and that can be used to its advantage when negotiating prices. "In the past, vendors told us this is who is using the product and what the price should be," Cashton says. "Now, we have the data through the analytics software and have leveled the playing field because we don't have to rely on the suppliers data." 
Innovative Technology
Beth Israel Medical Center uses Oracle Inventory Management tools to stock and replenish its inventory throughout the hospital's departments. The hospital uses barcoding on most items, but radio-frequency identification (RFID) tags are used on its  most expensive products.
RFID tags are used to track items, identify usage and replenish the stock as needed. Aside from keeping inventory accurate, another benefit to using RFID tags is that it prevents products from outdating so it can be returned to the vendor before its expiration date. "RFID tags are leading-edge technology used in a number of different ways," Cashton says. "Our plan is to expand the RFID tag usage once the concept is proven to be effective."
Product utilization will become the main focus at Beth Israel Deaconess Medical Center and its supply chain will continue to work on securing products at a lower price. "We look at driving down price where we can with more standardization of products and analyzing how products are being used," Cashton says.