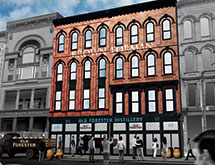 It seems the trend favoring American-made products doesn't just apply to manufacturers of hard goods. There has been a resurgence of whiskey sales in the spirits market since 2009, coming after nearly 40 years of steady decline. According to the Distilled Spirits Council of the United States (DISCUS), whiskey once held a dominant position in America's spirits market. In 1970, whiskey sales were nearly twice that of all other spirits combined. However, that number dropped steadily from 1975. In 2000, it was less than half. 
Just after the economic crash, the market started to come back. From 2009 to 2013, whiskey sales in the United States have grown nearly 7 percent, and they've grown internationally, as well. In places such as India, overall U.S. distilled spirits exports reached almost $4.3 million in 2013, up by 49 percent compared with 2012. U.S. whiskeys, primarily bourbon and Tennessee whiskey, represented the vast majority (97 percent) of the total.
"Premium bourbons and Tennessee whiskeys are experiencing significant growth in South Asia because of their authentic heritage, their distinctive flavors and their versatility in cocktails," DISCUS Senior Vice President Frank Coleman says. "With some further education about the category we feel that growth can continue and even accelerate."
Upping Supply
Because greater demand prompts greater supply, whiskey distillers have invested the millions of dollars necessary to make more millions. Brown-Forman, makers of well-known whiskey brands Old Forester, Woodford Reserve and Jack Daniel's, and other spirits such as Finlandia vodka, Korbel and el Jimador tequila, has invested more than $100 million in infrastructure in the last two years. 
"Whiskey is the growing spirit segment in the world, and we are uniquely positioned to take advantage of that because it's our core business and because we are geographically diverse with presence in developing markets and already developed markets," explains Greg Newbern, Brown-Forman vice president of supply chain. "In the past couple of years, we have invested to the tune of $120 million to $130 million in terms of our infrastructure development to support what we believe will be the future growth in the whiskey segment." 
In July, Brown-Forman opened a new cooperage in Decatur, Ala. The facility will manufacture white oak barrels to use for maturing Jack Daniel's Tennessee Whiskey. The new facility comes as Brown-Forman increases the Jack Daniel's line with new flavored whiskeys that have won fans in the United States and elsewhere. 
Jack Daniel's introduced its Tennessee Honey line in 2011, and it has grown to a million-case brand with shipments around the world. It is now testing Tennessee Fire, which is a cinnamon-flavored variety, in five states. 
Brown-Forman's other whiskey brands have also seen strong growth. The company increased its warehouse space at its Woodford Reserve facility in Versailles, Ky. The most recent investment is a $30 million facility being built in Louisville, Ky., for the Old Forester brand. The facility is part of a greater revitalization project of Whiskey Row, which is a stretch on downtown Louisville's Main Street. The Old Forester Distillery will be completed in 2016 and will include fermentation, distilling, barrel making, filling and dumping, and bottling. The new distillery will allow the company to double its current production of Old Forester.
"As demand for high-quality bourbon continues to increase, the Old Forester Distillery will enable us to expand capacity so that we can further showcase one of the greatest-tasting and most historic bourbons," says Paul Varga, CEO of Brown-Forman Corporation.
Reviewing Each Region 
Newbern explains that as Brown-Forman grows, its supply chain follows suit. In 2003, the company broke down functional silos and moved from a decentralized operation to a centralized operation, establishing global best practices. That's not to say, however, that every distribution channel looks the same worldwide. Instead, the central supply chain team takes a look at each market on a case-by-case basis and decides the best route for each one. Newbern says the fluid strategy allows Brown-Forman to take advantage of the best options for its business in each market. 
"We assess market by market on what makes sense," he says. "We go through deep reviews and decide if third-party or direct distribution is the best option. Our company is small enough still that we have that flexibility and can make those kinds of decisions."