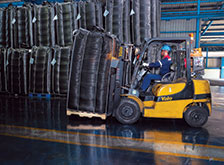 Headquartered in Boston, Cabot Corporation is a global specialty chemicals and performance materials company that manufactures products such as carbon black, activated carbon, specialty carbons, aerogel, fine cesium chemicals, inkjet colorants and conductive compounds. Brothers Godfrey Lowell Cabot and Samuel Cabot started the company in 1882 when they opened a carbon black plant. 
After more than 130 years, Cabot Corp. has become a leader in its market while striving "to be the best in the industries we serve," Vice President of Global Supply Chain Renaud Megard says. "We have a strong portfolio of businesses with leading market positions and an extensive geographic reach.
"Our businesses deliver a broad range of products and solutions to customers in every corner of the globe, serving such key industries as transportation, infrastructure, environment and consumer," he says. Cabot Corp. serves a varied group of customers, ranging from global tire manufacturers to small compounders. "But they are all looking for solutions that move their businesses forward," Megard says.
"We provide performance solutions that solve customers' challenges today while preparing them to meet tomorrow's needs," Megard says. "Our commitment to innovation is driven by a passion to advance our customers' businesses through our deep understanding of their industries and the global trends that impact their operations.
"Their businesses depend on high-performance products and services," he continues. "They need a reliable partner who can provide them with solutions that solve their unique challenges and deliver concrete results."
More than that, Megard says, they value Cabot Corp.'s knowledge of their industries. "We are experts who can tailor solutions to their industry-specific needs, and who can provide advanced, continued support throughout implementation," he says.
A Complex Supply Chain
A 20-year veteran of international sales, marketing and supply chain, Megard held roles at EXEL/DHL and BASF before coming to Cabot Corp. This experience has given him expertise in commercial and supply chain best practices, which is "an invaluable asset as the supply chain became increasingly strategically important," he says. 
In his current role, "[I lead] global feedstock procurement, global planning, global transportation, as well as global warehouse packaging and shipping," Megard says. He adds that Cabot Corp.'s supply chain is particularly complicated, due to the variables involved. 
"The finished products we make to serve our customers are complex to handle and technical," he says. "The goal is to keep the supply chain as simple as possible while delivering the expected performance attributes. Our goal is to have the right product at the right place at the right time at the right cost."
But serving a global customer base can make that challenging. "With 45 plants located around the world, optimizing our network requires sophisticated solutions and skilled supply chain employees," he says, noting that when he joined, the company had rudimentary and very limited capabilities to optimize its network. 
"To get the product at the right place at the right time at the right cost required different thinking and holistic approach – building an end-to-end supply chain strategy which would enable Cabot to have complete visibility along the value chain," he says. 
Gaining Visibility
Megard's approach to the problems was very methodical and strategic. "First, I worked on a vision and the strategy for the global supply chain," he says. "Then, the priorities were set and we implemented them over the course of the past four years." The new supply chain was set up with a strong team and clear direction. "Establishing a high performance 'end-to-end' team to deliver on the strategic pillars was a critical element of our success," he says. 
Part of the supply chain transformation was the implementation of a global planning system from JDA Software Group Inc. that can "update all of our plans daily and help us to identify sourcing options," Megard says. "It is a really powerful interface for our global planning and gives us an end-to-end visibility around our network. Having the right information at our fingertips provides a lot of options. You can only manage what you can measure."
With this information, "We can streamline our demand and supply planning activities globally," he says, noting that the JDA software allows Cabot Corp. to better service its business priorities. "Having visibility and a disciplined process allows us to provide options and scenarios. The businesses we serve can rely on constantly updated information to make better informed decisions." 
Before implementing the software, "We had a very obsolete management system," Megard admits, noting that the company looked at many vendors before settling on JDA, which was "the best fit for our business. JDA's ability to adapt the software based on our design was critical and the user interface was superior."  
Cabot Corp. underwent a three-year journey of implementing the software. "We linked it with our vendor management inventories, software and other optimization software," he recalls, noting that employees underwent more than 3,000 hours of training. 
"It was a major change for Cabot and we spent a large portion of our time on change management," Megard says. "Communication was a critical success factor along with an excellent alignment with all the different functions and businesses."
Creating Better Value
Megard is proud of Cabot Corp.'s efforts to improve its management of the supply chain. "With the support of our executive management, we have driven a lot of improvements and we continue to advance the way we serve our customers," he says. 
Looking forward, Cabot Corp. plans to maximize its strengths. "The future of the company is really driven by the innovation and the engagement to improve our people, processes and systems. We want to create competitive advantages in the markets we serve and deliver strong financial results over time," Megard says. "To ensure that our company remains strong, we must be strategic in where we invest our resources.
"By focusing on forecast accuracy, bias and discipline in our processes, we have been able to improve significantly our working capital position, turn our inventories faster and deliver better performances," he says.