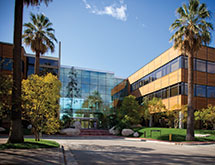 For 45 years, Esri has stayed committed to customer service and loyalty, Global Industry Manager of Supply Chain and Logistics Wolfgang Hall says. "We will really go out of our way to satisfy a customer's needs," he says. 
Based in Redlands, Calif., the software company is focused on geographic information systems (GIS), which include its flagship product, ArcGIS. Founder Jack Dangermond started Esri in 1969 as a consulting business.
In the 1980s, it developed ArcInfo, now the ArcGIS Platform, which provides a spatial perspective by bringing together maps, apps, data and people to help with planning and analysis, operational awareness, field data collection, asset management and public engagement. With ArcGIS, Hall explains, an Esri customer can take a map of any region and put additional layers of information on top of it.
"That could be your suppliers, your warehouses, customer data or demographic data," he explains. "You can analyze all of this data combined and you can see patterns." What makes ArcGIS so powerful is the fact that it integrates with existing business systems and becomes the location analysis and visualization platform for the entire enterprise. 
Today, ArcGIS is the most used GIS system in the world, Hall says. "It's used in many different markets, [including] government, utilities, banking, retail, manufacturing and supply chain logistics," he says. 
"As we have spread worldwide, we're present in over 130 countries," Hall continues. "We're ultimately the fifth-largest privately held software company in the world."
Critical Accuracy
Esri has moved from a complete server and desktop environment, to providing cloud-based solutions for customers who would like to minimize their own IT infrastructure. 
As more and more people discover the insight that can be gained by visualizing information in this spatial context, the number of customers and their needs have grown. Especially in the parcel and postal industry, which represents 70 percent of Esri's logistics business. 
"They're challenged to do much faster deliveries with the resources that are available," Hall says. "If you look at any postal organization, they're struggling like mad to find ways to cope with the demands the online ordering process has imposed on them."
Companies all over the world such as  Fedex, USPS, TNT, Swiss Post or Posti (Finland) are pressured to make deliveries faster and cheaper, which Esri can help with by mapping, analyzing and optimizing delivery routes. "Every second counts and represents huge savings for the organization, so the accuracy of delivery optimization is absolutely critical," he says.
Esri keeps up with this postal market through significant investments and listening to customers, Hall says. "We have a very, very large R&D pool, and staying on track with new development and technology is key to satisfying the [customers]," he says. "The other key for us is to find the right partners to team with [and] strengthen their offering to the customer base."
Enhanced Tools
Esri's products help customers who have become more interested in visualizing and mitigating the risks in their supply chains, Hall says. "That leads to a need for enhanced tools," he says.
One example is the recent flooding in Thailand, which resulted in a severe shortage of hard drives since most suppliers were located in the same flood zone. "It drove the computer market into a frenzy, because they couldn't provide the hard drives," Hall explains. "That can be easily mitigated [in the future] through strategic planning using location analysis."
Esri's market also has experienced a higher integration of real-time data into supply chains. In teaming with supply chain-data integrator E2Open, traditional supply chain data can be combined with advanced routing analysis. This allows any third-party logistics provider or manufacturer "to see where their vehicles and shipments are," Hall says, noting that this also applies to vessels. "We [can] predict when a ship will arrive at a port." 
Esri just completed a project for a consumer packaged goods company.  "We'll be plugging in the electronic data interchange (EDI) data that's available and calculate the estimated time of arrival for each shipment in their supply chain. We calculate arrivals with one hour accuracy by using live weather and traffic feeds," he says.
The system also can look at the company's inventories in its warehouses, Hall adds. "[They] can do mitigation in case a shipment is not able to arrive on time, get stuff on the truck and basically haul it over to the customer," he says. "[It gives the user] the ability to quickly react on any exceptions."
Doing It Right
Hall joined Esri in December 1998. "For 13 years, I worked in professional services," he recalls, noting that he managed a team that built transportation logistics systems before taking his current role in 2012.
Hall sees a strong future for the company and predicts a day when vehicles will be automated and driver-less. "It will change the way our transportation industry is managed," he says. 
Because the locational aspect  will be very important, "GIS is going to be a critical component," he says. "All the large car manufacturers are integrating GIS. They all have a need for advanced mapping and telematics."
He also expects more growth. "We grow every single year, even in the downturn of the economy," he says, noting that in those tough times, businesses needed to be savvier. "Our tools help organizations be more efficient, so that's a trend that will not stop."
Esri's marketshare will continue to grow in the supply chain. Currently, "We're talking to very large manufacturing organizations," he says. "They all have the same problem of real-time visibility, so that's exciting."