John P. O'Sullivan Distributing Inc.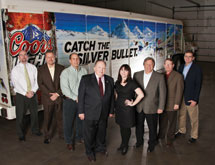 Even after 35 years in business, John P. O'Sullivan Distributing Inc. isn't finished growing. The Flint, Mich.-based beer distribution company continues to make plans to grow both in market share and in physical space.
The company distributes 2.5 million cases of beer annually to bars, convenience stores, grocery stores and event venues in Michigan's Genesee, Shiawassee, Lapeer, Saginaw, Midland, Bay and Gratiot counties. John P. O'Sullivan Distributing's fleet of 20 trucks delivers dozens of brands both large and small on a next-day basis.
"One of the things we've always prided ourselves on is our relationships with our customers," says co-owner and Vice President Joanie O'Sullivan-Butler.
The distributor offers more than just beer to its customers. O'Sullivan Distributing's sales staff regularly attend training sessions to learn more about each of its supplier's products, how best to pair beer with various types of food, marketing techniques and other topics such as how the placement of a brand on shelves affects not just its visibility, but also its sales and store profitability.
"We're looking at being not just our customers' delivery agent, but also on advising them how to increase their sales, which in turn increases ours," Vice President of Sales Greg Dowis says.
This customer-centered approach helps the company remain successful in a region that was among the hardest hit by the recession in recent years because of the loss of jobs in the automotive industry. "We look at one account at a time and try to find ways to increase their business," he adds.
John P. O'Sullivan Distributing recently marked its 35th anniversary. The company has come a long way since John O'Sullivan founded the company in 1976 as Sullivan and O'Sullivan Inc. with partner Michael Sullivan. O'Sullivan started out in the beer business as a tour guide for the Stroh's Brewing Company.
O'Sullivan was promoted to a position calling on distributors throughout Michigan after receiving his degree. One of those distributors, Moyer Beverage, gave O'Sullivan an opportunity to purchase his own distributorship when they decided to sell their business.  Rapid growth and expansion followed, particularly when Miller Brewing Company introduced Miller Lite the next year. Following Sullivan's retirement in 1995, the company was renamed as John P. O'Sullivan Distrib­uting Inc.
O'Sullivan-Butler joined the company full-time in 2004, becoming a co-owner and vice president in 2008.
Expanding its Reach
The acquisition of Muehlenbeck Distrib­uting in 2010 has played a large role in the company's current success. The purchase increased O'Sullivan's sales from 1.5 million cases annually to its current 2.5 million case total, says Sean Butler, Vice President of Operations.
This was the company's second major acquisition in recent years. The 2007 purchase of Oak Distributing expanded O'Sullivan Distributing's reach by giving it distribution rights to brands it had not before carried such as Coors and Samuel Adams.
The company continues to look to new brands to add to its offerings, O'Sullivan-Butler says, and with new brands comes the need for a larger space. One company priority is expanding its 70,000-square-foot warehouse facility, which opened in Flint Township in 1980. "We're finding we will probably have to expand that within the next year by another 20,000+ square feet to give us more room to grow in the next 15 to 20 years," Butler notes.
While growth continues to be in the company's sights, it doesn't intend to stray too far from its roots as a local, privately owned business. "I think there's a certain camaraderie that comes with being a family owned company," O'Sullivan-Butler says. "I think everyone works as a team very well here, and we have an open door policy – everyone here is free to bring any idea or concern to any one of us."