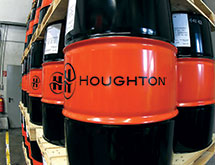 Houghton International will celebrate its 150th anniversary this year and although the milestone requires a look back into its history, the company continues to move into the future by modernizing its supply chain practices. 
"The old way was fragmented and independent; each part of the world ran their own supply chain separately," Vice President of Global Operations and Supply Chain Bob Summerhayes says. "I wouldn't call it a supply chain. I would call it fragmented links with limited operating discipline."
The Valley Forge, Pa.-based company was founded in 1865 and launched its first commercial product – Cosmoline Rust Preventative – in 1867. Today, Houghton International is a leading supplier of specialty chemicals, oils and lubricants for the metalworking, automotive, aerospace, steel, aluminum and offshore industries. It operates in 33 countries with 11 manufacturing locations and a dozen research facilities worldwide.  
Houghton International has had only eight presidents/CEOs throughout its long history, and in 2008 it was sold to a private equity firm, which began to change the company's fundamental operations, Summerhayes explains. "The operating discipline of the company wasn't as strong as it needed to be," he explains. "The bones of the company were good because of very close customer relationships, applications expertise and innovative metalworking and fluid power technology. What I think sustained the company in the earlier days was the quality and performance of the products and the commercial and technology resources that supported their use in customer applications. We have a wide offering of products that are considered among the best – usually best-in-class – and application expertise second to none." 
Bringing Order
Over the past six years, Houghton International has been rebuilding itself and implementing new supply chain practices to ensure it is taking a fully integrated approach. In November 2012, Gulf Oil Corp. Ltd. acquired the company and continued improvements to business operations processes have been vigorously supported. "We built an organization that truly reflects the integrated notion of a link of chains that are designed to work together," Summerhayes adds. "We spend time making sure everyone understands what we are trying to do and why we are trying to do it." 
The ultimate goal for Houghton International is to reinvent its operational discipline within the supply chain while maintaining customer relationships and continuing to develop new leading-edge products. Houghton International has started updating its manufacturing plants and implementing new business systems such as JD Edwards EnterpriseOne ERP platform across the globe.
"The ERP platform has allowed us to start connecting our China operations to our U.S. operations, to our UK operations; as a result we are able to see our inventory and other data more transparently and we are standardizing work processes across all regions," Summerhayes says. "We still have a ways to go, but we are starting to see the benefits."
Houghton International is taking a measured approach to the transformation of its supply chain instead of the "big-bang approach," Summerhayes says. "The company's approach may take an additional three years until it is completed, but we want to do it right the first time and minimize business disruption," he adds. "We will upgrade a significant percent of the company every year." 
Chemical Model
Houghton International had always considered itself a lubricant company, but after realizing that a majority of its raw materials are chemical-related, it has proudly declared itself a chemical company. "We are a specialty chemical company and accepting that drives us to an operating model that will make us better," Summerhayes explains. 
The company's products are comprised of a number of different components and each one performs its own function and provides value in use. "We are in the business of changing metal, whether via cutting, grinding, forging, rolling or other operations," Summerhayes explains. "Some of our products are oil-based, some are water-based and some are hazardous as supplied. You can't modify metal without being fairly aggressive therefore some of our products have requirements for use of personal protective equipment such as gloves and goggles, especially when handling them in the concentrate form. As a leading supplier of metalworking fluids, Houghton International is committed to meeting all environmental, health and safety and regulatory requirements in the markets they serve."
Houghton International introduces about six new products per week, which is a significant logistical challenge. When introducing a new product, the supply chain is required to ensure the products meet all labeling and data sheet requirements, prepare manufacturing plants to produce the product safely and determine into which countries the product can legally be sold. "By reconstructing the new product introduction supply chain we have been able to introduce new products safely, meet all legal requirements and we are getting better at it," Summerhayes notes. 
Houghton International works with its suppliers to make sure its products are labeled properly with potential hazards listed, and that safety data sheets are prepared and distributed to customers. "It's important that when material gets to a shop that the person who is handling it knows how to do it safely," Summerhayes says. "That's the difference between a metalworking company that fashions itself along the lines of a chemical versus lubricant supplier."  
Houghton International's global vision is to be the most successful and respected specialty chemical company in the world, actively partnering with its customers to provide innovative and sustainable technical solutions that help increase productivity, reduce cost and minimize risk. Summerhayes says the company will continue to improve its supply chain practices slowly, but surely. 
"Our employees are starting to understand, adopt and embrace the changes we are making," he adds. "They can see the value of the methodical processes we are implementing and recognize that getting something done the first time correctly is actually faster and less costly in the long run. We are proud of the improvements we have been making and see progress each day."