Integrity Express Logistics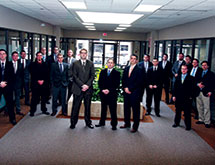 Companies that need goods shipped, both nationally or regionally, rely on asset-based third-party freight brokerage Integrity Express Logistics for dependable transportation, round-the-clock availability and honest communication. "We are a mainstay third-party logistics business that connects shipping with drivers," President James Steger explains. 
In keeping with how it approaches transportation, the company has a fast-paced, aggressive growth strategy. "What we do is pretty simple and service matters," Steger explains. "We stand by our service and that's how we get repeat business. We don't just target the top-500 companies; we target everybody. Whether it is one, two or three truckloads per week to 500 or 5,000, we serve all business."
This approach has paid off for Integrity Express Logistics. It has doubled in size and revenue each year since its start in 2007, and it has no plans to slow down anytime soon. 
In April, it opened a new sales office in Tampa Bay. Starting with eight employees, there are now 14 working there. It also has plans to open a similar office in Chicago in the summer plus another one in Nashville. 
With such strong growth underway, the company is actively recruiting. Many new employees are young professionals in their 20s who might be on their second or third sales or logistics job out of college. They hit the phones offering freight broker deals to prospects across the country as they learn the ropes of national sales and business development. To succeed in recruiting top prospects, "We are actively putting our name out there," Steger explains. Integrity Express Logistics attends college career fairs and partners with recruiting companies such as CareerBuilder and Indeed. 
"We are recruiting good talent and there is a lot of potential in this industry," Steger says. "People seem to have fun with it and we create an energetic environment where people can thrive." The company has also invested in transportation management software, purchasing source code to customize its new program for its precise business needs.
Customer service is a top priority, Steger explains. "We give our customers better customer service," he insists. "We are in constant communication. Whether it is good, bad or indifferent, we are always letting them know what is going on and people appreciate that." In this business, there are a lot of moving parts. Drivers have lives outside of work and trucks occasionally break. "Things happen in life so we are always prepared to adjust on the fly," Steger says.
Integrity Express Logistics doesn't win business with customer service alone. It also competes on pricing. "We are always competitive on pricing," he says. "It is about pricing and delivering what you say so that it gets picked up and delivered on-time. We don't overcommit and under-deliver."
The company's overall mission is to live up to the expectations of its company name, by earning customers' trust through innovative technology and operational efficiency to better customize its logistics services. "We focus on customer relations above anything else, as well as hiring the best well-rounded employees," the company says. "Together, this formula has carried Integrity to where we are today."
Integrity Express Logistics was named a "Best Place to Work" and a top-55 fastest-growing local company by the Cincinnati Business Courier. It was also named one of the nation's 500 fastest-growing companies by Inc. magazine. 
Civilian Success
Steger started the business with cousin Pete Ventura, director of business development, and his uncle Matt Ventura, director of sales. He financed the new business with pay he earned serving in the U.S. Air Force. He was stationed in Iraq, Afghanistan and a California airbase from 2002 to 2006, working the RQ4 Global Hawk unmanned air system. Steger helped develop the program from scratch, which was a useful experience, similar to starting a new business. 
"We had to build up the infrastructure from the ground up," Steger says. "It helped me focus and build the integrity we have today. You are dealing with strategic problems and tactical day-by-day issues that come up. It gave myself and the people around me confidence that we can build something bigger than just us."