Lawrence General Hospital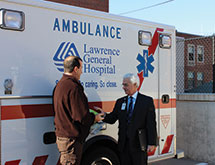 Lawrence General Hospital of Lawrence, Mass., is enhancing the process by which it chooses high-dollar items with new systems to control and manage selection.
Since physician preference items (PPI) are large pricetag purchases, Director of Materials Management Michael Rudomin is focusing on PPI in his current reform drive to improve the hospital's supply chain. "We are working with our clinicians on trying to get a better balance between preference and cost on PPI," he says.
Rudomin started the effort in the cardiac catheterization lab, where cardiac procedures and tests are performed. By working with the medical director to reduce the number of pacemaker vendors and varieties of different pacemakers used, they reduced costs by $1,000 per pacemaker. "We've been pretty successful at that," he notes. "We are now trying to mimic that success with orthopedic surgery."
To that end, Lawrence General Hospital is standardizing processes and minimizing the number of vendors that supply implants for hips, shoulders and knees, for example. Although physicians select the items, "we are sharing the costs on a variety of items with them," Rudomin explains. In most cases, they were not aware of what the costs were for either a specific implant or the price differential between similar implants from competing vendors. 
Although they tend to be big-ticket items, PPI purchasing represents only about 20 percent of total purchasing activity. The remaining 80 percent of commodity purchases, for things such as bandages and surgical gloves, offer less strategic opportunities, however, "so we are going after that high dollar 20 percent," Rudomin says.
Physicians are strong advocates for their patients and they prefer various items for different reasons. Rudomin has found that simply sharing pricing information goes a long way.
For example, in one recent case, a surgeon had continued to use a favored vendor for knee replacement. Yet, when Rudomin and the chief orthopedic surgeon informed him of another choice that would save $2,000, he switched, explaining he never knew such savings were available.
Lawrence General Hospital completed its new pacemaker purchasing processes in October. "We indicated to vendors which type of pacemaker we'd be utilizing and the price they have to hit," Rudomin says. This PPI purchasing reform "is what I'm most proud of here so far," says Rudomin. "We estimate by the time we are finished this spring, this effort will reduce these costs by more than $250,000 annually."
Not Shy
As director of materials management, Rudomin's supply chain department includes the hospital's purchasing department of buyers and financial analysts, as well as shipping and receiving, the medical storeroom warehouse, mail service, and the couriers and their fleet of vehicles that transport medical equipment, diagnostic specimens and mail to off-site facilities.
Performance is measured via both formal and informal feedback mechanisms. In purchasing, for example, the number of items procured with contracts vs. without contracts is measured as is the number of line items per purchase order and the percent of PO lines transmitted via EDI (Electronic Data Interchange) versus faxed or phoned in. Back orders are also carefully monitored. 
"People working in hospitals are not shrinking violets," he stresses. "The bar for performance is always very high. We are not concerned about stepping on people's toes or hurting their feelings. Always, patient care is at the forefront of everything we do and care about."
Rudomin and business partner Michael Bohon have operated Healthcare Solutions Bureau, a hospital supply chain consultancy for 20 years. It has served more than 200 hospitals. "After only a short time doing consulting, I became aware that the problems a hospital faces are really the same no matter where the hospital is or what kind of facility it is," he explains. Whether it be an 800-bed big city academic medical center or a rural 100-bed hospital, both hospitals face the same supply chain challenges. This holds true also regardless of whether the facility is a standalone hospital or a part of a large integrated network. 
Both most do more with less. "Every day hospital reimbursement is shrinking," Rudomin says. "Insurers, be they private or government Medicare and Medicaid, are ratcheting back what they are willing to pay. Meanwhile, costs continue to grow." 
Hospital supply chains differ from other industries by the nature of their work, as well. 
"We live in a world of uncertainty," Rudomin explains. "We don't have a product schedule like a factory that knows exactly what to make and exactly what to buy. We never know who will walk in the door so we have to be prepared to meet any and all needs under all circumstances 24/7/365. And I'm very proud to say that the LGH staff, both mine in supply chain as well as those in the rest of the hospital, accomplishes this routinely and superbly."