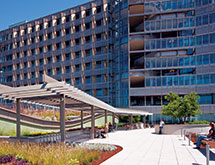 For more than 80 years, Palomar Health has provided care to patients in the North San Diego County region. 
"We're meeting the community's needs, and that's what's kept us in business," Director of Corporate Supply Chain Services Steve Ellis says.
The public health district's history goes back to 1933, when nurse Charlotta Baker Hintz and dietician Elizabeth Martin left their positions at the Anaheim Sanitarium to form a hospital to serve the city of Escondido, Calif. The two purchased an egg and poultry plant and remodeled it into a 13-bed hospital.
Over the years, Palomar Health has expanded its operations to three acute care hospitals, a skilled nursing facility and four ambulatory clinics that employ a staff of 3,300 to serve 32,000 inpatients annually along with 125,000 ER visits and 5,000 births. "We focus in on core services," Ellis says. "We're not trying to be all things to all people."
Coping With Challenges
Before joining Palomar Health in 2009, Ellis worked at  Maricopa Integrated Health System and Catholic Healthcare West in Phoenix. "I have worked in healthcare for 24 years," he says, adding that he served in the U.S. Navy in the mid-1980s.
Like many in its industry, Palomar Health copes with many challenges, Ellis says. "There's increasing pressures to reduce cost, reimbursement has been affected and the amount of money government is providing hospitals is being significantly reduced," he says.
"Everybody in the industry has to find ways to be more efficient and conserve their precious resources," he continues, noting that Palomar Health's supply chain collaborates with its physicians and clinicians to find ways to control the costs of commodities, clinical preference and physician preference items. "It's a challenge, often because the better value may be with products different from those used by the physicians and nursing staff during training or used since completion of their training. We are finding good support and collaboration within the team but we can also experience conflict from time to time due to the complexities of healthcare or simply because of the challenges of implementing change." 
Palomar Health is also maximizing its contracts through its group purchasing organizations. "We strive to stay consistent with the best pricing they can bring to us," he says. 
A Better Service
Palomar Health operates with a self-distribution model, Ellis says. "We have a warehouse that's centrally located between our facilities where we bring the fast-moving items, as well as those that are sourced from the East Coast," he explains. 
"What we've found is because of our organization's service needs and our focus on the patient, we provide a better service than what we can buy," he continues. "We have $1 million of inventory in our central warehouse and this provides us with the flexibility to meet the regular and routine needs as well as those seasonal or the rare patient care item needs."
Palomar Health replenishes its locations daily. "At the point of care locations, we have electronic means [to create] a pick ticket that's transmitted back to the warehouse," Ellis explains. "We pick the supply in the warehouse and then we load it to be sent out to the necessary facilities."
Staying Close
One location the warehouse supplies is Palomar Health's newest hospital in Escondido. The facility, which opened two years ago, has 288 patient rooms and a "design concept that is different than our older hospitals," Ellis says.
"It was our concept during the hospital design phase to create space close to the patients for immediate need and the more routine supply items," he says.  "From a supply chain standpoint, it is labor intensive and creates duplicate inventory throughout the building.  But, we felt this design would maximize the time that the nursing staff can spend with the patient, minimizing the travel distance and time hunting and gathering supplies, thereby increasing service and reducing the number of patient falls or medical errors.  
"It is consistent with our mission to keep the nurse close to the patient," he says. "The supplies are an important part of patient care. But, we have to keep in mind we are in the patient care business first and continue to focus on what is best for the patient versus what makes the supply chain departments work easier."  
Palomar Health will continue  controlling costs and staying efficient. "I don't see that going away throughout the organization," he says. "The supply chain divisions in any health system are going to be called upon to do more to transition into resource leaders  and participate in creative sourcing and cost control.
"That's the future," Ellis continues. "More and more, we're going to get asked to get involved in more things than we previously were."