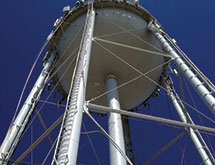 Sensus helps a wide range of public service providers – from utilities and cities to industrial complexes and campuses – do more with their infrastructure to improve quality of life in their communities. The company provides innovation in sensing and communications technologies, data analytics and services.
"The public service industry is on the verge of profound changes, and the changes will affect the future in big ways," Director of Sourcing Ron Malin says.
Sensus offers solutions that address applications including advanced metering infrastructure, demand response, leak detection and outdoor lighting control.
"Water utilities now have sensors that detect leaks within seconds. The financial savings and property protection is staggering," Malin says. 
Cities are becoming interconnected with their utilities and public service departments and are more sophisticated about management of city assets on both a short-term and long-term basis. At the heart of this interconnection is data.
For example, utilities now receive an endless amount of data that they need to turn into actionable insights with data analytics. Data analytics tools tap into and organize the information that lies within smart sensor technology.
Beyond the Basics
With roots that stretch back for more than 150 years, Sensus has evolved from a metering company to a technology provider. As the company's focus has changed, so too have its supply chain operations. Sensus has moved beyond a metering manufacturer where the supply chain simply focused on directing materials and building products. Now that Sensus provides communication and sensing technologies, its supply chain focus has expanded to encompass internal controllers and microchips. 
"It is not just about meters anymore," Malin says. "Supply chain must focus on higher levels of technology, more contract manufacturing and partnerships, and delivering software solutions for data analytics."
Sensus must be able to meet a higher level of customer demand for data, providing solutions that are accurate and assist in saving time, money and resources. Sensus plays a major role in creating the technology that provides that information to utilities and other public service providers. 
"Supply chain needs to be on top of technological developments and find ways to satisfy the growing appetite for data," Malin says.  
Key Pillars
Sensus has worked to create a global commodity management group. It has invested in the people, process and technology, bringing in team of true procurement professionals. 
"We've invested in our people, standardized processes, and used technology to help us understand and analyze spend," Malin says. 
Sensus is also leveraging relationships with contract equipment manufacturers because it already buys components in volume, which can help companies with smaller orders avoid having to compete for parts with large, consumer electronics makers. 
"Buying technology components isn't the same as buying metals or plastics," says Malin. "Technology changes fast and can reach end of life in a few years, but some of our products are under warranty for 20 years."
Sensus believes it can aggressively push the boundaries of technology, allowing it to continue delivering solutions that enable utilities to intelligently utilize data to drive efficiency. 
"By collecting data, analyzing information and pulling actionable insights, utilities can gather information from their infrastructure to create efficiencies," Malin says. "We support those efforts by making sure we have a strong balance of people, process and technology."