Simonds International Corp.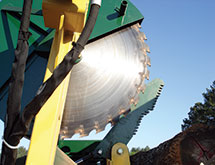 Simonds International Corp. has been manufacturing sawing and cutting tools since 1832, and the company knows its industry very well. "We have been serving the marketplace for 183 years," Corporate Director of Procurement Mark Wysk says. "We are a manufacturer specializing in offering solutions to customers and serving the global marketplace."
Clients in many wood- and metal-fabricating industries have turned to Simonds International for products and services to improve their position in the marketplace. 
The experience that comes with a long established business is a major advantage. The understanding of the customer, product requirements and raw material requirements is paramount and provides a strong baseline for existing products and innovating new cutting tools. "We have a long history and we pull from that data," Wysk explains. The information is reviewed and paired with the customers' needs. "We roll the customer requirements through the supply base, dialing in material chemistries and compositions and include all the processes used to create materials."
Simonds International offers an extensive array of professional grade products, including a comprehensive line of industrial bandsaw blades and technologies for metal-cutting applications and the support and maintenance equipment for many of its products and hand files. Products are sold through a comprehensive worldwide distributor base.
The company supplies both the steel-and wood-cutting markets. Its wood-cutting products help process lumber into smaller boards and sections used for housing and other purposes. The managed forestry market uses a wide variety of band saws. Wide bandsaws range from six to 16 inches in width and 30 to 50 feet in length. Combined with the circular saws measuring 14 to 96 inches in diameter, lumber is harvested and converted first to wooden cants, sawn on three sides, and then boards. These sectioned boards can then be later converted to dimensional lumber such as 2-by-4s seen at local lumber stores.
The company sets itself apart with custom offerings. "There are many standard-type products in the market," Wysk says. "We engineer and sell what fits the application. Our technical personnel review the customer requirements and develop the right solution."
The company locates its facilities and operations close to its customers. "This allows us to continue our approach to meeting customers' requirements with a more personalized approach," Wysk says. "Simonds International's quality product ensures repeat business and its diversification allows for overall company success," he adds.
Strategic Suppliers
Simonds International utilizes long-term supplier partnerships for success. It pre-qualifies potential new vendors with its vendor material review process. This six-month to two-year procedure includes three production schedules. "This shows the raw materials are consistent and the product can be made the same time after time," Wysk explains. "Each suppliers' raw material is processed and we monitor how it performs through our manufacturing equipment. This gives us an accurate measure of both the material and performance."
This partner philosophy with the company's supply base provides high levels of service and clear communication.  Business and performance goals are established and aligned with each partnered supplier. Simonds International has face-to-face meetings with vendors a minimum of twice per year to support the strong two-way communication. The company schedules annual visits to raw materials locations and works only with vendors that share its growth-related goals. 
Wysk notes that the company's supply chain is transitioning from a tactical to strategic focus. The strategy utilizes select vendors domestically and internationally providing supply chain security through consistent flow, availability of the goods and a balance spend over the global currencies.    
Over the past 15 years, the company has expanded internationally. 
"In addition to partnering with suppliers, we also enter into partner relationships with distributors," Wysk says.