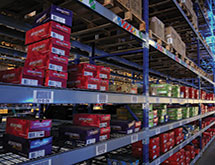 Skechers USA's robust international growth has led to the expansion of its European Distribution Center. Its warehouse in Liege, Belgium, opened 12 years ago. Prior to that, Skechers' overseas distribution needs were handled by third-party logistics. 
The distribution center began with ten employees in a 270,000-square-foot building. In 2009, a second 215,000-square-foot building was added. Now, there are more than 150 employees working at the European Distribution Center and by next year the facility will measure more than 750,000 square feet with a third building scheduled for completion in 2015. 
The initial creation of the European Distribution Center was "a great opportunity to be closer to our biggest customers," says Sophie Hourtmeyers, vice president of distribution operations in Europe. "We have a great line of highways" located nearby for goods transport.
The European Distribution Center is served by the Port of Antwerp. Its strategic location allows for easy access to Germany and the United Kingdom, Skechers' two largest European markets. It is also close to France, Spain and Italy, its next biggest European Union marketplaces. 
Paul Galliher, senior vice president of distribution, says the port offers improved attention and services compared to others in the region, and quicker speed for its business. 
Skechers will break ground on its third building near the port in December. After it is completed, Skechers' European Distribution Center will be the largest logistics operation in southern Belgium. 
The distribution center receives goods arriving from Southeast Asia via the port. The goods are then stored and redistributed to European markets. Those include third-party customer accounts, and 31 company-owned and 19 franchisee-owned Skechers stores throughout Western Europe. The distribution center also serves Skechers' e-commerce efforts in Europe, as well as the company's international distribution partners in the European region.
"This expansion is a testament to the incredible growth that we've seen in our business throughout Europe and mirrored around the globe," COO David Weinberg said in a statement. In fact, in 2013 Skechers' volume of goods was four times higher than in 2002. 
The increased demand also calls for increased efficiency at the European Distribution Center. "It is really, really important that we deliver to them on time with good quality," Hourtmeyers says. It does this by recruiting outstanding employees. 
Management team members are recruited with priority given to those with experience in footwear logistics. On the warehouse floor, employees with equipment-driving experience are the most sought-after, she says. 
'A Home Run'
A billion-dollar-plus global leader in the high-performance and lifestyle footwear industry, Skechers designs, develops and markets more than 3,000 styles for men, women and children. It sells more than 100 million pairs of shoes every year.
The company sells its footwear in department, specialty and independent stores, as well as through more than 900 company-owned Skechers retail stores and online. Beyond the United States, Skechers' products are available in more than 120 countries and territories through a network of subsidiaries in Canada, Brazil, Chile and Japan, and through joint ventures in Asia and global distributors. 
Galliher credits the quality, trend and design of Skechers' popular footwear for increasing sales over the past decade. "The product is spot on from a trend standpoint and very comfortable," he says. "Once you put them on, you almost never want to take them off. The relaxed-fit approach has been a home run and will be for a long time. Our athletic product is also gaining traction everywhere, including in Europe. So all of our products are working. There is not a part of our business that is not doing exceptionally well."