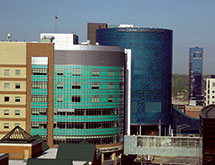 Spectrum Health has several unique initiatives underway as its supply chain contract administrators proceed with standard sourcing. 
John Shull, system supply chain director, explains the system's sourcing tasks include procedures for capital items, supply items and service. The supply chain division also ensures proper logistical movements of goods throughout the system of healthcare sites. "We ensure an appropriate inventory anticipating future demand," Shull says. 
Spectrum Health is the largest nonprofit healthcare system in western Michigan with 11 hospitals, 169 ambulatory and service sites, and 1,938 licensed beds system-wide consisting of both acute-care and skilled nursing beds. Shull says the supply chain team helps Spectrum Health attain outstanding patient outcomes by taking pressure off frontline responders. For example, in some hospitals, if an IV fluid line is not functioning properly, a nurse might be responsible for monitoring the problem. This diverts the nurse from patient care. Yet, at Spectrum Health, supply chain managers are jumping in. "Nurses have so many things to pay attention to providing appropriate care to patients," he explains. "So if there is a problem with a supply item or a piece of equipment, they can focus on the patient and we handle the follow up and corrective actions." 
While this makes logical sense, it is critical that supply chain organizations in health systems step up and take ownership so that caregivers can focus on taking care of patients. "Ultimately, these are supply chain matters," Shull says, and in most other industries the supply chain organization is accountable for the performance of its suppliers "Health systems are under more pressure to buy less, save money and be frugal on behalf of patients. Our healthcare system in the United States needs the leadership of supply chain professionals. What might seem like basic supply chain execution to most supply chain people from other industries is new and urgently needed in healthcare," Shull says.
Vital Network
Spectrum Health is the largest employer in western Michigan with more than 21,600 employees, including 1,150 physicians and advanced practice providers and 1,070 active volunteers. Its annual payroll and benefits amounted to $1.3 billion in fiscal year 2014.
In 2013, the hospital group's admissions totaled 136,472. There were 1.53 million physician encounters, an increase of 6 percent from the prior year.
Spectrum Health is one of only 39 health systems in the nation with an Aa3 rating by Moody's Investors Service. This rating validates its standing in the investment community and allows it to structure financing that is affordable for Spectrum Health. "We have maintained this rating along with our AA rating from Standard and Poor's since 1998," Spectrum Health says. Priority Health has upheld its A- rating from A.M. Best Co. for four consecutive years. Additionally, its health premiums rank in the lowest quartile when benchmarked against regional competitors. 
Managing Complexity
One challenge for Spectrum Health is sourcing as it relates to the complex industry rebate system. It is difficult to figure the cost of product lines and procedures when health systems are too reliant on a history of end-of-year rebates. 
A further paradigm shift requires that suppliers must "disconnect from their old model based on selling more supplies and equipment to health systems," Shull says. Instead, suppliers should focus on helping customers buy less and more efficiently, and increase product utilization, rather than trying to sell more. This sort of strategic partnership will lead to more future business and better relationships for them. 
"Most suppliers we talk to don't want to sell us supplies we don't need," Shull says. "They are more than happy to find ways for us to buy less and, in turn we have greater trust in that supplier which helps them gain more share of our total purchases." 
Shull explains this is a game-changing strategy for Spectrum Health. 
"We are helping suppliers understand that selling more is not what we need," he continues. "We need innovative ways to reduce cost and we reward that. When suppliers come forward with game-changing ideas, they gain more of our share. 
"The next thing for us is to consolidate as much of our spend as we can," he explains. "Partnering with physicians and suppliers at the system's various hospitals to consolidate our total spend will result in better prices." 
When it comes to moving supplies, the Spectrum Health supply chain team looks outside its industry for guidance. The company is evaluating logistics systems similar to FedEx to service its vast network. 
Lean process improvement is becoming a part of the culture at Spectrum Health, which has been actively engaged for the past few years throughout the system. One lean process improvement that is showing great promise involves a detailed assessment of patient experiences in emergency department waiting rooms. Patient surveys reveal waiting rooms are one of the most stressful places for patients. Therefore, Spectrum Health is leveraging a cross-functional lean approach aiming to remove them in favor of more efficient triage lanes. "After mapping historic wait times, we've developed a triage lane system so patients will be seen more quickly," Shull explains. "In some cases, we are deconstructing the actual waiting rooms to create more space for beds and patient care."
Industry Dynamics
During the supply chain revolution of the early 1980s, corporate America recognized the competitive advantages of well-designed supply chains. Yet, the healthcare industry was slow to follow suit, Shull explains. Companies such as Dell and Procter & Gamble thrived with innovative supply chain improvements that consolidated spend, leveraged global cost advantages and optimized logistics. 
"If a hospital system incurred costs, it would just pass it through the system. Now, customers are making more choices and we can't do that anymore. It is a more value-oriented system today," he explains. "Every industry has or will face a time when supply chain will be a strategic function that helps the organization survive and thrive. 
"While health systems may have been slow to recognize this, they are catching up quickly in an ever-changing environment of healthcare reform and increased consumer involvement in their care," he adds. 
Spectrumhealth.org lists common prices for surgical, medical and diagnostic procedures as the U.S. Affordable Care Act requires further changes. 
"Ten years ago, no one asked for the cost of a procedure," Shull recalls. "Today, people are shopping and requiring transparency. This is good for us and good for healthcare, and supply chain is one of the critical enablers to delivering better value."
Spectrum Health is working very closely with its supplier partners to increase communication, problem-solving and collaboration. The company notes traditional supply chain tools such as robust metrics, utilizing supplier scorecards, conducting supplier conferences and proactively improving demand visibility are all in development. By leveraging advanced analytics, Spectrum Health is working on eliminating costly, last-minute rush orders with an adequate but not excessive inventory.
Spectrum Health's recent investments include acquiring another hospital, the Mecosta County Medical Center and yet another with a signed letter-of-intent. It works with C-level executives on supply chain initiatives, addressing waste, leveraging scale and improving patient experiences. 
"With strong supply chain leadership and demonstrated value, ultimately this is a great win-win," Shull says.