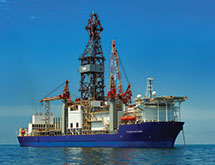 Vantage Drilling was founded with a vision of bringing the best people together with the highest specification, modern fleet in the offshore drilling industry. It has a portfolio of modern rigs with the youngest ultra-deepwater fleet and the third youngest jack-up fleet in the industry. 
Founded in September 2006, Vantage Drilling had its first operating rig working in Thailand in February 2008. It now has three operating drillships and four jack-ups, with another drillship currently under construction. It is also managing the construction of two further drillships for Sonangol, the state oil company of Angola. Its rigs currently operate in the Gulf of Mexico, West Africa and Asia. Vantage has worked in 15 countries. 
"We pride ourselves on providing exceptional operating performance with a focus on service," Director of Supply Chain Andy Poosuthasee says.
 The company's jack-up fleet has achieved approximately 99 percent productive time over the first 60 months of operations, with all projects built on time and under budget. Vantage's operating experience and technical expertise have resulted in additional business opportunities, as the company has been selected to manage third-party shipyard projects and rig operations.
Internal Alignment
Vantage works for major energy operators. From a supply chain standpoint, its main internal customers are the rigs and operations. Its supply chain focus is on procurement, logistics, customs, inventory and warehousing to ensure it gets its rigs the right items, at the right time and at the right price. 
"To ensure we are always aligned with our internal customers, we have regularly scheduled meetings with every level of the organization," Poosuthasee says.  
As a certified lean sensei, and someone who has run manufacturing facilities in the past, Poosuthasee's focus has always been creativity before capital. Vantage aims for continuous improvement and making processes as streamlined and effective as possible. 
"Once we have done that, we will look at making step change investments," Poosuthasee says. "We always ensure we have nothing but 'A' players in our organization in every single position on the team."
Practical Improvement
Strategic initiatives that Vantage's supply chain is pursuing can be classified into two general categories: new country start-up and continuing to streamline the entire supply cycle. Vantage's supply chain team works to effectively support operations and rigs that are constantly moving to new countries. The organization has a very robust process consisting of 53 requirements with event milestones to ensure continuity of supply as it moves into new countries. 
"Typically, my team and I are among the first people in country to perform numerous tasks such as performing risk assessments and developing corresponding countermeasures; understanding and vetting the local supply base; and looking for yard and warehouse space among others," Poosuthasee says. 
In addition, Vantage's robust supply chain compliance audit program allows it to monitor local agents. 
Initiatives aimed at streamlining the entire supply cycle, from requisition and purchase order to delivery and invoice, are focused on reducing the amount of time and steps required. Vantage is working to drive lead-times down through automation, fixed price agreements, development of business intelligence tools, and strategic and local content sourcing. 
Vantage expects that the market is going to get more and more competitive, and contract terms potentially shorter. Consequently, the company will most likely see more movement of rigs and potentially into new countries of operations. 
"Our team will need to continue to demonstrate its ability to effectively prepare the supply chain to support operations," Poosuthasee says. "We have the people and systems in place that provides us a strategic advantage as a supply chain organization." 
Vantage's supply chain team will continue to put energy into recruiting and retaining the highest-level people. In addition, it will continue to demonstrate the need to actively communicate with its internal stakeholders and vendors. 
"This allows us to be true partners to operations, not just a support function," Poosuthasee says. "We emphasize and drive performance and value as measured by internal quality and delivery metrics, and ultimately, our rigs' performance measures of uptime and revenue efficiencies."