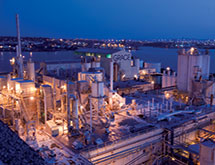 As one of the world's most successful and largest suppliers of specialty chemicals, W.R. Grace understands the importance and value of a strong catalyst. The company has remained consistently focused on excellence for more than 160 years, but Grace could not have maintained its level of success for long without the periodic need to introduce new catalysts for change. According to Director of Global Supply Chain Steven Seeb, the global chemical giant recently introduced a new catalyst in the form of a realignment of its supply chain that he says will make the company more efficient and provide better service to its customers around the world. 
The transformational journey Grace has undertaken in recent years has been nothing short of impressive, with the company not only emerging from bankruptcy last year but also making many key strategic acquisitions along the way. Seeb says that an enabler to this growth has been the company's ability to effectively and efficiently integrate these acquisitions into its existing processes and platforms with little-to-no impact to its customers and operations.  Going forward, this will be even more important as Grace's new financial flexibility will allow it to pursue potentially more significant acquisitions. 
Grace consists of three main businesses, each serving a distinct customer base with a distinct product lineup. The company's catalyst technologies business includes fluid catalytic cracking (FCC) catalysts used by the refining industry, specialty catalysts supplied primarily to polyolefin producers and a joint venture with Chevron Products Company that markets premium hydroprocessing catalysts to the refining industry as well. Grace's materials technologies business includes silica-based and silica-alumina-based materials, sealants, closures and coatings for the food packaging industry, and separation media and purification products sold into pharmaceutical and mine safety markets. The third business unit within Grace is focused on specialty construction chemicals and building materials, as well as value-added technologies and services that strengthen, enhance and protect structures. 
Opportunities for Change
Considering the broad product lines across Grace's various businesses, the number of different industries it serves and the various acquisitions the company has made over the last several years, Seeb says the company identified parts of its supply chain that could be more effectively organized. "When we considered our planning and order fulfillment processes, we felt changes were needed in terms of how these were structured.  As a result, sales and operations planning, logistics and customer service are now consolidated under Supply Chain Operations and we are working to optimize the linkage between these three areas," Seeb says. 
This realignment is part of a broader supply chain vision that Seeb says will take shape over the next several years, part of which includes having the necessary talent in place to deliver on this vision. Other facets of this initiative involve further standardization across Grace's supply chain along with implementation of advanced planning tools. Seeb says Grace has the skill, expertise and patience needed to successfully complete the journey and the company has developed a timetable for the implementation. "It's not going to happen overnight, but we have a clear path forward and we're working towards that vision," he says. 
Building Stronger Links
Even before these new initiatives are implemented, Grace has a strong foundation in place that makes its supply chain one of the best in the business, according to Seeb. At the base of this foundation is its people who are committed, resourceful and focused on continuous improvement. 
Seeb says another one of the company's strengths is the breadth of the raw materials it sources. "That gives us exposure to a lot of different suppliers, and we are able to not only leverage that but also learn from them," he says. Grace has spent the last couple of years developing closer relationship with some of its key suppliers, he adds, and in some cases, working closely with them to develop new technology to produce raw materials more efficiently. 
"That's going to pay off with some handsome dividends in terms of cost reduction," Seeb says, adding that the company is helping some of these key suppliers expand into other regions where Grace has a significant presence.