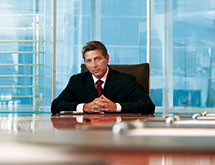 The CSCO's responsibilities have evolved over many years, but the last decade especially has seen significant transformation. Traditionally focused on the tactical operations of moving products between two points, today's CSCOs must contend with a huge level of complexity and risk in supply chain operations. This requires innovative thinking, and companies risk failure if they cannot adapt to this new mindset.
The concept of supply chain has changed so fundamentally that the term, in fact, may be outdated. Supply chain management commonly is visualized as a chain of goods running from point A to point B. This no longer captures the breadth and depth of today's supply chains, which function more like an intricate web of integrated, global relationships. These relationships supersede political and geographic boundaries, and they also cross over the traditional barriers within companies.
This latest environment challenges companies to re-evaluate their criteria for selecting the most seasoned individuals. The attributes that make a CSCO successful today look very different from those traits considered desirable in the past.
Stages of Change
Supply chain management has undergone roughly four stages of change in the last 50 years. The dialogue analyzing a transforming supply chain started in the 1960s and '70s, when the first view and discussion centered around the movement of products. A lot of that was from the standpoint of manufacturing through to customer and end consumer.
In the '80s, supply chain management looked further at the logistics of the inbound flow, from producing or sourcing raw materials through to integrating manufacturing and production with the outbound flow to the consumer. In the '90s, the emergence of e-commerce transfigured supply chains to a demand-driven world order. Customers and consumers were empowered as never before, forcing supply chain managers to adopt an end-to-end philosophy, from suppliers to businesses to end-users directly.
With the new millennium, supply chain management truly has been globalized, with organizations operating in a network. Technology has bridged gaps between producers and purchasers. It also has smoothed geographical divides, as supply chains transcend national boundaries.
Tactician to Orchestra Leader
For decades, CSCOs have been perceived as hands-on tactical operators focused on optimizing the movement of products. CSCOs were accustomed to heading out into the field, rolling up their sleeves and fixing problems. They offered skills of hard bargaining and negotiating to get the job done. 
In terms of corporate hierarchy, CSCOs often have been relegated to a logistics position within manufacturing and not part of the inner core of C-suite decision-making.
The role of modern-day CSCOs has been elevated to a high level, which reflects its critical importance to the success of an organization. Today's CSCOs are strategic relationship builders who recognize the vast interconnectivity across global supply chains. To be a winner, CSCOs must possess a different skill set, embodying some of the following traits:
+Mindset of a CEO – CSCOs truly must be leaders and have a solid understanding of an organization's strengths and weaknesses. They should report directly to the CEO. It's no accident that some of the most capable CSCOs and COOs have become the CEO of the company. Think of Tim Cook's rise to CEO at Apple after he streamlined supply chain operations while serving as senior vice president of worldwide operations. Other examples include McLaren's Mike Flewitt and Qualcomm's Steve Mollenkopf.
+Master collaborator – CSCOs build bridges with colleagues, vendors, organizations and even competitors if it makes business sense. CSCOs see their company as part of a network in which they can leverage skills and capabilities of business partners. Supply chain officers are ready and able to form alliances, and they possess superior people skills to influence others.
+Flexible and adaptable – To survive and thrive in this new environment, CSCOs must be open minded and nimble. They understand that change is constant and rapid, and they reject a rigid structure. CSCOs have a solid understanding of regulatory hurdles based on geography and product and can navigate appropriately.
+Great communicator – CSCOs need to be comfortable speaking with people at all levels. This includes talking shop with loading dock operators and plant personnel while simultaneously articulating the strategy of the company to corporate investors, boards of directors and other stakeholders. CSCOs function much as an orchestra leader who can motivate and move teams to deliver.
+Analytical guru – Businesses today are saturated with reams of information, much of it in real time; for example, data from points-of-sale, online searches and ordering activities. Companies are equipped as never before to gain profound insights into customer behavior. CSCOs must be able to quickly interpret vast amounts of data and make strategic decisions to keep the business competitive. They aren't required to be the information technology experts of the company, but they must demonstrate a solid understanding of the scope and scale of data from multiple, diverse channels and act intelligently on these data.
The Right Leadership Talent
Just as supply chains have changed radically, so, too, have assumptions about the desired qualifications and background for a company's CSCO. Historically, CSCOs come from the logistics or procurement areas. Today, given the fast-moving and ever-changing phenomenon of supply chains, the standard career path for CSCOs is much more elusive. Companies are wise to consider prospective talent from nontraditional backgrounds. 
Individuals with knowledge in consumer goods may have an edge compared with those who have spent their careers in another industry, as companies in this sector are faster to recognize the need for end-to-end supply chains. Retail, for instance, is long accustomed to fostering strong direct-to-consumer channels. The best talent comes from a corporate culture in which traditional hierarchies have been discounted in favor of more horizontal and collaborative reporting lines.
Leaders who have dealt with multiple countries and cultures are better positioned to be successful. Such individuals have demonstrated a higher level of skills, having worked with various languages, cultures and backgrounds.
Given the global nature of markets today, companies should be encouraged to consider candidates who have worked in both developed and developing markets. These leaders have been exposed to different types of risk and disruptions to supply chains and have been forced to adapt accordingly. This experience provides the know-how to succeed in a volatile and evolving environment.
Finally, CSCOs must possess an analytical understanding of the value and impact of information. Keeping pace with rapid changes is essential in almost every profession but most certainly in supply chain management. The state of global business has transformed radically in short order, thanks to technology and globalization. Successful CSCOs – and, indeed, successful companies – embrace change with flexibility and collaboration.