Food, Beverage & Hospitality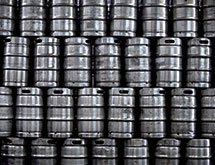 The difficult part is finding a reliable logistics and supply chain partner. Food and beverage companies need partners with industry-specific expertise that can devise customized solutions. Taking a look at what others have done can help food and beverage producers find the right partners for their needs. 
One such example comes from Avery Brewing. Founded in Boulder, Colo., in 1993, Avery Brewing is a relatively small craft beer company known as the brewers of Avery IPA, White Rascal Belgian-Style White Ale, The Maharaja Imperial IPA, Mephistopheles' Stout and more than 20 other year-round and seasonal beers. Avery Brewing will move into a new $27 million, 96,000-square-foot brewery in early 2015. 
Taking Ownership
Avery Brewing joined the MicroStar Logistics keg management program in 2003. Founded in 1996 in Greenwood Village, Colo., MicroStar manages the largest independent network of kegs, approaching 2 million nationwide, and the corresponding logistical needs for approximately 200 craft brewery customers. 
MicroStar delivers kegs for Avery Brewing so it doesn't have to worry about keg ownership. MicroStar takes care of the supply chain complexity associated with keg logistics, and it repairs and maintains the fleet of kegs. Choosing MicroStar instead of owning its own kegs also allowed Avery Brewing to reduce its carbon footprint by more than 65,000 kg of CO2 over the past 12 months alone. 
Late last year, Avery Brewing and MicroStar announced a multi-year extension of their ongoing partnership. "We see the MicroStar team as an extension of our brewery," says Avery Founder and CEO Adam Avery.  "Their pooled-keg model, national scale and commitment to customer service are the perfect fit for Avery Brewing."
"Avery's commitment to brewing world-class, category-defying ales and lagers and their adherence to the highest quality standards have led to their skyrocketing demand," says MicroStar President and CEO Michael Hranicka. "We're proud to help support pioneering brewers like Avery."
Fully Stocked
Southern Wine & Spirits of America is another company that has looked to partners for help with logistics. The nation's largest wine and spirits distributor and broker with operations in 35 markets, Southern Wine & Spirits of America employs more than 14,000 people.
In late 2014, the company announced a partnership with Westfalia Technologies, a provider of logistics solutions for manufacturers, warehouses and distribution centers since 1992. The companies announced the opening of Southern Wine & Spirits of America's newly automated facility in Union City, Calif. Utilizing Westfalia's automated storage and retrieval system (AS/RS) technology and Savanna.NET warehousing software, the facility is one of the most technologically advanced in the beverage alcohol industry.
Fitted with Westfalia's high-density AS/RS technology, Southern's 334,000-square-foot, 55-foot-tall facility on Atlantic Street stores 24,750 pallets and is equipped for pallet storage up to 10 pallets deep. Four Westfalia storage and retrieval machines (SRM) refill pallets automatically and each SRM can process more than 80 pallets per hour. 
Westfalia's Savanna.NET warehouse management software brings the system together, directing and controlling all pallet movement and optimizing material flow and picking. The hardware-software combination will deliver Southern ultimate warehouse efficiency, generating cost savings and increasing business operating capacity within the same space.
"We're always looking for innovative solutions to leverage world-class supply chain capabilities to reduce costs, deliver optimal fulfillments and provide tailored customer service," says Wayne Chaplin, president and CEO of Southern Wines & Spirits of America. 
"We know the importance Southern places on service," adds Dan Labell, owner and president of Westfalia Technologies. "Our automation technology will help the company realize new efficiencies, better utilize space and position themselves for growth."