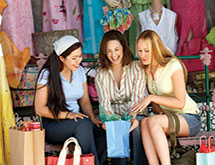 Manthan released a free guide for retailers and their suppliers titled "Three Steps to Next Generation Supplier Collaboration in Retail." This guide lays out a step-by-step approach for a retailer to activate shopper demand and deliver a better shopper experience by improving inventory availability, product assortment, pricing and promotions; while driving down operational and logistical costs.
Need for Change
According to Manthan, Nikki Baird, an analyst at Retail Systems Research, emphasized the need for collaboration in a recent blog post – "It's Finally Time to Get Serious About Supply Chain Collaboration (Again)." Competitive pressures, such as Amazon's strength in fulfillment and Wal-Mart's same day delivery capabilities, combined with elevated shopper expectations, are forcing retailers to take a closer look at supplier networks and capabilities to optimize the shopper experience.
"The rapid change in consumer shopping behaviors is forcing retailers to rethink their supply chain strategies. Retailers must incorporate supply chain collaboration tools to decrease time to fulfill, to meet shopper expectations," said Baird.
According to Manthan, several opportunities exist to greatly enhance the retail shopper experience through an optimized supply chain extending back to the manufacturers. Retailers can collaborate with their supplier network to improve stock availability, speed up new product launches, plan joint promotions, modify price offerings, analyze shopper demand and preferences, and more. However, the lack of visibility, compounded by multiple silos of data, leads to breakdowns in the supply chain. In "Three Steps to Next Generation Supplier Collaboration in Retail," Manthan recommends a phased approach for retailers to move from information disparity to complete collaboration with suppliers.
Key Steps
Information Collaboration: During this phase, retailers should attempt to consolidate supplier and product data into a 'single version of the truth'. Leveraging an interface for data and document exchange can further optimize retail workflows and introduce visibility.
Process Collaboration: Retailers can identify and implement standardized processes to improve efficiencies. By introducing automation to purchase order management, trade promotion funding, invoice reconciliation and space planning, retailers can reduce time spent on administrative supply chain and merchandising activities.
Integrated Collaboration: Retailers can now spend more time on making the right decisions across their supply chain. Leveraging retail direct data and shopper intelligence, retailers can provide contextual insights to suppliers to influence shopper demand. Retailers and their suppliers can then observe increased shopper and banner loyalty, which in turn drives sustainable growth and competitive advantage. 
Manthan provides advanced analytics solutions for retailers and consumer packaged goods companies. Manthan's Vendor Link enables and empowers retailers to maximize the value of their supplier relationships. It integrates process and data collaboration via a self-service portal to facilitate an agile, profitable supplier network, and it drives process efficiencies through business process automation, information management and visibility enhancement across the supply chain. 
Retailers can also share insights related to products, categories and shoppers with their supplier network. The combination of a powerful process collaboration platform with shopper level insights enables manufacturers to influence shopper demand through targeted promotions and communication.
"Streamlining supplier management processes has never been as simple, especially with SaaS solutions," said Manthan's , VP, Supplier Collaboration and Analytics Sameer Narula. "Consequently, retailers can begin by on-boarding all their suppliers, then adopt packages related to capabilities like information management, order-to-pay, promotions or retail insights as they advance through each of the phases of supply chain collaboration."