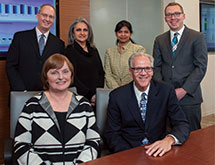 The national transition in healthcare reimbursement from a fee-for-service to a fee-for-value model has forced healthcare providers across the country to find ways to lower their costs while maintaining a high quality and reliable service. For Advocate Health Care, evolving its supply chain operations to meet this challenge is its highest priority. 
"Our payment structure going forward is based on how well we advance, acquire and use products as part of our delivery of care, and making sure we understand the value of those products based on how we are paid," says Thomas M. Lubotsky, vice president of supply chain and clinical resource management for the Downers Grove, Ill.-based healthcare system. "The cost of items is important, but balancing the cost of those products against the quality of care and safety they deliver is paramount. If we're paid on fee-per-value, we have to be smarter about the costs of supplies we use to provide patient care and use them in a way that gives the best clinical results."
In the past few years, Advocate has focused its supply chain more closely with the care it provides. "Our supply chain is organized not just around bringing products in, but whether we're using them safely and appropriately," he adds.
Advocate is the largest healthcare system in the metropolitan Chicago region, with 10 hospital campuses.
Consistent Standards
Advocate's supply chain is working with its physicians and nurses to understand how supplies are used. As an example, the healthcare system recently examined the use of antibiotic bone cement, a costly item used in orthopedic procedures. "There was a great variability of how it was used, " Lubotsky notes. "Our physicians have  developed clinical criteria of when it should be used, which has provided us with a more consistent standard of practice."
Advocate's ERP system, provided by Lawson Software, interacts directly with its medical record and financial systems. This interaction gives its supply chain the ability to aggregate clinical and reimbursement data with procurement data. With this combined insight, knowledge of these economics and outcomes of care have led to the development of specific care management goals, some of which become part of a balanced scorecard where physicians are incented to achieve certain standards of care. 
The healthcare provider continues to evolve its procurement and data management processes, particularly with new products. "Everyone wants their products to be used, but we want to make sure that with new products there's enough evidence that those products have enough advancement of clinical results before adding them," Lubotsky adds.
Advocate's suppliers are closely involved in its efforts to achieve more efficiency into its end-to-end supply chain management. Advocate's supply chain recently established a partnership with Owens & Minor, a leading distributor. Advocate has outsourced the leadership of its logistics operations to Owens & Minor, and one of the supplier's executives, Jim Churchman, is a member of Lubotsky's leadership team. Other key members include Deborah O'Connor, vice president of clinical effectiveness; Rosemary Grein, administrator of sourcing and value analysis; Padmini Mandavalli, director of supply chain operations and Mike Brown, manager for business intelligence and performance management.
A Stronger Chain
Advocate's supply chain operations could soon grow their footprint dramatically. A merger between Advocate and NorthShore University HealthSystem – located in Chicago's northern suburbs — is pending approval from the Federal Trade Commission. If approved, the merger would add four hospitals and more than 100 healthcare facilities to Advocate's portfolio creating the nation's 11th largest healthcare system.  
"With this merger, we have the opportunity to deliver best-in-class supply chain operations and systems," Lubotsky explains. "We would continue to view ourselves as not just a healthcare supply chain, but one that adopts the top-performing supply chain features and attributes of other industries."