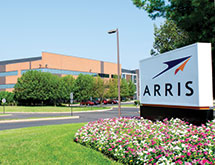 This is called the Information Age, and with the rise of digital technology there are more types of information being transferred between people than ever before. The world's information infrastructure is used to transfer everything from secure bank documents to children's cartoon shows. The one thing all these different types of information have in common is that they all require increasingly sophisticated networks and devices to send and receive them. Perhaps no company understands this as well as ARRIS, a global telecommunications technology leader.
Among ARRIS' many achievements are the development of digital television and the first wireless broadband gateway, and the company continues to be on the cutting-edge of developing the technology that will carry the next generation of information from point to point. The company says ultra HD television, cloud services and multiscreen video are areas where the company is focusing its attention for future innovations, and it is gearing up to ensure that its own internal processes are in prime condition to keep up with the speed of that future technology. 
Senior Vice President of Supply Chain Business Operations Jerry Cederlund says ARRIS has been undergoing a supply chain transformation in recent years, beginning with the purchase of Motorola Home from Google. The multibillion-dollar deal gave ARRIS global capabilities in terms of video delivery and broadband technology, but it also meant significant changes to the makeup of the company's supply chain. As Cederlund explains, the acquisition has forced ARRIS to make some difficult decisions in terms of its suppliers, but ultimately the transformation will result in a supply chain that befits ARRIS's position as one of the world's premier video and broadband technology providers. 
New Addition
A veteran of Motorola since 1993, Cederlund came to ARRIS as part of the Motorola Home acquisition in 2013. He says that when the deal was finalized, his first task was to sit down with the other supply chain leaders and take a good look at how the supply chains of ARRIS and its new acquisition could best be integrated. There were some overlaps in terms of product lines, Cederlund says, which resulted in the difficult decision to pull out of some contract manufacturing sites. Perhaps the biggest change, however, involved determining what to do with the larger company's supplier network. 
ARRIS developed a rigorous standard for retaining suppliers, with a detailed request for proposal document of more than 50 pages. Cederlund says suppliers were vetted through several rounds of evaluation, with the resulting suppliers being selected for their costs, their response time and their overall quality. In some cases, vendors on certain products nearing the ends of their lifecycles were allowed to stay on to see their products through to the end, but in general ARRIS had to go through the painful process of cutting ties with some long-term partners.
In those situations, Cederlund says, ARRIS did all it could to ensure that those long-term suppliers were given adequate notice about the transition, but the biggest challenge came from within the company. "With any kind of major move like that, there's a degree of organizational resistance," he says. 
Overcoming Resistance
The initial resistance to change was due primarily to the fact that the company's supply chain transformation involved transitioning ARRIS from a siloed approach that had business unit heads managing individual supply chains for product lines to a model that aggregates core functions that can be shared by several business units. Many of these business unit heads were wary of ceding control over their supply chains to a centralized team, and Cederlund says convincing them of the benefits was among one of the challenging aspects of the transition. 
One of the key ways ARRIS eased these executives' minds was by introducing them to the SCOR® Methodology developed by the Supply Chain Council (SCC). Cederlund says the SCOR® Methodology allowed ARRIS to rearrange its operations to place a supply chain team on each product line, with a supply chain lead who acts as a "virtual COO" for that product line. This way, even though the supply chain is led centrally, general managers still have individualized connections to that central authority. "They really feel like when they say something to this virtual COO, that they can make almost anything happen," Cederlund says. 
This new model, combined with showing executives how it benefits the entire company, helped Cederlund and his team change minds. "Then the resistance was reduced and we successfully integrated," he says. 
Complete Solution
With research and development and manufacturing around the world, ARRIS serves customers including cable television operators, satellite television and Internet providers, and other related customers. The company's products and solutions include encoders, cable modems, network routers, set-top DVRs and video servers. "Our product portfolio provides a complete solution for video and broadband customers." Cederlund says. 
According to Cederlund, the biggest challenge ARRIS faces right now is that there is an increasingly large segment of its customer base that is pushing for and developing lower cost client devices. Cederlund says the company's new supply chain model is giving ARRIS the flexibility to segment its supply chain into different configurations for varying cost structures. In the coming years, Cederlund says the company anticipates further growth. The success it has had integrating the Motorola Home acquisition puts ARRIS in a good position for the future, he adds.