Baylor Scott & White Health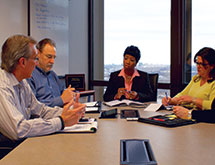 Integration and consolidation are allowing healthcare provider Baylor Scott & White Health to create better experiences for patients and staff. A significant part of this consolidation is to streamline supply chain organization. As such, the system is integrating the supply chain organization into a consolidated operation so that all procurement, strategic sourcing, project management and facility operations meet the demands of this fast-growing health care system. 
In 2013, two renowned health care systems, Baylor Health Care System in North Texas and Scott & White Healthcare in Central Texas, merged to create Baylor Scott & White Health. Together, the system serves a population larger than the state of Virginia, with 49 hospitals, 800-plus patient access points, more than 5,800 affiliated physicians, 35,000 employees and the Scott & White Health Plan. It has more than 5,200 beds with 5.3 million patient encounters per year. 
"We promised the communities we serve and the state of Texas that the merger would create tangible benefits and keep a laser focus on putting the patient first in everything we do," says Joel Allison, CEO of Baylor Scott & White Health. "We can already validate we are beginning to deliver on these commitments, as we continue to become a truly integrated delivery network."
Pamela Bryant, senior vice president of supply chain services, says the merger is going well. "Right now, we are 18 months in," she states. "We have fully integrated the supply chain organizational structure." 
New Distribution Center
The company is in the early stages of building a new, centralized distribution center to optimize logistics serving operations in both Central and North Texas, which currently each have a dedicated distribution center. 
"We decided to build a consolidated distribution center to gain greater efficiencies," Bryant says. "This will support our standardization efforts and inventory management goals. With a standardized inventory in one location, we will be able to reduce inventory at the hospitals, improve delivery of inventory, reduce touch points and effectively manage supplies at a logical unit of measure." 
Top Technologies
One of the biggest challenges for the supply chain team is ensuring its technology is fully-integrated with a staff that is well-trained. North Texas operations runs Lawson and Central Texas runs PeopleSoft. As part of the integration efforts underway, everyone will transition to Lawson.
Managing the supply chain for the largest nonprofit hospital system in Texas involves many complexities. Bryant's team analyzes purchases and has defined processes to ensure compliance to standardized policies. "All of the facilities are standardized from a policy and procedure standpoint, for example we all conduct a physical inventory under standardized guidelines," she explains. 
The staff conducts two physical inventory counts per year and manages monthly reports as well. The inventory count identifies expired product, soon-to-be-expired product and slow-moving product. "In this way, our supply chain efforts really do impact patient safety," Bryant says. "Furthermore, we want physicians, nurses and others focusing on taking care of patients. Any time they spend looking for inventory is time taken away from those we are here to serve."