---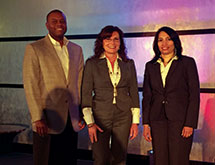 Bristol-Myers Squibb was formed by the 1989 merger of two leading pharmaceutical companies: E.R. Squibb & Sons and Bristol-Myers. Although its origins date to 1858, over the past eight years the company has been on a journey to transform its business, recently accelerating its evolution to become a diversified specialty biopharma. That shift in focus has been a game changer. 
"Our evolution to a diversified specialty biopharma company has resulted in some remarkable innovation that is positively impacting patient's lives," says Farryn Melton, senior vice president and chief procurement officer. "Our focus is on helping patients prevail over serious diseases such as cancer, cardiovascular disease, HIV, hepatitis C and rheumatoid arthritis. That mission is very special and unique." 
Bristol-Myers Squibb has distinguished itself by concentrating on these and other specialty disease areas, as well as genetically defined diseases. One area in which the company is working is immuno-oncology, where it has both small molecules and biologic programs that are designed to enhance the cancer-killing power of the immune system or increase the visibility of the tumor to the immune system.   
"We believe immuno-oncology has the ability to transform the way cancer is treated," adds Jyothi Ahmed, the executive director, Global Procurement Transformation Office. 
A New Model and Approach  
This company-wide evolution has led to significant changes in the company's Global Procurement (GP) organization. The organizational and operational model was restructured to enable greater collaboration with business partners and drive more strategic solutions, while enabling greater speed to market. 
"We have a foundational principle of 'speed to the patient,' " Ahmed says. "Patients are waiting for  these potentially life-changing treatments. All of the changes we have made have ultimately been to enable our business to more effectively and efficiently address patients' unmet medical needs. We ultimately work for the patients."  
Bristol-Myers Squibb's supply chain is integral to serving the patient.  As part of its evolution to a diversified specialty biopharma, its supply chain must be able to accommodate the specialized nature of the company's products and patients.  
"Our supply chain is becoming more personalized with more distribution channels, high demand volatility and accelerated product launches," Ahmed says.  "It must be able to better respond to our evolving biopharma needs and enable an excellent patient experience.  This requires an integrated approach to planning, strong internal relationships across the company, and strong relationships with our suppliers."
The new GP operating model features business-area specific teams called Business Partner and Strategy (BPS). The leads interact closely with their business partners across the research and development, global manufacturing, commercial, and corporate goods and shared services groups to provide cutting-edge insights and best-practice category strategies that deliver on business objectives. 
"These objectives include, but are not limited to, discovering innovative medicines and delivering those medicines to patients faster and building excellence in our worldwide commercial capabilities," Ahmed notes. 
GP also employs a variable resource model to execute against category strategy roadmaps, utilizing a progressive, consistent methodology and toolset provided by its Sourcing Excellence (SE) teams, who also manage mature categories and outsourced spend categories. GP supplements the variable resource model by outsourcing to Global eProcure (GEP). GEP enables the GP organization to align the right resources to the appropriate initiatives, making GP more effective in its interactions with internal and external stakeholders.  
Supporting the BPS and SE teams is a Center of Excellence (COE) that focuses on strategy, organizational alignment, capabilities development and standard policies and procedures development. In addition, it drives the Supplier Diversity program and key process and technology enablement. 
"An example of how this model works is when our R&D department is performing drug development," Melton says. "The BPS group partners closely with the business to identify and develop leading value chain and sourcing strategies that align with, and influence, business strategies that help us discover innovative therapies. They focus on the end-to-end value chain and are 'trusted advisors' to the business. This is a different, more strategic role for the procurement function."   
Good Results
Bristol-Myers Squibb seeks to derive as much value from its supply chain as possible, Director of Procurement Booker Farrior says. Many companies have outsourcing relationships, but Bristol-Myers Squibb is focused on "the next evolution of outsourcing," which it refers to as "selective integration," he explains.
Through this approach, Bristol-Myers Squibb aims to generate value and jointly develop capabilities with its suppliers. "We have to become more collaborative with [them]," Farrior says. "We are taking deliberate steps to build trust and be more cooperative with all of the key parties involved with the value chain."
Bristol-Myers Squibb has implemented best practice processes, governance, tool kits and action to build these relationships. It also has held brainstorming sessions with suppliers to develop solutions to challenges. They create an expectation of collaboration between all parties to foster both innovation and breakthrough thinking.
Melton adds that Bristol-Myers Squibb also strives to be diverse from a supplier standpoint. For instance, "We strive to use small businesses and diverse businesses that can help us think differently and support product and process innovation," she says.
Top Talent
Bristol-Myers Squibb's evolution also requires finding the best talent. "There are a number of creative ways we do that both internally developing great talent and external talent pipelining," Melton says, noting that she networks with people at conferences, spotting talent and creating relationships for a potential talent pipeline. After more than 20 years in the business, she knows a lot of people, and often recruits people she has met and/or worked with over the years, including Farrior. "We worked together many years ago and I never forgot him.
"We also look outside traditional functional channels," Melton continues. "For example, the head of our R&D procurement organization is far from a typical procurement leader.  What she has is deep knowledge in her business area and the ability to integrate well with the business leadership. 
"Professionals like her develop the understanding of the requirements and potential of a procurement organization," she explains. "They know how to marry the two in driving value and maintaining the discipline of rigor within our procurement practices."
This diversity of background makes Bristol-Myers Squibb and its GP organization a desirable place to work, according to Farrior. "We have a very diverse team and we're attracting a lot of people who are very knowledgeable," he says.
"The 'Tiger Team' concept in the COE reflects this," Melton adds. "The group is unique in the healthcare industry and is essentially a team of internal consultants and project leaders who are deployed in a strategic way to fill capacity and capability gaps for the most important programs. 
"They're a small, mighty group of talented people of varying backgrounds," Melton continues, noting that they have diverse backgrounds including consulting, supply chain and Six Sigma training. "They bring intellectually different things to the table, then harness and integrate them in a way that collectively brings up the organization to another level."
Road to Improvement
Melton is proud of the changes that Bristol-Myers Squibb's procurement organization has made.  It is a more integrated function, achieving  total value-based results. "We have a dynamic organization," she says, noting that the company is implementing a "true end-to-end technology solution that supports the entire procurement process from sourcing to payment." 
But transforming a global organization is not a simple task, she admits. "Having the right people supporting you is key to everything and [realizing] your vision faster and more successfully."
"That includes the company's senior executive team," Ahmed says. "Their commitment and support strengthened our ability to persevere, be resilient and true to our vision along this transformation journey." 
She also highlights consulting firm Accenture, which helped with the organizational model's design and implementing initiatives related to procurement transformation. "It has been a successful collaboration in taking their leading practice processes and adapting it to Bristol-Myers Squibb," she says, noting that "the Accenture team's deep experience in procurement was very beneficial."
Farrior agrees. "I'm proud to be part of the change in significant ways," he says. "The opportunity was there. If you were to poll the organization, you'd find that everyone is proud to be part of it." 
Melton and her leadership team have developed a clear strategy, set the appropriate tone and culture, and established the right team to realize the vision.  These factors, along with strong internal and external relationships, are key enablers of a successful transformation. 
"When you are committed, you do what it takes; and the journey continues," Ahmed concludes.