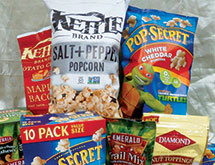 Evolving from its roots as a 103-year-old walnut company, Diamond Foods has expanded its product lines to include healthy snack alternatives. This has required consolidation and integration in its supply chain for greater efficiency. "We have evolved in terms of how the company operates from a single-product nut company to a healthy snack company," Senior Vice President of Supply Chain Operations Rob Grant says. "We consolidated and integrated our networks so it's as if we were always this way, as opposed to running as separate entities." 
Walnut orchards sprang up throughout Southern California in the 1880s and until 1920 produced 95 percent of the state's commercial crop. To provide a centralized location for processing their nuts, growers began forming dozens of local cooperative marketing associations, such as Diamond Walnut Growers Inc., which later became Diamond Foods. The San Francisco, Calif.-based company was founded in 1912, and with a strong heritage under the Diamond of California brand and completed its initial public offering in July 2005.
Diamond Foods' 1,700 walnut growers are family farmers with orchards in the heartland of California's Central Valley. Working with Diamond Foods guarantees growers a market for their crops and provides the company with high-quality walnuts for its Diamond of California and Emerald Brand product lines. 
Today, Diamond Foods is an innovative premium snack food and culinary and snack nut company focused on building and energizing its four brands: Kettle Brand chips, Emerald snack nuts, Pop Secret popcorn and Diamond of California nuts. "Our mantra is by honoring nature's ingredients, we make food people love," Grant says. 
Seasonal Accommodations
Diamond Foods' growers use the latest environmentally friendly farming practices and constant attention is paid to the orchards, from pruning to irrigation to harvest. When fall arrives, the nuts are shaken from the trees and swept into bins. Once the hulls are removed, the nuts are dried and shipped to the company's 755,000-square-foot supply chain headquarters in Stockton, Calif., where each nut is carefully selected, sorted and cleaned before shelling and packaging. 
"The seasonal part of the company is exclusive to our walnut harvest that runs from September through December, and we process 100 million pounds of walnuts and distribute them from California to Maine," Director of Transportation Gabe Sandoval says. "What makes us unique is our timing. We have to bring in the nuts, crack them package them for sale and distribute throughout the country."
Diamond of California and Emerald brand products are processed and packaged in Stockton and the company has three seasonal receiving facilities in California: Gridley, Linden and Visalia. To optimize its supply chain during this time, Sandoval says the company also has a deployment facility near Fort Wayne, Ind., where the walnuts can be repackaged to what its customers in the Midwest and Southeast want and then distributed. "That's how we executed our plan to get 100 million pounds of product out to market," Sandoval says. 
Alternative Methods
Using alternate modes of transportation has been beneficial for the company as challenges remain at the West Coast ports. "One of our transportation challenges is the lack of vessel space and the labor strikes on the West Coast," Sandoval explains. "So our team has taken steps to better utilize rail and access the East Coast ports." 
"We still don't know the long-term impacts of this," Grant says. "Is it worth it to set up alternatives? Will this port issue last two months or six months? We look at alternative options, but sometimes the customers don't want to go to another port." 
Over the past six months, Diamond Foods has implemented intermodal transportation to move its products and get product to its customers efficiently and realize a cost-savings. "I think that has been one of our largest improvements," Sandoval says.
Eighty-five percent of Diamond Foods' internal freight lanes have intermodal capability that the company plans to focus on. "Focusing on both light products that travel less than 1,000 miles and heavy products that travel more than 2,500 miles – that's how we manage to cut cost in a freight inflation market," Grant says. "We have high goals to make sure we achieve our cost imperatives along with providing high-quality customer service." 
The Transportation Management System used by Diamond Foods analyzes outbound freight and in this way the company has found that lanes 1,000 miles or less can be beneficial. "We are taking advantage of lanes that move 650 to 1,000 miles from origin and are finding there is a benefit in shipping by that mode," Sandoval says. "With intermodal, your fuel costs come down directly and it helps us align our costs better, track miles and decrease our footprint."
Diamond Foods is beating the inflated freight market by choosing strategic shorter routes, Grant says. "We look at 650-mile routes for products that weigh 8,000 pounds, for example, which is something that many companies don't look at; they think heavy, long-distance moves," he adds.  "Utilizing intermodal transportation on shorter-distance lanes has allowed us to decrease our cost and that helps us with being able to invest in other parts of the business."
Consolidated Effort
Diamond Foods partners with regional and national carriers for its intermodal, truckload and less-than-truckload needs. "These carriers don't need to bid the whole business, but find a sweet spot that fits best for us and them," Grant explains. "We can benefit from aggressive pricing by awarding carriers an entire lane or a certain amount of volume in a specific lane, which stabilizes our costs over the year and eliminates the high end of the cost curve."
For example, Diamond Foods partners with a regional carrier in the Midwest, so during last winter's polar vortex, it was able to get its products shipped when a number of carriers were stalled. "That's something we want to expand on and are looking at expanding it to our Beloit, Wis.-based facility to help us run 500 miles from the facility," Sandoval notes. 
The company also consolidated to one forklift provider using a leasing program that has decreased its maintenance cost by 90 percent while keeping the machinery ready and able to meet shipping and warehouse demands. "We removed the old technology for charging our forklifts and 70 percent are now electric," Warehouse and Shipping Manager George Tira says. "It is known as a fast-charge, which is cleaner, safer and keeps the forklifts fully charged for eight hours. We can charge during lunches and breaks to keep the forklifts moving and the force working." 
Moving forward, Diamond Foods looks to continue implementing ways to get its product to its customers faster. For example, the company is analyzing the challenges and opportunities of direct-to-store deliveries in areas of the country where it makes most business sense. "In certain markets, we are looking at partnering with big retailers to go direct-to-store instead of hitting their warehouse first," Grant explains. "We need to be faster, more full-service and aware of opportunities like that." 
The company also plans to implement a new ERP system that will help it develop fully mixed loads by consolidating different product families. "As the world gets smaller we need to react more quickly and look at getting product to customers in less time," Grant says. "We are trying to be very analytical in our approach to scheduling, inventory and shipments."