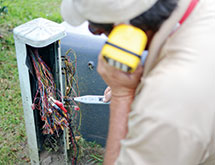 Frontier Communications is an active provider of voice, data network, broadband, video and data security solutions to homes and businesses in 28 states, serving more than 3.5 million customers. When it comes to accessibility to its customers and the way it runs its business, however, the company considers itself part of the fabric of each local community it serves. 
"In a time where consolidation of service providers often means the elimination of local presence, our company is organized to serve our markets individually," says Kenneth Northrup, vice president of procurement and fleet for the Stamford, Conn.-headquartered company. "Each market is managed directly by a general manager who has overall  ownership of the customer experience, this includes network performance and development, repair service, and profit and loss for his or her area. Decisions are made locally for each local market we serve, so we are therefore extraordinarily customer-focused and engaged."
The company's supply chain operations are organized around giving each of the company's markets exactly what they need. "At its core, our organization is focused on helping our general managers in each community serve customers," Northrup adds. 
Managing Relationships
Frontier's supply chain department consists of 173 employees responsible for strategic sourcing, procurement and logistics. "We manage vendor relationships, sourcing, purchase order flow, inventory and distribution to storerooms and job sites across our entire footprint," Northrup says. 
Materials managed and sourced by the team range from the copper and fiber cable used to transmit data and complex electronics that serve as the data network's backbone to the modems and set-top boxes used by customers. "Our operation in procurement and logistics has the primary goal of insuring that we have the materials we need to meet and exceed our customers' needs on a timely and cost efficient basis," Northrup adds. The company contracts with  two main logistics providers who help to optimize material flow, inventory and materials cost on Frontier's behalf. Frontier also operates three distribution centers.
Frontier's 3PL partners help it manage inventory while ensuring it can meet its commitments to customers. "We partner with key third-party supply chain providers to leverage their size and scale to ensure we have the variety of materials we need without requiring us to stock volumes of excess inventory," Northrup says. "That said, if a supply partner comes to us with a significant savings incentive, we are opportunistic and will consider holding some inventory to drive down long-term costs."
New Opportunities
Frontier has grown significantly through acquisition within the past almost five years, and plans to double its size again in the next 15 months. The company in 2014 added 507,200 broadband subscribers in Connecticut to its portfolio through an acquisition with AT&T, and in February 2015 entered into an agreement with Verizon to acquire that company's wireline operations in California, Florida and Texas. 
"For our supply chain operations, the expanded reach and purchasing power present several opportunities," Northrup says. "Most of those revolve around structure and automation. Vendor consolidation, automation of workflow paired with disciplined implementation and measurement of our processes are critical to our future success." 
Within the past 18 months, the company has evaluated its distribution center and storeroom sites and realigned its full-time and part-time staff. Frontier also worked with one of its long-term 3PLs to eliminate a regional distribution center. These changes allowed the company to significantly reduce its costs while improving service, Northrup says.
Enhanced Technology
Recent technology-related improvements included implementing a procurement management system, which has enhanced its analytical capabilities. "We are structuring vendor spend with contract expirations to create a disciplined spend consolidation plan," he adds. 
Frontier has internally developed custom applications, including programs that help it automate order flow and purchase orders. Northrup is proud of the way the company has been able to use technology and other means to integrate the company's recent acquisitions. "We assumed day-one activities in these new locations without any service issues or delays while simultaneously reducing operational costs through overall efficiencies and synergies," he says.