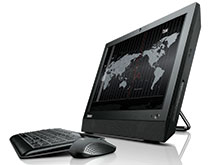 The supply chain team for computer manufacturer Lenovo includes talented executives and professionals from most countries around the world. "We are certainly a diverse, global company," says Jeffrey A. Culy, executive director of operations. "Our company background has a fairly rich culture in terms of managing supply chain. We consider operational matters one of the most important things in our company."
The company works in many facets of the computer business including in smartphones, desktops, servers, notebooks and tablets. Other products are netbooks, peripherals, printers, televisions, scanners and storage devices. 
All told, about 65 percent of the company's business is in personal computers, Vice President of Global Operations Johnson Jia says. "It is very fast-changing world," he states. This requires Lenovo's supply chain to focus on cost, supply and product quality management. It must be fast, accurate and agile.
The company is continually improving its operational performance as well as efficiency and productivity, Jia says. "The key to transforming ourselves and adapting to the fast-changing world is to be more customer centric," he says. 
Global Footprint
Doing business in more than 180 countries, Lenovo is ranked 286th on the Fortune 500. Founded in 1984 in a guard shack in Beijing, Lenovo grew to become China's leading PC company. It acquired IBM's personal computer business in 2005, marking a key turning point in the company's growth trajectory. "We have been focused on supporting our rapid growth as the business expanded over the last 10 years, since the IBM team came aboard," Culy says. 
This growth accelerated in the past four years. "We have really been focused on supply chain operations, transitioning to a customer-centric focus," Culy relates. This entails delivering performance to meet customer goals. In addition, the company is optimizing its global manufacturing operations and logistics.  
While doing so, it tailors its operations in 60 nations to regional needs. Lenovo is also investing in better inventory management tools, Culy says. 
Lenovo has dedicated itself to understanding its customers' needs. "Over the past year, we have done a number of surveys on key operational metrics that impact our customers' satisfaction," Culy says. These performance metrics spurred action plans that increased performance levels. 
The company is also investing in manufacturing and in-house expertise. Lenovo's primary facilities are located in Beijing, North Carolina and Singapore, with half-a-dozen more sites in China as well as sites in Japan, Illinois and Argentina, among others. This manufacturing growth allows for a shift from OEM to internal development. Therefore, it is now doing more of its manufacturing itself, what it calls a hybrid manufacturing approach.
The company's customer-experience focus has enabled its global operations to maintain solid, long-term relationships. Key suppliers assist as Lenovo pursues product innovation and operational excellence.  
"At Lenovo, our people share a common aspiration to be the very best," the company says. "Whether serving our customers, working together as a team or contributing to the community, we are working to build a unique company delivering unparalleled products created and supported by people who represent a wealth of cultures and experiences."
Over the past 18 months, the company has been focused on acquisitions, joint ventures and global expansion. For example, it acquired Motorola Mobility in 2014.
Lenovo has spent $2 billion on product innovation over the past year. It has also added new manufacturing capacity in North Carolina, IT infrastructure and invested in the Motorola smartphone business. It maintains its long-term vendor relationships, purchasing higher volumes from fewer supplies. Lenovo's focus for future business growth includes its consistent vision, clear strategy, operational excellence and its diverse corporate culture.
"At Lenovo, our vision is that Lenovo will create personal devices more people are inspired to own, a culture more people aspire to join and an enduring, trusted business that is well respected around the world," the company says. "This vision guides us in pursuit of our mission to become one of the world's great personal technology companies."
The Lenovo Supplier Advisory Council assists and meets often with management to discuss industry trends. Lenovo emphasizes long-term win-win plans with strategic suppliers, Jia says, so it can identify changes early and invest resources as a team in the spirit of cooperation. 
Every six months, the company's senior leadership team reaches out meeting with strategic vendors "to make sure we are on the same page," Jia explains. The company's supplier conference includes all suppliers.
Teaming with Notre Dame
A recent example of Lenovo putting teamwork into practice  is its partnership with the Center for Research Computing at the University of Notre Dame in South Bend, Ind, where it supplies computer technology including the NeXtScale System network.
This innovative and multidisciplinary research environment provides computational expertise in data-intensive areas spanning engineering, and life and geospatial sciences. "The NeXtScale System not only ticked all the boxes in terms of our requirements, it could also be deployed very quickly," Director Jarek Nabrzyski says.