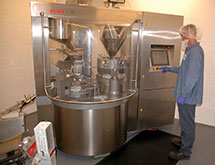 Nature's Sunshine Products has become a leading natural health and wellness company by offering the highest-quality herbal, dietary and nutritional supplements. Founded nearly 43 years ago in Utah, it was the first company to encapsulate herbs and operates today as a direct sales organization.
The company has a global direct salesforce of more than 660,000 active independent managers, distributors and customers in more than 40 countries. Nature's Sunshine also owns Synergy Worldwide, a direct marketing company that sells nutritional supplements. Headquartered in Lehi, Utah, Nature's Sunshine manufactures most of its products at its own state-of-the-art facilities in Spanish Fork, Utah. This helps the company ensure that its products continue to set the standard for the highest quality, safety and efficacy on the market today. 
"Everything we produce is made with the highest quality ingredients and to the highest manufacturing standards," COO Sue Armstrong says. "We inspect all raw ingredients and every finished product. We sell more than 530 different products and source ingredients from all over the world. Our quality and purchasing teams travel around the world to do full quality audits of all of our suppliers."
The Journey Begins
The fact that Nature's Sunshine does about 90 percent of its manufacturing in Utah is one of the differentiating aspects for the company. Since Armstrong came on board about two years ago, she has been focused on putting her lean manufacturing background to work.
"When I came in, I initiated a lean program within the Spanish Fork facility, and we've been on that journey for about 18 months," Armstrong says. "We've looked at everything from developing a lean culture to making sure that we have ongoing training at all levels from operators to directors on lean methodology and tools."
Thus far, Armstrong is pleased with the progress. The company has created a plan that allows it to seize opportunities for excellence, engaging operators on key objectives and getting alignment throughout the organization. Nature's Sunshine has improved manufacturing processes and yields and reduced cycle times. It has also created an automated balanced scorecard that provides data on various metrics and helps find opportunities for additional improvement. 
"We're building quality into our processes to identify waste," Armstrong says. "We also created our 'No Safer Place' safety program and initiated an employee recognition program to help engaging employees in our improvement efforts." 
Outside of the manufacturing processes, Armstrong's team has been working to improve international distribution. The company has created the role, through internal promotion, of a Director of International Operations who oversees operational people located within all of the markets Nature's Sunshine serves. 
"We are standardizing practices and rolling out best practices to multiple regions," Armstrong says. "Our balanced scorecard tracks our performance with customers on issues like cost and on-time delivery."
Sourcing of supplies has also been a focal point. The company coordinates its sourcing operations within its markets and business units, using rolling forecasts to make sure it has strong monthly sales and planning processes in place. 
"We have an experienced purchasing team with people who have been in this industry for most of their careers," Armstrong says. "They know the ingredients and suppliers. Our global quality and global purchasing teams work together to be sure our suppliers adhere to our standards. We operate under the auspices of the FDA and are audited against GMP standards, so we have to audit our suppliers against those standards as well."
New Venture
A major ongoing initiative for Nature's Sunshine is a recently established joint venture with Fosun Pharma, a Shanghai-based pharmaceutical company. The venture will allow Nature's Sunshine to enter the Chinese market this year. 
"That is a huge untapped market for us," Armstrong says, "We expect strong growth, as it is a key part for our five-year plan. From an operational perspective, as we start to work with the team based in China, our main focus is on ensuring that we produce the products that the market requires. From a distribution perspective, going into that region will be a challenge. But it is exciting because it is a big opportunity for us that will generate huge growth."
The company's strategic alliance with Fosun Pharma is the first of its kind between a U.S. company and a Chinese company for direct selling products in China. The entry into China marks the beginning of a valuable long-term partnership with Fosun Pharma for Nature's Sunshine, as well as a significant step forward as a global organization. As part of its go-to-market strategy, the company has focused on completing the regulatory approvals process, establishing the necessary legal entities, recruiting key staff and moving forward with products to market through a multi-brand, multi-channel approach. It looks forward to working with Fosun Pharma to capture the vast opportunity ahead.
In the years ahead, supporting the growth of the business into China and making sure the market is appropriately serviced will be a priority for Armstrong and her team. In addition, the company must stay on top of all regulatory changes in all of its markets so it can service customers appropriately and keep ahead of the game. In Spanish Fork, Armstrong will continue to work on making Lean an integrated part of the Nature's Sunshine culture. 
"It is an ongoing journey, and the next few years will be critical as we look to gain traction and make it sustainable," she says. "We have a capable, talented team, and I believe we can take on a lot of challenges and make all aspects of our organization world class. The company has talented marketing, sales and science teams, and we have exciting new products coming along. 
"From an operations standpoint, it is our job to stay coordinated with those teams and support their new product development and distribution plans."