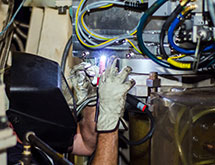 Energy and telecommunications might make the world go 'round, but the Prysmian Group's fiber-optic and copper cables that transmit electricity and voice, video and data go around the world. The Prysmian Group manufactures underground and submarine power transmission cables and systems, special cables for applications in many different industrial sectors and medium and low-voltage cables for the construction and infrastructure industry.
For telecommunications, Prysmian manufactures cables and accessories for the voice, video and data transmission industries and offers a complete range of optical fibers, optical and copper cables and connectivity systems. The Prysmian Group was formed in 2011 from the merger of Prysmian and Draka.
"Prysmian mainly was into energy and telecommunication cable," Vice President of Procurement Brian Schulties explains. "What I mean by energy is utility and high-voltage transmission and power distribution. The acquisition of Draka expanded our business into oil and gas, marine, transit, defense, mining and OEM specialty-type cables. So really it was complementary – Draka did not compete with Prysmian in North America."
A few businesses that Prysmian had in Europe overlapped with Draka's. The Prysmian Group also does business in Central and South America and countries in Europe, the Middle East, Africa and the Asia-Pacific region. The company was a division of Italian tire manufacturer Pirelli until it was purchased in 2005 by investment firm Goldman Sachs. Approximately 60 percent of Prysmian's business is in Europe, and the Prysmian Group's world headquarters is in Milan, Italy. 
Schulties is enthused about the results of the merger so far. "Three years later, in my opinion, it has been a very successful integration," he says. "We are the world leader in wire and cable products and also one of the most profitable public wire and cable producers throughout the globe."
Spend Management
The Prysmian Group's spend management has grown significantly over the last four years since the merger with Draka. "It really came with the integration of systems, people and processes, and now our spend management is high, meaning that we manage a significant amount of our spend through the purchasing organization and it's continuing to grow," Schulties says.
His reporting responsibilities are dual. "I report directly to the CEO of North America, and I also report to the chief procurement officer in Milan," Schulties says. "I have 20 people in my organization to manage 11 sites throughout North America. All 11 have manufacturing, and some have distribution arms within them. Eight of the 11 were Draka, so Prysmian really was three locations in North America until this acquisition. Then we also have five distribution centers located throughout the country."
The size of the Prysmian Group's manufacturing plants varies widely. "Most of our manufacturing sites are anywhere from 150,000 square feet to our largest in Claremont, N.C., which is approximately 690,000 square feet," Schulties reports. "So in round numbers, I would probably say we've got close to 3 million square feet if you look at all 11 North American manufacturing sites," he says.
Each continent's facilities service that continent's business because regulations differ from country to country. "The industry we serve is somewhat localized," Schulties concedes. "For instance, most of our facilities in North America service North America, and that would be similar in Europe, Asia and South and Central America. Our Cableteq Specialty division, which was part of the Draka acquisition, does a very good job of servicing the transit market – subways, defense and the military. It's very specific and part of the specialty group. This is what they've done their whole life, and they're very good at it, but for the most part, this group's focus is specific to the North American region."
Huge Reorganization
With the merger of Draka and Prysmian in 2011, each company's knowledge base had to be incorporated into the new entity. "There is a huge reorganization in the merging of two sizable, multibillion-dollar companies into one," Schulties notes. "There's always the challenge that comes with that, about what you do with the people that you have. How do you make sure you leverage the expertise and the knowledge base that comes with both of those organizations?
"We went through an exhaustive effort in 2011 to make sure we had the right people sitting in those seats leveraging that knowledge," he continues. "Prysmian has always been a very lean company – certainly, that's how we got to be the company we are. So we do a lot with a little. We have a pretty sizable spend in North America, and we have 20 people to manage it. In my opinion, it's all about the people that we employ and the expertise they bring."
Additionally, Prysmian Group continually strengthens its relationships with strategic suppliers through centralized procurement and adoption of a global approach involving just one organizational model, common processes and a single commodity management policy.
SAP Conversion
The Prysmian Group is streamlining its procurement by converting all its locations to the same version of SAP software. "We had many different versions of SAP before the merger," Schulties relates. "Even before that, Prysmian had a few different platforms within SAP. So it's been a pretty large undertaking in 2014 for North America with the conversion to one client. But what it has done is given us global visibility. One of the challenges of the merger was visibility, especially when you had multiple SAP platforms – or even some homegrown system – trying to identify the spend."
There are many advantages to being on one system. "Because of our structure, we as a company have the ability to leverage what we do on a global basis," Schulties explains. "So if I've got a suppler in North America also serving Eastern Europe, Western Europe and South America, we have the ability to leverage those in our global commodities with a great amount of purchasing power."
The rollout of SAP software is nearly complete globally. "We still have some software to roll out to other groups, but we would say the company is 85 percent under this one platform," Schulties says. 
"It's a large undertaking and a large cost to roll these types of systems out and manage the process so it doesn't have an impact on the customer," Schulties continues. "Any rollout, unfortunately, never goes as planned and must be managed accordingly."
Major Savings
Consolidating the Prysmian Group's spending across all its locations has saved the company substantial amounts. "It's made it more efficient, because now we're managing projects that are not $100,000 in spend, we're managing something that could be $10 million in spend," Schulties says. "We spend a lot of money on metals. It's our main commodity, and the second largest is polyethylene and PVC compounds."
The Prysmian Group manufactures PVC and supplies it to its companies. "There's a lot of internal capacity that we utilize to manufacture cable throughout the world," Schulties notes. The company also purchases PVC from other companies. "There is a lot of work that goes into the make-vs.-buy analysis," he emphasizes.
The company calculates not only cost savings from consolidating its spending but also cost avoidance. Schulties estimates that savings are at least from 3 percent to 5 percent annually on raw materials. "Potentially, it could be greater than that on non-raw material," he says. "Anything that doesn't hit the cable 'bill of material' is classified as non-raw material." 
Online Catalog
The Prysmian Group uses an online catalog for its many locations. "We are responsible for negotiating the contract, and then the items will be loaded into this system for order placement," Schulties explains. "An order goes through the approval process, and then it goes right to an automatically generated purchase order." 
Demand is calculated through Prysmian's sales and operations planning process. "Our industry, especially in North America, has a lot of consignment agreements, where we know what the historic demand of those customers are," Schulties says. "So we look at either the make-to-order or typically the consignment agreements that we have that will push the demand into the factories. There's still a lot of human interaction that goes into our forecasting process."
Inventory requirements vary within the company's different product lines. "We maintain a pretty sizable inventory because of the markets that we serve," Schulties concedes. "But we also have markets that are only make-to-order. So the factory is running with no inventory, and they make it as the orders come along. Because it's a very specific product to a specific customer, we won't put it on the shelf, because only one or two customers buy it based on the specific requirements."
Training in Milan
Lean techniques are practiced extensively in the Prysmian Group. "As a company, we have a very focused effort on Lean and Six Sigma projects that are not only reviewed but monitored at a global level," Schulties says. "We also have the Prysmian Academy in Milan that is designed around specific areas, such as advanced leadership. We try to train pretty much every one of our managers who are senior leaders and high-potential individuals with these types of training tools at some point throughout their young careers."
Who attends the Purchasing Academy is one of the areas discussed at the Worldwide Purchasing Leadership Team meeting that is attended by the directors and vice presidents from each Prysmian region. "So far, almost 70 percent of my group has already gone through that training, and this year we will cover most of my group," Schulties says. 
That investment pays off when the company recruits and promotes from within. "Going outside is the last resort," Schulties maintains. "There was an opportunity for me to bring in a controller from one of our divisions into this vacancy that I had, because this individual needs to be a very numbers-oriented person to manage the metal. He has excelled significantly. If a person has the ability to fit within the company culture, he or she can always learn the job. So there's a lot of mentoring that goes on." Employee retention at the Prysmian Group is high. 
Schulties says people are the company's best resource. "If you don't have the right people, you don't have the performance that is necessary to run the business," he insists. "I put a high emphasis on people – they are the ones that are going to help us succeed."