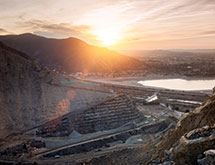 An international producer of construction materials, Vulcan Materials Co. provides services that are essential to the standards of living of advanced and developing societies. Its product offerings include aggregates, sand, gravel, ready-mix concrete and asphalt. The company works to differentiate itself through concern for customers, a familial culture, safety-first initiatives and environmental stewardship.
"We are the nation's largest producer of construction materials," Director of Procurement Pete Roberts says. "A member of the S&P 500, we have been in business for 58 years. The company has locations in 23 states and one offshore operation in Mexico." 
Managing Processes
The successful production of construction materials requires extensive oversight of procurement and supply chain issues. Roberts manages a department of eight individuals who are focused on optimizing the process by which Vulcan Materials strategically sources goods and services for its plant operations. 
"Our focus is on the goods and services that are procured by the plant managers, taking a long view of evaluating the total cost of ownership and the value offered to us by suppliers," Roberts says. "We manage more than 70 national strategic alliances and another 40 preferred supplier agreements. My group manages those contracts and looks for continual improvement opportunities within those agreements."
Vulcan Materials uses a team-based approach to sourcing. Every team that is part of the organization has subject matter experts, and the company involves people from all over the country in the sourcing process to get the perspective of every territory.
"The aim is to optimize the way we spend money," Roberts says. "We bring the best minds within the company together to help source all goods. That allows the plant managers to have best-in-class solutions for spending so they can focus on other issues. Rather than require the plant manager to be an expert in all things we purchase, the team approach takes the best knowledge we have and allows us to come up with the best result."
Having developed and implemented best practices on a national level, Vulcan Materials has as little variance as possible between plants. Although some variance is to be expected based on geographic differences, national best practices have allowed the company to determine the right number of sources to find answers to its supply needs.
Part of this process involves taking a long-term view of the total cost of ownership that exists within the company's relationships with suppliers. Vulcan Materials doesn't want to find itself in a situation where it is in a continual cycle of bidding and buying. Instead, it wants long-term relationships that involve close work with suppliers that are interested in understanding the company's requirements and can align their work with those of Vulcan Materials. 
"Many of the contracts we have entered into have existed for 10 years or more," Roberts says. "Every so often we will go out to bid on a particular product, or we will engage in sampling to make sure we are in the most favorable position. We prefer long-term, stable relations with suppliers. We're focused on mutually beneficial relationships, not just short-term wins." 
Continued Evolution
As recently as 2012, Vulcan Materials engaged in a profit enhancement plan. The procurement team worked with the company's allied partners to take a fresh look at each relationship to examine what was working and what could be enhanced. 
"In some cases, we changed suppliers or made changes to the nature of a relationship," Roberts says. "The procurement organization has contributed its share of about $50 million in run rate savings annually to the company's overall $100 million savings goal. We enhanced critical spare inventory for conveyor belts, developed better payment mechanisms with banking partners, and looked at everything from what we buy and how we buy to how we pay and who we buy from."
The company has continued to evolve over the last year. In September, Vulcan Materials reported that it had completed six acquisitions during the third quarter that further expanded the company's footprint and reserve positions in the best markets in America. The most recent acquisitions include five aggregates facilities and associated downstream assets in Phoenix, Ariz. and Albuquerque and Santa Fe, N.M., as well as an aggregates operation in Delaware serving Northern Virginia and Washington, DC.
These transactions follow the previously disclosed acquisitions of four aggregates facilities in the San Francisco Bay Area and aggregates operations and distribution yards that serve the greater Dallas/Fort Worth market and also complement existing Vulcan rail-served markets in Texas. Collectively, through these recent acquisitions, Vulcan has added more than 450 million tons of high quality, permitted aggregates reserves serving markets where such reserves are relatively scarce.
These transactions, totaling approximately $320 million of investment, represent the continued strategic redeployment of capital from the sale of Vulcan's former cement and ready mix concrete business in Florida in the first quarter of 2014. Moreover, the structure of these transactions – along with an earlier investment in reserves at a key quarry serving San Diego – has enabled the company to defer income taxes on approximately $145 million in capital gains.
Aggregates are an essential, long-term resource of limited availability and significant value, particularly in the markets Vulcan Materials serves. Consistent with its aggregates-focused strategy and ongoing commitment to driving profitability as an industry leader in unit profit margins, these acquisitions further enhance the company's future earnings potential, especially given the positive momentum it sees across its markets. 
The company not only expect that these assets will generate attractive returns in their own right, but also that they will create significant synergies with its existing asset base. These acquisitions complement existing aggregates sources and distribution facilities in key growth markets in Arizona, California, Texas and Northern Virginia while also providing access to new markets in New Mexico. The company remains disciplined in its acquisition approach and focused on driving increased value for its shareholders as it works to make Vulcan even better.
Vulcan has also been recognized for its efforts. In December, it was awarded the Conservation Education Award at the Wildlife Habitat Council's (WHC) 26th Annual Symposium, Celebrating Corporate Conservation. Vulcan was recognized for its outstanding national legacy in the pursuit of excellence in wildlife habitat conservation education and outreach.
This honor recognized the company's commitment to environmental education and sustainability. Many of its sites are located in and around areas with limited habitat for wildlife. By preserving portions of its land and establishing designated habitat areas, Vulcan provides sanctuaries for many plant and animal species.
The Conservation Education Award recognizes a corporation which has a history of striving for excellence in conservation education and outreach. The award honors an organization for its combined efforts in providing educational experiences and opportunities for personal contact with the natural world, benefiting both employees and the surrounding community. Nominees for the Conservation Education Award are selected from member corporations that submit applications for Corporate Lands for Learning certification or re-certification in a given year. 
The Wildlife Habitat Council applauded Vulcan Materials Company for its commitment to establishing site-based education programs, linked to habitat enhancement projects. This award honors the entire company for its collective efforts in providing quality and accessible education experiences and opportunities in the communities where Vulcan operates throughout the country.
In 2014, Vulcan Materials brought in a new CEO and CFO to take the reins. Their focus is on communicating and implementing the Vulcan Materials way of operating. The company is now organized into seven operational divisions, and Roberts and his team are working to find the best opportunities for localized purchasing within each division while still taking advantage of the benefits of the company's scale on a national level as member of the S&P 500. 
Other recent focal areas have included an upgrade to the company's Oracle ERP system. Vulcan Materials recently purchased Spend Radar, an analytics program that helps it look at and better understand its spend within all categories.
In the future, Vulcan Materials will also look at succession planning. A lot of turnover is likely in the middle management and operational levels as people age, so the company must be able to pass on the benefits and knowledge of all the processes it has developed within procurement and beyond.
"Communication will be a challenge up and down the supply chain and across the operational groups on what we do and why we do it," Roberts explains. 
"Our subject matter experts must continue to evolve while maintaining a focus on total cost and not just immediate transactions," he adds. "We must have agreements that provide local benefits and national benefits. This is a balancing act, which is why we are actively engaging with all of our people so they will support our efforts and realize the benefits."