Watco Supply Chain Services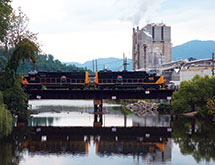 Watco Supply Chain Services is a new business unit of Pittsburg, Kan.-based Watco Companies that launched in fourth-quarter 2014 to extend additional services to customers and diversify the company. "We expect the unit in five years to reach $500 million in revenue across the various services we offer through organic growth and acquisitions," President Eric Wolfe says. "We won't take any shortcuts in building this unit."
The Springdale, Ark.-based business unit was established after years of listening to Watco customers to understand their supply chain needs. "We build on Watco's intense customer focus and attention to detail," Wolfe adds. "Watco has a system-wide focus on the customer."
Watco Companies is a transportation company providing transportation, terminal and port, and mechanical solutions for customers throughout North America and Australia. Watco Companies is the owner of Watco Transportation Services, one of the largest short-line railroad holding companies in the United States with 32 short-line railroads operating on more than 4,400 miles of track, as well as 28 industrial contract switching locations. 
Watco Terminal and Port Services is a division of Watco Companies consisting of 51 terminal facilities located throughout the United States, two significant port operations and multiple warehouses. The company is also a 50/50 joint venture partner with The Greenbrier Companies Inc., in GBW Railcar Services LLC. GBW repairs and refurbishes freight cars at 38 locations across North America, including 14 tank car repair and maintenance facilities that are certified by the Association of American Railroads.
Talent Pool
The most critical element to a successful supply chain is having the right people, Wolfe says, which is why Watco Supply Chain Services continues to recruit a high-performance team. As the unit's president, Wolfe has more than 26 years of experience in the supply chain industry. 
Throughout his career, Wolfe has led or played a key role in launching four separate third-party logistics companies: J.B. Hunt Logistics, Cardinal Logistics, Clicklogistics and BNSF Logistics. "What makes supply chain interesting is that there is a story about everything," he says. "Every consumer product, every piece of heavy machinery, anything on a retail shelf, anywhere in the world has a supply chain story. To think of the supply chain that way makes it very interesting."
Vice President of Growth Strategies Lynda Patterson has more than 20 years of experience in logistics. "The most rewarding part of working the supply chain industry is that there is no 'one-size-fits-all solution," Patterson says. "I am continuously learning and adjusting my thinking to solve the newest challenge."
Vice President of Risk Management Judd Gilgen also has more than 20 years of experience in the supply chain industry and has experience in risk management, compliance, operations and project management. "I have always found it exciting to work in a fragmented industry," he says. "An asset light approach enables a pure focus on customer value and solution creation." 
Logistic Solutions
Watco Supply Chain Services differentiates itself in the industry because of a relentless pursuit of customer-focused value creation, regardless of the solution specifics. "That's how we approach the business in terms of solutions," Wolfe says. "I think when you approach supply chain and logistics from an optimal solution-first perspective, everything falls into place. We are not biased to any particular mode of transportation or influenced by our assets, although we are proud of our heritage and capability to infuse rail into transportation solutions."
Watco is the largest privately owned rail-based company in the United States, and manages a virtual fleet of rail-owned equipment to provide its customers with the most efficient railcar services at the most competitive rates. Watco Supply Chain Services maintains a strong relationship with Watco Companies, with the sole focus on finding the most logical, cost-effective supply chain solutions for customers.
"This industry is certainly dynamic and our tactics or strategies have to be reflective of the industry," Wolfe explains. "For example, truck capacity cycles throughout the year. While over the past three years the market has become much tighter than the 2006 to 2011 timeframe, there are pockets of capacity available that change based on time of year and geographical region. In addition, there are long-term problems in terms of driver availability, which is influenced by a number of issues. As for the transportation portion of the supply chain, we are building optionality and flexibility for customers, with the capability to rapidly adjust modes based on dynamic changes to supply and demand."