Gartner Supply Chain Executive Conference 2015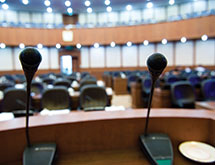 For supply chain leaders, the future has arrived – a digitalized landscape that is redefining the role of supply chain in organizations around the world. With a forward-looking focus on emerging business opportunities, new strategic models and the latest supply chain technology, Gartner's research-driven 2015 agenda is structured to address every supply chain management priority, role and maturity level – offering objective advice and actionable steps for next-generation supply chain strategy, planning, segmentation, performance management, analytics and more. 
This year's conference theme, "The Art of Supply Chain: Creative Solutions for the Next Generation," will explore the new meaning of supply chain excellence in the digital age – empowering leaders to push past traditional boundaries, drive innovation, and uncover new sources of value for the enterprise. Supply chain leaders must merge the "science" of supply chain technologies with the "art" of processes, talent and metrics.
At Gartner Supply Chain Executive Conference 2015, May 12-14 in Phoenix, you and your leadership team will explore today's most important supply chain management trends and topics in more than 60 sessions – including panel discussions and case studies that exemplify supply chain excellence – and leave the event knowing how to optimize supply chain today in order to compete and win tomorrow. 
The agenda is spread across five role-based tracks – Logistics; Strategy & Leadership; Supply Chain Innovation; Supply Chain Planning; and Supply Management & Manufacturing – covering topics such as supply chain innovations for digital business, advanced supply chain analytics, bimodal manufacturing strategies, product innovation platforms, segmentation, S&OP, and cost–to–serve. 
This year Gartner is planning an unprecedented number of guest speakers and expecting more than 1,200 supply chain leaders on-site, making this the must-attend supply chain event for connecting and learning in 2015. 
The list of speakers includes: 
+Guy Kawasaki, chief evangelist, Canva
+John Kern, SVP of supply chain operations, Cisco
+Reuben Slone, SVP of supply chain management, Walgreen, Co.
+Will Barrette, AVP of supply chain finance and strategy, Ochsner Health System
+Dennis Black, director of e-business, Becton-Dickinson
+Doug Bowen, VP of supply chain, Banner Health System
+Stephen Denmark, senior director of demand planning Seagate Technology
+Dr. Amit Devpura, head of analytics, global supply chain and strategy, AstraZeneca
+Joe DiIorio, director, supply chain, Seagate Technology
+Brett Frankenberg, VP of product supply planning, Coca-Cola Bottling Company Consolidated
+William Gilbert, global supply chain CoE senior manager, Americas, Saudi Basic Industries Corporation (SABIC)
+Dr. Alistair Hill, director, global business services, Procter & Gamble, Switzerland
+John Lebowitz, global vice president, supply chain operations, Stryker
+Dr. Terry Loftus, medical director of surgical services and clinical resources, Banner Health System
+Michael Louviere, VP of supply chain, Ochsner Health System
+Nick Najjar, senior logistics development manager, Land O'Lakes
+Maria Nieradka, SVP of supply chain, Biogen Idec
+Fran O'Sullivan, GM, IBM Systems Strategy & Operations
+Joe Walsh, AVP, procurement, Intermountain Healthcare
+Noelle Walsh, corporate VP, supply chain, Dow Chemical 
Attendees will have the opportunity to meet with up to two of the 40 Gartner analysts who will be on-site in 30 minute one-on-one sessions and schedule meetings with like-minded peers as well as the more than 60 solution providers who are exhibiting at the conference using the online meetings and networking tool. Attendees will be able to meet with their peers in industry and topic-related networking meals and in settings like workshops and roundtables. 
Best Practices
New for the 2015 conference is the Gartner Consumer-Retail Exchange, taking place alongside the second annual Gartner Healthcare Exchange, which are both on Monday, May 11 before the official start of the conference on Tuesday. Both exchanges are included as part of the conference fee for attendees. 
Not to be missed is the 2015 Gartner Global Supply Chain Top 25. Get a firsthand look at outstanding supply chain innovation and best practices from leading organizations around the world in dedicated sessions throughout the week – including the annual Gartner Supply Chain Top 25 dinner on Wednesday night, where the 2015 rankings will be revealed.
Be sure to head to Phoenix for Gartner Supply Chain Executive Conference 2015, the world's most important gathering of supply chain leaders.