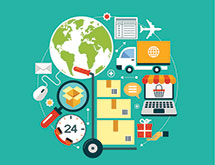 Direct store delivery (DSD) is an ongoing area of focus for many retail organizations. Recently, SAP and Mondelez International made some announcements that will have an impact on the world of DSD.
New Tools
For SAP, the company announced a new mobile solution to simplify DSD. Developed to address the issues currently hampering DSD performance, the SAP Direct Store Delivery mobile solution helps consumer products companies solve the challenges of lack of access to real-time data, limited role and process optimization, and poor route planning. Companies using the DSD mobile solution can materially boost top- and bottom-line performance by reducing costs and increasing revenues.
SAP Direct Store Delivery combines both sales and logistics process requirements for sales, sales management and other related roles. It orchestrates the complex process of selling and distributing goods directly to the final point of sale. It also manages sales representatives' activities including visit planning, preselling, van selling, taking sales orders and returns, pricing and promotions, audits and surveys, credit checks and performing mixed roles. While strategies and tactics vary by customer, brand and channel, SAP Direct Store Delivery can manage the entire sales process from start to finish.
"The DSD sales process is a complex one for consumer products companies, who must contend with varying requirements for price, merchandising, promotion and order management across any number of retailers and formats," said E. J. Kenney, senior vice president, global head of Consumer Industries, SAP. "With SAP Direct Store Delivery, sales and logistics process requirements run more simply, helping ensure a more efficient operation for delivering products to retailers."
New Faces
Meanwhile, Valerie Oswalt has been named president of U.S. sales at Mondelez International, effective April 1, 2015. She will succeed Don Quigley, who had announced his intention to retire, effective March 31. Deerfield, Ill.-based Mondelez International is a global snack company, a world leader in chocolate, biscuits, gum, candy, coffee and powdered beverages, with billion-dollar brands such as Cadbury, Cadbury Dairy Milk and Milka chocolate, Jacobs coffee, LU, Nabisco and Oreo biscuits, Tang powdered beverages and Trident gum.
In this role, Oswalt will lead all DSD retail and customer headquarters activities for the company's snacks and confectionery businesses in the United States, supporting a product portfolio that generates annual revenues of approximately $6 billion and includes beloved consumer brands such as belVita, Halls, Honey Maid, Oreo, Ritz, Sour Patch Kids, Stride, Trident, Triscuit and Wheat Thins.
Oswalt will be based in East Hanover, N.J. She joined the company in 1996 as a sales finance analyst and has progressed through a range of cross-functional roles within the customer team, retail, supply chain, strategy and finance organizations, in both field and headquarters assignments.
Most recently, she was vice president of sales for the west area, a position to which she was appointed in 2012. Prior to that, she spent a year as customer vice president for business development, playing a key leadership role in establishing two distinct customer teams and retail sales organizations to support the Kraft Foods/Mondelez International businesses as they divided into two independent public companies.
Among her many career highlights, Oswalt held the role of Walmart customer vice president of beverage and grocery from 2008 to 2010, during which she and her team delivered unprecedented successive revenue and share growth for the business and were named Walmart's supplier of the year.
New Tips 
The National Association of Convenience Stores and Coca-Cola Retailing Research Council (NACS/CCRRC) also recently issued a resource to help convenience stores. Called the Playbook for Success, this hands-on instruction guide was produced as a step-by-step manual after conducting research with c-store operators to determine factors that impact profitability. 
Among its suggestions, the Playbook for Success looks at direct store delivery as an option for retailers seeking other ways to position their operations for success. Thought it can become an expensive route to market for suppliers, it can also produce powerful advantages for convenience retailers. These opportunities are enhanced if it includes visits from a professional team supporting both business development and product replenishment.