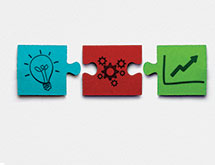 Every day, supply chain leaders in all industries are engaging in transformative efforts designed to bring about real change. Whether seeking cost reductions, efficiency improvements, supplier consolidation or any other number of goals, supply chain leaders are always on the lookout for anything and everything that can ease the burden of moving items from point A to point B. 
The marketplace is cluttered with new solutions. It can be difficult to pinpoint the best investment areas, but here are a few examples of some of the transformative solutions that are making the rounds. 
Omnichannel Solutions
Datalogic, leader in automatic data capture and industrial automation markets, recently featured solutions for one the most talked about topics in retail distribution, omnichannel commerce, at the RILA Supply Chain Conference held in late February. 
Datalogic showcased a live demonstration of the next generation invisible bar code technology integrated with their point of sale solutions. In addition to demonstrations for front of house automation, Datalogic educated attendees on back of house solutions for retailer distribution including: automating shipping and receiving, inventory management, order fulfillment and sortation.
"Datalogic bridges the gap between point of sale and supply chain logistics. We offer retailers the unique opportunity to integrate their front of house and back of house operations, resulting in decreased cost, increased throughput and optimum efficiency," said Robert Beideman, Vice President of Retail Logistics.
Solid Foundation
Another recent announcement came out of Logility, a leading provider of collaborative supply chain optimization and advanced retail planning solutions. Logility announced that Sandvik, a high-technology, engineering group with advanced products and world-leading positions within selected areas, had realized significant benefits with Logility Voyager Solutions including a 300 percent jump in forecast accuracy.
In 2010, Sandvik Mining and Construction, a business area within Sandvik with operations in more than 130 countries, embarked on a supply chain transformation project to optimize its distribution network and support the company's objectives to deliver unsurpassed customer service, improve lead times, and simultaneously develop a segmentation strategy based on multiple criteria including product and customer. As part of this initiative, Logility Voyager Solutions was selected to manage its large network of manufacturing facilities and worldwide distribution of parts to ensure inventory is positioned correctly and capacity is balanced across the network.
The supply chain transformation project focused on seven key elements: sales and operations planning (S&OP), demand planning, service orientated order management, differentiated replenishment and assortment strategies, capacity and supply reliability, customer focused network, enablers including planning end-to-end, and new organization and key performance indicator (KPI) tracking. To support each of these elements, Sandvik Mining and Construction turned to Logility.
"Our goal with the supply chain transformation project is to provide a consolidated supply chain structure where all processes, systems and information are integrated into one global stream to drive improved service and cost effectiveness throughout the supply chain," said Lars Blomberg, head of planning and control, Sandvik. "Logility Voyager Solutions is our supporting technology platform for this initiative and since implementation has helped us achieve remarkable results including improved service levels, greater visibility and faster inventory turns."
Sandvik Mining and Construction's previous tools and processes limited the company's ability to turn their supply chain into a competitive advantage. Logility Voyager Solutions is able to plan, procure, manufacture, and distribute with more accuracy, flexibility and positive impact on the bottom line.
"Sandvik Mining and Construction's supply chain transformation has created a more efficient, global enterprise focused on delivering exceptional service to more than 130 countries," said Mike Edenfield, president and CEO, Logility. "We are proud to support their supply chain initiative and deliver a platform to deliver increased visibility, improve service levels and enable their continued global growth."