The Great Atlantic & Pacific Tea Co.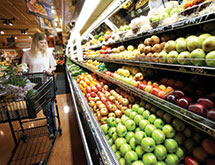 After more than 150 years, The Great Atlantic & Pacific Tea Co. (A&P) can boast of strong brand equity in its market. "We are a very well known grocer," Vice President of Strategic Sourcing Jeffrey Ball says. "There's a cherished value that's associated with the [A&P] name and grocery shopping."
Based in Montvale, N.J., the company operates more than 300 stores under the A&P, Pathmark, Waldbaum's, Super Fresh, The Food Emporium, Food Basics, Best Cellars and A&P Wine & Spirits banners. Ball notes that A&P's history goes back to 1859, when tea and spice merchants George Huntington Hartford and George Gilman started it as The Great American Tea Co., a mail order business.
By 1881, A&P had become the first grocery chain with 100 stores. "It was Walmart before there was even a Walmart," Ball says, noting that A&P is now a $6 billion company with a staff of 30,000. "A lot of people recognize [our] legacy."
The company's locations serve a diverse customer base largely in the Northeast that includes families, young couples and single moms. "Demographics of different races and all different income levels [come in and] out of our stores," he says.
The customers also vary by location, Ball says. For example, "The Food Emporium needs to compete with other upscale groceries that exist in Manhattan," he says. "It's all about catering to that hyper-local demographic that's going to be the key to success for us." 
Realizing Benefits
Ball joined A&P in 2014 after a diverse career working for the U.S. Navy's nuclear power program, Sears, Roebuck and Co. and News Corp. "I sought to join a company that really valued the vendor function and needed somebody to help them look at good relationships holistically and extract a lot of value," he recalls. "I found that home at A&P."
When he started at the company, Ball examined what A&P was doing from a procurement perspective. The company frequently utilized vendors that offered the lowest costs.
Today, "One of the things we're looking to do is become far more analytical and far more data-driven in our approach," Ball says. "With the advent of big data and increasing competition, one has to rely on data and analytics to drive economic value."
After gathering data, "You can provide market-based targets that the vendors can aspire to meet," he says, noting that this has empowered A&P with the ability to issue requests for proposals. "Sourcing in that manner is going to drive better results than aggregating our demands and putting it in the marketplace," Ball says. "If you take your time and do the analytics, you're going to realize more savings."
Going forward, A&P will not engage in a function unless it is certain it will save money or increase revenue, Ball says. "My team is very intently focused on those actions and nothing else," he says.
A&P has brought this approach to inventory optimization and the way it stocks its stores. For example, "It may not make sense to have 10 rows of soup 10 aisles deep," he explains. "We're doing all the things that a smart retailer can and should be doing, by being data-driven and looking at analytics."
So far, the company has enjoyed strong results. "In the fresh category, we've seen 50 percent better results," he says. "We're going to realize a lot more economic benefits."
Giving Power
Ball is proud of an upcoming A&P initiative that will help empower small business communities. If a caterer is leasing office space, "What A&P wants to do is go to that caterer and offer them a lease of that space for a very low cost," he says. 
Through that partnership, "We'll hopefully draw additional traffic into the store," Ball says, adding that the caterer can take advantage of A&P's discounts. "They will get the A&P discount from our Sprint provider, if they want wireless services."
Not only will this help small businesses, "It also helps our vendor community, too," Ball says, noting that the company likes to give back. "The community is us and we have to function as part of that." 
Improving Experiences
A&P operates in a market that is intensely competitive, Ball says. And as companies like Whole Foods Market, Trader Joe's, Walmart and Amazon.com Inc. increase their presence in the grocery sector, "It's getting even more so," he says.
A&P plans to cope by becoming "hyper-local" through its services, Ball says. "We are still that local grocer that one can come to for all their fresh products and corner store needs," he says, noting that the company will continue offering home delivery services.
But it also plans to expand its web presence. Although baby boomers and gen-X shoppers are accustomed to going to grocery stores weekly for fresh foods, "Millennials shop very differently," he says. 
"Business companies like Uber and Facebook are changing the way we have to engage with the customer," Ball says. "You have to improve the customer experience along the technological dimension."
He notes that A&P plans to compete on an omni-channel level, where the company will have both e-commerce and social media presences to engage the customer. "People want everything, everywhere immediately," Ball says. 
Being Better
Ball takes pride in his role at A&P. "I'm proud to be part of the legacy, my team, my boss and the leadership," he says. "That is what is going to propel us, really. It's all about the people.
"I'm pretty comfortable about where I'm at and where we're headed," he says, but asserts that the company's use of technology is not an immediate panacea to its challenges. "It's not going to fix companies' problems.
"You've got to have to the [right] toolkit to do the analytics and do the data so you can be hyper-local and do everything for everybody," he says. "A&P is no different in that, in sourcing in an enabler delivering significant returns … so you can invest in the people and technology."
Although A&P does not have the footprint of some of its larger competitors, "We can compete on intellectual capital," he says. "That's how we will prevail in the marketplace: by doing things better, smarter and cheaper."