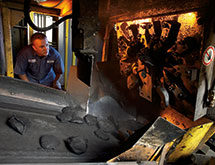 Formed in 1989, AirBoss of America Corp. is a group of complementary businesses using compounding technology and engineering expertise to create value for its customers. Having evolved its business lines through acquisitions, joint ventures and internal growth, AirBoss now has four divisions, seven manufacturing facilities and three R&D centers.  The corporation's shares trade on the TSX under the symbol BOS. 
The company's four divisions include rubber compounding, engineered products, defense and automotive. AirBoss can supply more than 250 million pounds of rubber annually, and it supplies essential calendered, extruded and molded products for a broad range of applications.
"AirBoss is a skillfully managed, financially prudent company," Vice President of Corporate Purchasing Kimberly Gallagher says. "Regardless of the division, we have come to be seen by our diverse customer base as a supplier that is innovative, dependable, consistent and cost efficient." 
Controlled Approach
AirBoss always has its eye on the pressing issues facing its supply chain and sourcing operations. Approximately 80 percent of what it purchases is a commodity or is influenced by commodity pricing. It can be a challenge to establish and maintain supplier relationships while providing customers with competitive pricing.
Response time is another focal area. AirBoss often works with very little lead time, and order volumes can change quickly. Because it procures material from all over the world and shipping times can be lengthy, ensuring access to the right amount of raw materials is a balancing act.
Finally, AirBoss must always intelligently decide when it makes sense to consolidate and leverage purchases. It has four unique supply bases, and while there are some major leverage opportunities, where the company really can focus is in utilizing consistent practices.   
"We treat our supply base fairly regardless of market factors, which has allowed us to establish long-term relationships with them that then allow us to provide dependability, consistency and cost efficiencies to our customers," Gallagher says.
Ways to Grow
AirBoss will have three main areas for investment in 2015. The first is capital. In its rubber compounding division, AirBoss added the capability to mix silica in its Kitchener, Ontario, facility in 2014 and plans to do the same in Scotland Neck, N.C., in 2015.  At its compounding and engineered products locations, AirBoss added strip equipment, allowing for additional custom compounding.  
"In addition, we are adding molding capability at our engineered products division to give us the ability to produce sophisticated, high-end molded products," Gallagher says. "In our automotive division, we've added new equipment to give us the ability to bond steel to post-molded rubber.  To support defense, we had the foresight four years ago to build a stand-alone R&D center in Bromont, Quebec, which provides leading-edge material development and testing capabilities. All these improvements allow us to continue to fulfill our current and potential customers' evolving needs." 
Another area of investment focus is on growth into new markets and acquisition.  AirBoss looks to grow within current markets while also identifying and adding additional business capabilities. In 2013, AirBoss acquired Flexible Products, materially increasing the company's size while at the same time opening up an entirely new customer base for high-value engineered products. 
"We continue to actively evaluate further acquisition opportunities that complement the business," Gallagher says. "In addition, we are expanding our reach geographically with our existing products and are actively moving into new industries."
Finally, AirBoss is investing in people. Already a skillfully managed company with knowledgeable, loyal employees, AirBoss knows additional skill sets will be required as it grows. AirBoss has a very proactive approach to address these challenges.  
"For example, after the 2013 acquisition of Flexible, we recognized the need to bring someone in to coordinate and manage our four unique purchasing groups," Gallagher says. "That was when my position was created." 
Looking Forward
AirBoss is optimistic that 2015 is going to be a good year, and each division is taking steps to address industry-specific trends. In automotive, OEMs are constantly looking for ways to reduce vehicle weight, so customers are relying on AirBoss to find solutions for noise and vibration issues. For compounding and engineering, many customers are looking for silica-based products, and AirBoss is aiming to support this market with the silica capacity it has installed and plans to increase in 2015.  
The engineered products group is becoming more involved in the production of high-end polymers and molded products for demanding environments. These often require small adjustments in the production process, so AirBoss has added a humidity chamber. And in defense, AirBoss is working to reduce user burden on many of its products while also becoming more automated when possible, for example, adding robots on gas mask production lines. 
Because the company's purchasing group works very closely with internal and external clients, it will be able to understand business needs and identify supplier partners to support those needs. It is trying to leverage purchasing power as much as possible so it can lower operating costs while still offering the best possible price to customers. 
The company is also looking beyond 2015. Right now, raw material pricing is low and demand worldwide is down. But demand and prices will both go up again. By having a globally balanced supply base, working with reliable partners such as Profit Solutions International, treating suppliers fairly and having flexible capacity in place, AirBoss can better handle market cycles and demand and price fluctuations.  
"The priority for our company in the years ahead is to continue to offer the best possible product to our current and prospective customers while intelligently growing the business," Gallagher says. "In supply chain, we will support the needs of the business; achieve best total cost from a qualified, right-sized supply base; establish and maintain positive supplier relationships; and order and transport materials effectively. Our purchasing group can leverage our total purchasing power, share best practices and implement consistent policies and procedures."