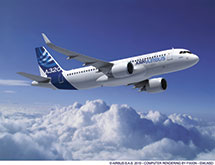 For frequent flyers and inexperienced travelers alike, the Airbus name is one of the most well-known brands in all of the aviation industry. Headquartered in Toulouse, France, Airbus designs, manufactures and supports some of the world's top aircraft. The company has built its reputation on pioneering technological solutions and finding efficient sourcing and manufacturing methods while expanding on its European roots and creating fully owned subsidiaries around the world.
During the last three decades, Airbus has looked to expand its presence in the Americas. Airbus Americas is based out of Herndon, Va., and it has six (soon to be seven) locations in the United States and employs nearly 1,100 people here. The Airbus Americas footprint also includes on-site support and training centers throughout North and Latin America.
"I have been with the company for 15 years," Vice President of Procurement for Airbus Americas Dave Williams says. "Since 2011, we have done a lot of work to set up a procurement organization in Latin and North America."
Reaching the Region
The company has more than 60 customers throughout North and Latin America utilizing a full range of Airbus aircraft. It has established relationships with major carriers, low-cost operators, cargo airlines and leasing companies. As of 2015, more than 1,200 Airbus jetliners operate within the fleets of North American airlines and more than 1,800 Airbus aircraft have been ordered in North America. 
The Airbus A320 family of jetliners is a popular choice in North and Latin America. The company's widebody A330s and A340s are also operated throughout the region. Additionally, customers in the region have been ordering Airbus' next-generation A350 XWB. The company's customers in the region include Delta Air Lines, FedEx, Frontier Airlines, GECAS, Hawaiian Airlines, ILFC, JetBlue Airways, Spirit Airlines, United Airlines, UPS, US Airways and Virgin America.
For the production of its jetliners, Airbus spends 42 percent of its aircraft-related procurement in the United States. Airbus buys more parts, components, tooling and other material from the United States than any other country. Workers in more than 40 states help build Airbus aircraft, which supports more than 245,000 high-quality jobs across the country. Airbus is also the largest export customer for the U.S. aerospace industry.
"We've been able to build a network and find the suppliers and technologies in the region that could add value to our operations," Williams says. "We have identified the key states where aerospace and defense are major employers, and we've worked with our network and supplier development team to build relationships and find the best options."
Supplier Engagement
Over the last 25 years, Airbus has spent $154 billion in the United States, working with hundreds of American suppliers. Its supplier network includes leading American aerospace companies such as Alcoa, Eaton, GE, Goodrich, Hamilton Sundstrand, Honeywell, Northrop Grumman, PPG, Pratt & Whitney, Rockwell Collins and Spirit Aerosystems. 
The procurement organization has been essential to the growth of Airbus Americas. The company has created a supplier development team based around the United States and focused on developing, training and assessing suppliers. It is also building an indirect procurement organization for the acquisition of ancillary goods and services. Additionally, its procurement marketing team is working with current suppliers throughout the region to find ways to expand business with existing suppliers while also looking for new suppliers and technologies. 
Central to all of this activity has been the Airbus Americas supplier engagement program. It plays a critical role in procurement marketing and supplier development. Airbus Americas believes in the importance of building relationships because it operates in a business that is known for long lead times.
"Our contracts with suppliers are often 15 years or longer," Williams says. "This is a highly technical and safety-intensive business, and long-term investments with major capital spend is required. Success for our suppliers and ourselves is key, as we are both reliant on one another. We are working to provide our suppliers with a deeper level of understanding regarding to what they are contributing."
Supplier engagement has been a major part of ensuring continuous improvement in the company's supplier relationships. The company regularly visits with suppliers on location and at industry events, and it recognizes suppliers for their performance. 
"We work hard to get the message out to suppliers from top to bottom to thank them for their work and motivate them for new challenges," Williams says. "We look for opportunities to challenge each other and look for incremental innovation to prevent the long-term relationships within the supply chain from getting stale."
Ongoing Growth
Airbus has continued to expand its American presence in recent years. The company is constructing an A320 family manufacturing facility in Mobile, Ala. To be known as the Airbus U.S. Manufacturing Facility, it will start producing A319s, A320s and A321s in 2015 and could employ up to 1,000 workers. Construction started on the $600 million facility in April 2013. Airbus is targeting 2016 for the delivery of its first A320 family jetliner. 
"The manufacturing center in Mobile is a huge step for us," Williams says. "The goal is to have it producing up to 40 or 50 aircraft a year by 2018."
As it continues to grow in the region, Airbus Americas understands that it must continue to engage with key suppliers on a strategic level. It plans to look for new technologies, seek ways to reduce weight and cost, and find solutions that can add value to its customers. In all aspects of its business, Airbus Americas will strive to be on the leading-edge of the market, utilizing state-of-the-art technology and vertically integrating its operations to ensure the highest level of quality and efficiency possible.  
"As we ramp up activity in the U.S. and throughout the Americas, we should be close to $20 billion in the region by 2020," Williams says. "We have to make sure we are managing our supply chain effectively and get the Alabama facility up and running. Our technology provides us with great advantages and can help us find ways to add value to the end-customer."