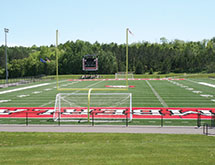 Whether it is in the United States or overseas, Ardisam Inc. maintains control by doing all of its product designs in house, Director of Import Compliance and Transportation Sandra Roberts says. "This is one of the many things that really sets us apart from other companies," she says. "It's not just off the shelf from China, with us."
Based in Cumberland, Wis., Ardisam Inc. designs and manufactures outdoor products, including lawn and garden, hunting, fishing, ATV, apparel and heating items. The company started its operations as a fabrication shop in a small garage in 1960 by Dick Ruppel and two other gentlemen from Cumberland, she says.
Dick Ruppel ultimately took over the company, which initially manufactured products such as its ice auger. This product was the starting point for Ardisam's Eskimo Ice Fishing line, which "is now rated as one of the highest brands out there in the ice fishing market," Roberts says.
The company also designed an earth auger, which began its Earthquake brand. "[It has since] grown into a large line of earth augers, chipper shredders, garden tillers, mini-cultivators, log splitters, water pumps, generators, string trimmers and even chainsaws," she explains.
In 1991, Ruppel's sons, Mark and Ron, took over the company when their father retired. Years later, Ardisam added Rivers Edge Treestands to its mix, which now is a separate company but still locally owned and operated.
In 2001, Ardisam began transitioning the majority of its manufacturing to China. "This took many years as well as many long extended trips by the owners and employees to China to find the key factories that had the capabilities to manufacture our quality products and deliver on time. We have built very strong long lasting relationships in China over the years," Roberts recalls.
Today, Ardisam and Rivers Edge have a complete staff in China that includes a quality inspection group, an engineering staff and a full staff of office employees. "Our company has grown and added brands at a rapid pace, and has been able to grow dramatically in the marketplace in many of our product lines," she says. 
Both Ardisam and Rivers Edge sell to many of the major outdoor retailers, including Cabela's Inc. and Gander Mountain, Roberts says. "We pride ourselves in having what it takes to design high-quality products, meet our customers' price points and the ability to deliver to our customers on time," she says. "We have exceptional customer service."
"Ardisam is a very giving company and has played a huge role in our small community having involvement in our local schools, such as the new Endeavor Stadium, The Boys & Girls Clubs, local charities and benefits," she adds.
Pride in Accomplishments Roberts has been with Ardisam just over 15 years. "I started as a re-buyer, basically buying on request," she recalls. "I also handled the importing-related aspects of the business, as far as purchasing and transportation, working directly with a forwarder as well as a customs broker to file our customs entries. At the end of 2006, I was approached by a company by the name of TRG Direct.
"This company presented to me a service that I didn't even know existed that allowed U.S. companies like ours to become set up to act as self-filers, working directly with [the U.S.] Customs and Border Protection on all of our imported shipments," she recalls, noting that she went through the set up process with Customs and training with TRG Direct for both Ardisam and Rivers Edge.
"By April 2007, I was electronically filing all of the company's customs entries, and to this day am still handling all Customs-related business including now the ISF electronic filing," Roberts says, noting that she has enjoyed the experience. "I absolutely love working with Customs and Border Protection, [and] attending seminars and webinars and meeting new people in the business. I learn something new every day." 
The company is particularly close with Customs in Minneapolis/St. Paul area, where the majority of its imports clear. "They know who Ardisam and Rivers Edge are," she states.
Another accomplishment, Roberts explains, is in 2013 she worked to get Ardisam and Rivers Edge set up in the Customs Trade Protection Against Terrorism (C-TPAT) program. This takes a lot of hard work, both on the U.S. side as well as the China side. Becoming C-TPAT Compliant is a very important accomplishment and has become more of a requirement with larger companies when deciding with whom to conduct international business. 
In addition to her current role, Roberts is also the product line manager of the Yukon Tracks Hat brand, another division of Ardisam. Roberts is the only woman product line manager with the company and states she has earned her status. "I personally try to travel to China at least once every other year," she says. "I feel it is important to have the actual face time with our suppliers as well as our Ardisam Inc. China Team."
Roberts currently has one person that reports to her. Michelle Blaser is the import transportation coordinator and handles the logistics side of the imports and much more. "She is my right-hand woman," Roberts states.
She is proud of her accomplishments with the company, and is grateful to work for a company that has allowed her to grow to such levels. "It hasn't been easy," Roberts says. "They must believe in me or I wouldn't be where I am in the company today. I look forward to the next challenge."
On Their Toes
Ardisam's forecasting, sales, transportation and procurement teams are heavily involved in the company's inventory. "There's a lot of forecasts that have to be monitored on things that we order all year round," Roberts says.
For example, "When it comes to things like the Yukon Tracks Hat line (winter hats), you've got a short ordering window," she says. "[Our] sales team has to stay on their toes, to get customer orders and forecast in on time, or the season will be missed."
Ardisam has enjoyed on average a 15 percent annual growth rate over the past five years, Roberts says. "I don't think there's too many mid-size companies based on today's economy that can [say] that," she says, noting that the additional business obviously led the company to grow its staff.
"We're like one big dysfunctional family," she jokes, but asserts that the company emphasizes teamwork. "When things get heated, that's when everybody pulls together and makes it work. Communication is the key. 
"We're also doing more branding of products," Roberts says, noting that Ardisam recently introduced its Porta Source portable generators and Gazelle ready tents. "[We provide] one-stop shopping for all your outdoor needs. We beat our competitors.
"They're on their toes, watching our every move," Roberts says. "We're growing in the industry [with every] product that we have out there. [We're] unstoppable."
Roberts predicts more expansion. "One thing I see myself doing is being able to travel and coordinate some types of warehousing/logistic possibilities to open up opportunities to capture business in the regions where we have little or no placement," she says.
This would include areas in the Eastern and Southern states, some including Arkansas, Texas and Oklahoma. "Just to name a few," she says. "[There's a] lot of homeowners and hunters out there; we just need to go get them."