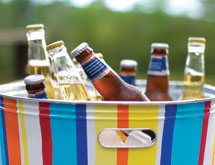 It's not difficult to find a good party in Central Florida. Tampa is so well known for its quality celebrations that Maxim magazine ranked the city sixth on its list of top party cities, and fun and good times surround Orlando with its Disney and Universal Studios theme parks. On the east coast of the region, Palm Bay – with its extensive coast line – is home to countless beach bashes. And, for the past 50 years, Wayne Densch Inc. has played an important role in these shindigs as the region's top distributors of Budweiser and Anheuser-Busch products.
Wayne and Nancee Densch started their business in the early 1950s in Waukegan, Ill., and after seven years of successful beer distribution, they were awarded the Anheuser-Busch distributorship for Central Florida in 1960. At that time, the company says, Budweiser was the No. 3 beer brand in Central Florida. Soon after Wayne Densch Inc. came to the area, however, the company built the brand to take the No. 1 position, and it maintains that market dominance to this day.
"As Budweiser and the Anheuser-Busch family of products grew to become the nation's best-selling beers, Wayne Densch Inc. settled into its role as the king of the market," the company explains. "Until his death in May 1994, Wayne Densch continued to lead the company in non-stop growth. A caring man with an exceptional personal character, he also set into motion charitable programs and community service projects supporting education and the arts.
"Today, the company's 140 employees use the latest in technology to serve more than 1,200 customers in a market share that has grown past 60 percent," it adds. "From new technology to community citizenship, Wayne Densch Inc. continues to emphasize the bedrock of its rise to the top: Quality equals success."
Community Stalwart
Wayne Densch worked hard to ensure Budweiser and the Anheuser-Busch family of products achieved and maintained a dominant position in the market, but it's likely he became even better known throughout Central Florida for his dedication to local charities and community service. "Wayne Densch was proud to be a part of the fabric of life in Central Florida and donated millions of dollars to the community," the company says. One of his first major examples of this came in 1986 when Densch donated $1 million to the University of Central Florida's (UCF) athletic program for scholarships. In gratitude of this gift, the university named its athletic building the Wayne Densch Sports Center and retired the UCF Knight's No. 1 football jersey in Densch's honor in April 2010.
In speaking with the university, Cran Riley, one of Densch' long-time friends and business partners, explained why UCF was so important to Densch. "Mr. Densch cared a lot about UCF," Riley said. "He was a real football fan, and when he found out that UCF was trying to make a football team and they were struggling, he wanted to know what he could do to implement or help UCF get their football team.
In addition to the Wayne Densch Sports Center at UCF, a number of other facilities throughout Central Florida were named after Densch in honor of his many contributions:
Sanford, Fla., is home to the Kids House of Seminole Inc. at the Wayne Densch Children's Advo­cacy Center, which works "to end child abuse and neglect through treatment, prevention, program development, education, community outreach, research, children's advocacy and training."
The Central Florida Council of the Boy Scouts of America operates its Scout Shop at the Wayne Densch Scout Center in Apopka, Fla.
The Wayne Densch YMCA Family center is located in Orlando, Fla., and has been named a model for education in the 21st Century by U.S. Secretary of Education Arne Duncan.
The Wayne Densch Performing Arts Center also is located in Sanford. In 2007, Wayne Densch Charities donated the building next door to the center's Theatre, which uses the structure as a rehearsal venue, space for community rental and for costume and prop storage.