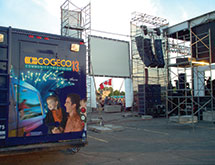 A diversified holding corporation, Cogeco Inc. (Cogeco) is a leading telecommunications and media company in Canada. Based in Montreal, Cogeco provides residential and business customers with television, Internet and telephone services through its two-way broadband fiber networks. It also provides business customers with information technology services, and it operates 13 radio stations across Québec and an out-of-home advertising business specializing in the public transit market.
"We provide customers with flexibility and extensive product offerings, and we are a very community-minded and customer service-focused organization," Chief Procurement Officer Erin Geldard says.
Extensive Footprint
Cogeco's subsidiaries include Through its subsidiary Cogeco Cable Inc., Cogeco serves Québec and Ontario under the name Cogeco Cable Canada, while it operates in the United States as Atlantic Broadband in western Pennsylvania, southern Florida, Maryland, Delaware and South Carolina. In addition, Cogeco Cable Inc.'s combined subsidiaries, Cogeco Data Services and Peer 1 Hosting, allow it to provide business customers with an array of IT services. Its footprint includes 20 data centers and more than 50 additional points-of-presence in North America and Europe. 
Cogeco's roots date back to 1957 when the Canadian Radio-television and Telecommunications Commission (CRTC) awarded Henri Audet a TV station broadcast license. From there, the company's journey has seen it grow through acquisition and eventually become a public company. 
Cogeco has long been a forward thinking company. In the mid-1990s, it was the first cable company in Canada to offer high-speed Internet service over its cable network. Recently, it has continued to grow through acquisition. 
"The company has made a lot of smart investments, including a number of acquisitions that have been beneficial," Geldard says.
In 2008, it created Cogeco Data Services after acquiring MaXess Networks and Toronto Hydro Telecom in Ontario. In 2010, it purchased Corus network's Québec radio stations, creating the Cogeco News agency. In 2011, it acquired Toronto-based Quiettouch, a provider of data hosting services for large companies.
2011 also saw Cogeco acquire Montréal-based MTO Telecom and Métromédia Plus. The following year, the company entered the U.S. market when it acquired Atlantic Broadband. And in 2013, Cogeco acquired Peer 1 Hosting, one of the world's leading IT hosting services providers. 
As of 2014, the company had revenue of more than $2 billion. 2014 also saw Cogeco TiVo Service launched in Canada. This year, Cogeco Cable Inc. is enhancing its position in the enterprise data services sector by combining its Cogeco Data Services and Peer 1 Hosting subsidiaries. This June, its Atlantic Broadband subsidiary entered into an agreement to purchase Metrocast Communications of Connecticut, which would extend its reach in the U.S.
Strategic Sourcing
As the company has grown, it saw fit to build a strategic sourcing team and ensure effective category management strategies. Since joining the company less than a year ago, Geldard has been working on hiring the right resources and having the right people in place. 
"As we build our playbook, our team must understand our business," Geldard says. "As we learn about the technology we utilize, we can build facts on suppliers and spend, validate information and evolve."
 Cogeco's sourcing team is striving to build trust throughout the organization through regular communication with company leadership and all internal departments. It has category managers in place looking at different areas of spend and working closely with the organization's leaders. 
Externally, Cogeco's sourcing team is building on relationships with suppliers and determining its top-tier suppliers from risk and financial perspectives. It is putting governance processes in place and working with major suppliers to make sure that all involved have a full understanding of each other's objectives.
As the sourcing team continues to become established within Cogeco, it understands that the right people and technological support tools will make all the difference. The organization is continuing to seek growth, and every major investment it makes will impact the supply chain. 
"We want to be involved in all projects from day one," Geldard says. "The company is working to ensure that we have products that can adapt to an increasingly mobile world, and we understand that we cannot be stagnant and must listen to the market to continue to grow." 
With new Cogeco products and services coming to market, Geldard's team must be able to support the business in all areas from a sourcing perspective and get the right agreements in place up front with suppliers. By supporting the organization, the team can build credibility and ensure that it is seen as partner, and not just a rubber stamp. 
"We will continue to grow our category management and vendor management platforms, as well as our governance of the supply chain," Geldard says. "As we build our playbook, we must be able to pull all of the facts together to suggest good strategies. There are many areas of information we must collect and summarize for us to make it actionable. Over the next two years, we want to build one of the best supply chain organizations in Canada."