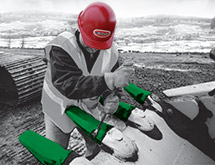 ESCO Corporation prides itself on being a global company that still has the ability to meet regional and local needs. "We're very focused on meeting customer expectations," says Jon Owens, COO of the Portland, Ore.-headquartered company. "All of our divisions try to be as close to the market and as close to our customers as possible so we can have the best information about the demand for our products going forward and make adjustments as necessary to align with that demand." 
The company operates 80 locations on six continents, including 25 manufacturing sites. The manufacturing sites supply both large distribution centers as well as smaller sites known as ESCO supply & service locations. These locations are strategically located near large customers or in parts of the world where ESCO's products are in high demand, and offer service and products specific to the needs of those customers and regions.
"We are in a highly competitive market, so one of the things we need to do well is ensure the delivery of the 'perfect order'," Global Supply Chain Transformation Lead Sesh Sarkar says. "We created hub-and-spoke networks centered around a distribution center that replenishes our supply & service locations to ensure we can have the right products to our customers sent to the right place and at the right time."
Diverse Offerings
ESCO is a leading developer and manufacturer of highly engineered wear parts and replacement products used in mining, infrastructure development, oil and gas and industrial applications. In addition to manufacturing and distribution, the company's core competencies include metallurgy; tribology, the science of wear; and design engineering. The company operates three divisions:
+ A mining division provides ground-engaging tools, buckets, truck bodies and other parts and attachments used at mining sites worldwide.
+ A construction and industrial division provides construction products including tooth systems, excavator attachments and crusher wear parts. It also supplies industrial products used in wood processing, dredging and other applications including cutter heads, metal recycling wear parts and structural rigging.
+ Lastly, an oil and gas division is comprised of two brands – Ulterra and Stabiltec – that were acquired by ESCO three years ago. The brands design and manufacture specialty drilling tools including polycrystalline diamond compact drill bits used to construct oil and gas wells, as well as downhole directional drilling tools including stabilizers, mandrels, top subs and housings.
From a supply chain perspective, the mining and construction and industrial divisions operate separately from the oil and gas division, which still uses the planning and other systems implemented by its previous owners. The company doesn't have any immediate plans to integrate the division into the supply chain operations of the other two, Owens notes. 
Staying Connected
The mining and construction and industrial divisions each conduct extensive sales and operations planning processes (S&OP). 
"Over the past five or six years, we have experienced rapid geographic expansion into a variety of markets around the world, especially in the mining business," Owens explains. "From a supply chain perspective, aligning all of these different geographies is the biggest challenge we've faced in recent years. 
"We've addressed this through our S&OP processes as well as through establishing a Planning Center of Excellence that looks at the planning processes for our products around the world."
Functional areas covering sales and operations within the divisions meet monthly to evaluate and balance demand and supply requirements for ESCO's global operations. Information from this process is cascaded throughout the organization and the Planning Center of Excellence coordinates the execution of this process centrally. "Before we established the center, we had planning organizations in different locations around the globe without any standard processes," Owens says. "We've gone from a fairly fragmented process to a more centralized and direct approach to planning."
ESCO's construction and industrial and mining divisions share a common enterprise resource planning (ERP) system that the company continues to expand to newly acquired or opened locations. 
"Improving our capability from a supply chain perspective gives us a strategic advantage," he adds. "We want to continue to deliver improvements to our systems that ultimately bring more value to our customers."
The company stores much of the data acquired from its ERP system in a central data warehouse. Supply chain personnel analyze and study this data as part of its planning and quality processes, Sarkar notes.
ESCO also links its ERP system to procurement and supplier platforms used by its vendors. "Our relationships with our suppliers are not just transactional, and we regularly evaluate and develop the work they do for us," he adds.
The company also continuously develops the skills and knowledge of its supply chain employees. ESCO provides its staff with training utilizing a variety of concepts including lean management. 
Owens credits the company's staff with its success. "I'm most proud of the people we have in the company," he says. "You can have the best systems and processes in the world, but without the right people to execute those you won't hit the mark. I think we have a highly effective team of people who are experienced in supply chain processes."