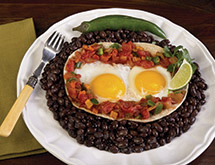 The nation's largest Hispanic-owned food company wants to become even larger. Goya Foods in April opened the doors of a new state-of-the-art corporate headquarters in Jersey City, N.J., as part of a $500 million global expansion planned over the next 10 years. 
The new center includes a 600,000-square-foot distribution warehouse and 42,000-square-foot corporate office space. In addition to the center in Jersey City, the company also recently renovated a 240,000-square-foot production facility in Secaucus, N.J. In total, the company invested $250 million to build or renovate nearly 900,000 square feet on 58 acres of land in the state.
"This marks the largest expansion in Goya's history," President Bob Unanue says. "This is the culmination of almost 80 years of hard work and part of a 10-year strategic plan designed to reach new consumers and strengthen the Goya brand worldwide."
The Jersey City facility is 100 percent powered by a solar energy system consisting of 12,000 panels on 11 acres of rooftop. The system will power the entire facility without drawing any energy from the public grid. "We are very excited to complete this stage of our strategic plan and to reap the overall benefits that it will provide," Executive Vice President Peter Unanue says. "We recognize the important role businesses play in leading the way for social and environmental change. Each new facility will enable us to operate more efficiently and environmentally friendly as well as support our growth for many more years to come."
The Secaucus production facility will also be equipped with solar panels as well as technology that will allow it to run a continuous line for Goya's rice mixes. "This will produce 600 packages per minute, six times faster than the current production capability," the company says.
Goya Foods operates a total of 26 facilities throughout the United States, Puerto Rico, Dominican Republic and Spain, including 12 U.S. distribution centers. Last year, the company opened three new facilities in Texas, California and Georgia. "Goya's cutting-edge, high-tech facilities will maintain its mission to produce authentic and affordable products with premium quality and superior taste to national and global markets," it adds. 
Founded in 1936, Goya long ago established itself as a leader in Latin American food and condiments. The company manufactures, packages and distributes more than 2,200 food products from the Caribbean, Mexico, Central and South America.
Improving Transportation
In addition to being equipped with solar panels, the Secaucus facility also added rail service, which will "significantly reduce transportation costs, traffic congestion and fuel consumption," the company says. Goya intends to convert thousands of trucks to rail annually, the company notes.
The addition of rail service is the company's latest effort to improve transportation efficiency. Since 2010, the company has utilized transportation management and warehouse management systems from Manhattan Associates in its distribution centers.
The warehouse management platforms help the company track product lots and manage expiration dates, among other functions. The transportation management system includes a freight invoice and procurement contract management system.
System Improvements
Goya's supply chain functions as a direct store delivery organization. The company's shipments to different grocery stores, even those located within just a few blocks of each other, may vary significantly based on the ethnic backgrounds of the customers of each store, according to the company. 
More than 500 Goya salespeople regularly visit stores and take orders. Orders are picked, loaded and delivered to stores on a next-day basis. All orders are filled from inventory in distribution centers, the company notes.
The company uses demand planning, order optimization and order fulfillment solutions from JDA Software. Before implementing the system, the company based its demand planning on an eight-week cycle, which proved inaccurate in forecasting seasonal and promotional items. The JDA demand planning system uses statistical forecasting methods with algorithms by SKU. 
"The fulfillment solution ensures that the right amount of inventory is at the right locations," JDA Software says. "Goya rarely has to move inventory from one distribution center to another anymore."
The inventory needed to meet demand for a particular product can be expanded to raw materials needed by the factories that produce that product. "In the past, from time to time, the company would be ready to start a production run and discover it did not have one of the key ingredients," JDA adds. "That does not happen anymore, and now, the company has fewer changeovers."
The fulfillment program has also been used by Goya to test vendor-managed inventory on SKUs produced by a factory in Puerto Rico and distributed in a few of the company's East Coast distribution centers. "The company's distribution center in New Jersey, for example, could place an order for an SKU for next week. Meanwhile, its center in Miami could place an order due in two weeks," JDA says. "Goya's production planners can now see inventory across all locations, see the forecast, look forward and create its own production orders. This improves production efficiencies by allowing for longer production runs."
The order optimization program translates product demand into purchase orders for raw materials used in Goya's factories as well as finished goods for its warehouses. "Previously, Goya's PO generation process had been time consuming; now it is highly automated," the software provider adds. "Buyers are required to review and approve the JDA-generated purchase orders, and 90 percent are approved. Building an order used to take 20 to 30 minutes, now it just takes two to three minutes. This allows buyers to spend more time developing new vendors and working on vendor relationships."
JDA software helped the company achieve its goals of a 98 percent service level without increasing inventory, as well as making buying more efficient and gaining the ability to add more short-life items, according to Goya.
Goya's future supply chain goals include expanding its vendor-managed inventory system and driving service levels up to 99 percent while reducing inventory levels, the company adds.