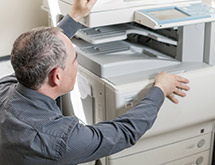 Headquartered in Minneapolis, Katun Corp. is an alternative supplier of compatible imaging supplies, photoreceptors and parts for the office equipment industry. With more than three decades of experience and more than 6,000 products to choose from, the company processes and ships orders for more than 13,500 dealers and distributors in 138 countries. "No other aftermarket company in the imaging industry can match the depth and breadth of our product offering across many different machine platforms," the company says.
Katun's "best-to-market" philosophy means that a product will not be brought to market until the company is sure it meets customers' performance expectations. "Unlike some other suppliers, who in their rush to be first to market either release a product before it is fully developed or use paying customers as their testing grounds, Katun thoroughly tests every product before it is made available for sale," the company says.
The company's products are often the only OEM-equivalent alternative available to dealers, especially when it comes to color products, the company says. "Katun's technical expertise and resources allow us to overcome design and development challenges that other suppliers can't," the company says. "In addition, Katun has developed products that actually perform better than OEM products or compensate for OEM machine design flaws."
Supply Chain
Katun's distribution and logistics goal is to provide customers with the best service in the industry. Its inventory management and distribution systems together are responsible for an industry-leading order fill rate, and efficient, competitively priced delivery worldwide, the company says.
From modest beginnings in a single 1,600-square-foot facility, Katun has grown to serve worldwide customers from numerous facilities in many different countries. The company's 120,000-square-foot North American distribution center in Davenport, Iowa, became fully operational in 1994 to serve customers throughout North America and selected international markets.
The 134,000-square-foot European distribution center opened in Gorinchem, Netherlands, in August 1995. This facility serves customers throughout Europe, Africa and the Middle East. The Far East distribution center opened in Singapore in September 1997 and brings enhanced service and more complete support to customers throughout the Far East, Southeast Asia, Australia and other nations. Additionally, Katun operates country-specific distribution centers in Brazil and Mexico. The company has dozens of customer service, sales and distribution locations worldwide.
Katun ships standard orders promptly and provides special rush services when needed, the company says. Its warranties offer the choice of credit or replacement. Company representatives have 24-hour, real-time access to information such as stock availability and order status. The company's 14 customer service centers are located strategically around the world, including in Mexico, the United Kingdom, France, Germany, Italy, Spain, the Benelux countries, Argentina and Brazil. 
Customers can order through Katun's online catalog or by phone, fax or e-mail to a customer service center. 
Private Supply Network 
Katun Corp. has integrated its systems with the private supply network (PSN) of ECi Software Solutions. ECi's PSN automates the process of exchanging business-to-business data. The Katun PSN integration lets dealers check Katun's stock availability and pricing in real time. It also enables purchasing agents to securely transmit purchase orders and receive Katun's acknowledgments of allocated inventory. By eliminating the need to enter item details or re-key orders manually, the system helps avoid human errors.
"Our partnership leveraging ECi's PSN technology is a valuable and strategic investment," remarks Brian Fredrickson, vice president of information technology for Katun. "We believe it goes a long way to help improve efficiency for our customers around the world, and bring Katun's pioneering innovations in the imaging supplies aftermarket to more independent dealers."
Katun also has incorporated "demand time" territory alignment software as part of the BEI Services component of the company's customer solutions program. "With the customer solutions program, Katun is investing in valuable, strategically-focused programs and services designed to make participants' businesses more efficient, profitable and successful," the company says.
The BEI Services component of this program was added as a way to partner with customers to analyze their businesses' effectiveness and give them a competitive edge in controlling service costs, thereby increasing their profitability. This new software distributes technicians' workloads using mathematical calculations from historic service data. It maps and creates territories and also will generate parts requirements by specific territories so dealerships know what to stock in technicians' vehicles.
"Katun's customer solutions program has been our premier loyalty program offering for the past several years," Katun President and CEO Carlyle Singer says. "We are excited about the new technology BEI is offering with their territory mapping program and the integration of this software as a component of the customer solutions program. Katun is always looking for new ways to support and partner with our dealer customers, and BEI's territory mapping is a prime example of this. We believe that dealers who utilize this innovative product offering from BEI while leveraging our customer solutions program to help support their initiatives will become more effective, efficient and profitable."
"Each Katun brand is established with a promise to deliver quality products that meet or exceed the expectations of our customers and their end-users," it says. "Combining that level of quality with significant cost savings is how we provide dealers with great value."