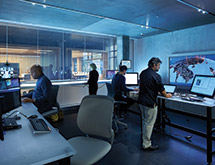 When most people think of Microsoft, they certainly think of the world's largest software company. But they may not be aware of the importance the company has always placed on the building and selling of physical products and bringing them to distribution channels. 
From floppy disks holding the first version of Windows in 1983 to the creation of the mouse, Microsoft has long been creating and distributing software and hardware via various methods.  This has given the company a unique perspective on the connection of the physical supply chain with the software world.
"We've always understood the need to manage the physical and digital supply chains in concert," Supply Chain Industry Manager Peter Vanderminden (recently retired) says. "Another aspect has been securing the digital supply chain, pioneering the creation of serial numbers for software products to be sure they are authorized and legitimate products, protecting against counterfeiting and hacking."
Recent Moves
Microsoft's supply chain and sourcing operations face many challenges today. Most notably, the decision to get into the business of creating the Surface tablet and the acquisition of Nokia have increased its manufacturing activities. The Nokia acquisition also added about 5,000 stores to its footprint.  
"About three years ago, we started setting up our own Microsoft stores and now have about 100 in the U.S.," Vanderminden says. "The acquisition of Nokia really increased our footprint outside of the U.S. There have been challenges relating to integration, new markets and partnerships."
Another ongoing challenge for the company's supply chain was the recent announcement  of the Microsoft HoloLens and its augmented reality capabilities. This product has applications in the consumer space for gamers and the Xbox platform, and it also has a lot of potential to enhance manufacturing and industrial operations. 
One of the areas that Microsoft has been focusing on is organizing its supply chain and optimizing its supply chain operations' reference (SCOR) model. This allows the company to have a common architecture and functional operating areas for its supply chain.  Those areas are key to the integration of Nokia operations. 
In addition, Microsoft is keenly focused on being the lowest-cost manufacturer in its space, working to bring products to customers at the best price point. It just announced a number of new phones for the Windows phone platform, which will come out mostly outside of the United States with very aggressive price points. 
"We want to manufacture the best smartphones at the lowest price points, and we've also opened up our cloud platform as more customers are looking to access cloud services," Vanderminden says. "We are allowing customers to put their software and apps into the cloud, and we are partnering with companies that may have once been seen as competitors. We have opened our cloud services to any company that wants to partner with us."
Working Together
Fundamental to all of this is creating collaborative relationships with vendors and suppliers. In the past, managing partner relationships may have been about ERPs, sourcing outside manufacturing and ensuring connected operations. Now, enhanced collaboration is critical. 
For example, when Microsoft released the current Xbox generation, it needed games that would run on the platform from day one. It needed to ensure collaborative engineering with partners that would build games for the Xbox. During the design and creation of the Xbox, Microsoft partnered closely with developers and suppliers in the gaming community so games could launch alongside the platform. 
"That gets you into the realm of enabling collaboration, and our partnership platform helps with secure collaboration and unified communication," Vanderminden says. "We needed to be able to share documents with rights management. We are working with confidential intellectual property, and customers of ours are now asking us for help in enabling secure collaboration with their supply chain partners." 
Ensuring Security
Securing the digital supply chain is an area where Microsoft has long been a leader.  The company pioneered the development of software license keys and the ability to validate licensed product. In conjunction with that, the company has built out extensive product security around vendor management tools. 
"We have one of  the world's largest identity authentication system, and our active directory is the largest identity management tool used across enterprises," Vanderminden says. "We're now doing it via the cloud in excess of  350 million identities a week and more than 18 billion authentications a day on our platform." 
Microsoft can validate and confirm the identity of the people it interacts with, and it can provide that capability to its customers. In addition, its digital crime unit provides monitors the health and security of its ecosystem of devices, tracking and tracing stolen keys and working with law enforcement to take down violators.
Critical to its efforts around collaboration is Microsoft Consulting Services. Its professional services organization, it allows the company to engage with customers and expose them to the ways Microsoft tackles things like IT and supply chain. 
"We can take lessons learned and directly engage with customers on how to best use our technology whether on premise, in the cloud or a hybrid model so it is secure and will work together," Vanderminden says. 
Among the challenges and priorities for the company are the continued evolution of the Internet of things, the cloud, the mobile world, and the intersections of those. Microsoft wants to build best-of-breed technologies and products in those three areas. Its customers expect that, as they are looking for guidance architecturally and with deployment. 
"Companies want to add Internet capabilities to their products, often in products that have never had that before to help them engage with their customers in new ways," Vanderminden says. "We can help bring those capabilities to their products by taking the lessons we've learned around managing our devices and products and making it available to customers."