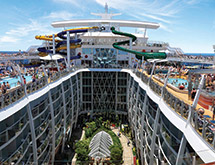 Keeping a world-class resort stocked with the finest foods and all the luxuries guests could want is challenge enough as it is. But what about when the resort is floating across the world's oceans? With ships that can carry as many as 6,318 guests and even more including crew members while offering countless dining and entertainment options, Royal Caribbean Cruises Ltd. has had to build a sophisticated supply and logistics network to ensure the satisfaction of every person on board.
Royal Caribbean is one of the world's premier cruise lines and controls 23.1 percent of the global cruise market, according to CruiseMarketWatch.com. The company's fleet of 42 ships is home to several of the planet's largest ships, including the record-holding twins, Allure of the Seas and Oasis of the Seas, which each weigh in at 225,282 tons. Trips can last as long as two months or a weekend, and Royal Caribbean sails to nearly 500 destinations including China, its most recent market.
The newest location has also proved to be one of Royal Caribbean's most challenging in terms of logistics, according to Michael Jones, vice president of supply chain. The country imposes strict restrictions on containerized shipments, limiting what products can travel through Chinese ports onto Royal Caribbean ships. To keep ships stocked with all the comforts guests demand and parts maintenance crews need, Royal Caribbean must ship many of its goods through South Korea. 
Further, while Europe and North America have extensive infrastructures in place to support the moving of supplies from port to port, in Asia, those ports are further apart and the infrastructure is not as robust. That has made it more difficult to use a central sourcing model in China, Jones says, forcing the company to find more items locally. "We're going to be able to support the ships we have over there," Jones promises. There are some benefits to the modified approach because creating a local supply chain allows Royal Caribbean to offer some unique flavors to its Chinese cruise guests through different types of poultry and beef. 
A Global Supply Chain
In adjusting to the needs of the Chinese market, Royal Caribbean was able to lean on its experience in providing different supplies to each of its brands. The company owns five brands that each cater to a unique demographic: Royal Caribbean International, Celebrity Cruises, Pullmantur, Azamara Club Cruises, CDF Croisieres de France, and has a 50 percent stake in TUI Cruises as part of a joint venture.
To provide for a worldwide fleet, Royal Caribbean's supply chain team has developed an extensive network of suppliers. The company sets a global price and the procurement group, which Jones heads, finds vendors that can meet those specifications for each market and brand. Items the team must obtain can include hotel supplies, food and beverage, fuel, marine technical products and most anything else that  would be required in a small city.
An extensive supply chain means that problems can crop up in unexpected places. Jones and his team collaborate with local governments to monitor the goods coming out of each country to ensure safety. "You always have to be on the alert for various things that happen that will cause risk in our supply chain," he says. Bird flu has been one of those issues; some countries prohibit poultry imports, and Jones is always conscious of the latest beef recall. Those outside factors can endanger guests, so the procurement team has made sure they have alternative sources of beef and poultry so when one supplier is shut down the ship will still have an available and safe supply.
It's one thing if chicken marsala is taken off the menu, but it's a much larger problem if an engine were to break down. Ships can be more than 1,000 feet in length, and what space not taken up by staterooms and activities is used for the equipment and systems necessary to operate the floating cities. There is not room to stockpile a spare part for every piece of equipment on board. Royal Caribbean has found centralized locations for its markets where it can airlift critical parts to service ships when necessary. The ship designs help with this problem, as well. " A ship is designed with significant system redundancy enabling it to make it back to port under the most difficult of situations," Jones says.
Environmentally Conscious
The thrill and pleasure of traversing the open ocean is what attracts cruise-goers in the first place, and Royal Caribbean has committed itself to becoming an environmental green leading company. For the supply team, that has led to initiatives such as reusing the pallets used to stock ships in port. But the most recent environmental effort will have a far larger impact. 
The company is installing advanced emissions purification (AEP) systems on ships that will remove more than 97 percent of the sulfur dioxide emissions generated by the ships' engines. The scrubbers go beyond the minimum emissions standards set by the International Maritime Organization. The scrubbers are being built in a closed-loop environment on each ship, which will keep waste contained until it can be off-loaded during docking. "That's one of the key differences between what we're doing and others are doing," Jones says.
The scrubber installation is being completed in phases. Newly built ships already have AEP systems and the scrubbers will be retrofitted on 19 other ships in the fleet during the next two-and-a-half years. Each conversion takes approximately eight months to complete and the timeline is determined in accordance with cruise trips and commitments to government agencies such as the Environmental Protection Agency. 
Ideally, Jones says the scrubbers would be installed while the ship is in dry dock, but many must be worked on while cruises are ongoing. That can create challenges as crews work while the ship is in motion and the necessary additional staff take cabins that could have gone to passengers. But Royal Caribbean strives to mitigate the impact on guests as much as possible. "You have passengers who tend to be understanding as long as you explain what you are doing and the positive environmental impact that it has," Jones says. 
Royal Caribbean has also invested in ways to cut energy expenses, which Jones says is the largest cost to the company. The cruise line is looking at technologies that reduce the friction on the hull and reuse heat generated during the combustion process. On the hotel side, ships have added occupancy meters that automatically switch off air conditioning and lights when no one is in a room, and LED light bulbs are being used to save energy. "There are things we're working on that have a quick payback and we're pretty excited about it," Jones notes.
With Royal Caribbean's latest massive ship, Harmony of the Seas, set to eclipse the size of Allure and Oasis next year, the company is clearly committed to continue offering passengers the grandest voyage in the world. Keeping them supplied will require constant attention and innovation from Jones and his team. "These are exciting times of continued global growth," Jones adds. The nature of this growth requires that we develop new supply partners in cities that we've not done business before."