Gartner Supply Chain Conference Wrap up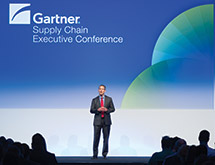 More than 1,500 of the world's most forward-thinking supply chain executives gathered for four days this past May at the JW Marriott Desert Ridge in Phoenix, Ariz. to participate in Gartner's Executive Supply Chain Conference. Five tracks of educational sessions, workshops and roundtables were delivered by more than 40 Gartner analysts and 25 supply chain executives highlighting their experiences on today's most critical supply chain initiatives.
The theme of the conference was "The Art of Supply Chain: Creative Solutions for the Next Generation."
Leading a supply chain organization of today requires a blend of soft skills and science. Today, success does not come solely in the ability to lead people. Success doesn't come alone in the application of technology. Success does not come just in the mastery of process. Supply chain executives must act as alchemists to weave these powerful threads into a tapestry that delivers excellence to our stakeholders. They must create positive social and economic impact wherever their networks reach. In an age of autonomous vehicles, big data, self-learning machines, aggressive regulatory governments, generational shifts and the push for business growth, the art of supply chain encourages boundary-pushing business innovation to create new sources of value.
The next generation is closer than many think. For many of the executives attending the conference with teams, their next generation was sitting beside them. For the rest, it is running their organization while they are away. The generation after that just entered the company or is preparing for the interview that will give them the experience that will shape the rest of their career and the future of your organization.
The conference theme allowed participants the opportunity to reflect on the art of blending people, process and technology to addresses the present and future.
Digital Business 
When considering the solutions needed for the next generation, it is difficult to ignore digital business. The impact of digital business on the future of the supply chain is both exciting and a bit scary. Consider these tidbits from the keynote delivered by Peter Sondergaard, Gartner's SVP of research:
+ In the next 10 years, the financial performance of one-quarter of firms will be weakened by competition that does not yet exist;
+ One in three current jobs will be converted to software, robots or smart machines by 2025; and
+ By 2018, digital businesses will require 50 percent less business process workers.
Sondergaard says machines will make sense of data faster than humans. Every piece of equipment will have embedded sensors monitoring every aspect of the supply chain. But he also mentioned that it's not all about the technology but also about the new type of talent that will be needed to apply it within the supply chain. This was driven home by Cisco's SVP of Supply Chain John Kern who stated that talent challenges are among his most pressing concerns. He contends the supply chain profession is facing its most massive talent shift ever considering the required skill shifts, location changes required of the supply chain and blending the dynamics of different workforce generations. 
Data is Key
The CSCO of the past was mostly concerned with ERP implementations and master data management. But now, supply chain design and supply chain analytics are in the top five priorities for leading enterprises. Advanced analytics are forming the brain of the enterprise, creating a new digitally conscious organization. The focus is on how the supply chain can consume and leverage data.
Kern illustrated the benefits of leveraging the Internet of everything to "connect the unconnected." 
For the supply chain, it increases visibility, supports proactive issue resolution, enhances the customer experience and provides data anytime, anywhere and on any device.
Frank Crespo, vice president and chief procurement officer of Caterpillar Inc., highlighted that through its data analytics, Caterpillar knows exactly how its machines are being operated and if the operator is fully utilizing the power and design of the equipment. It uses this information to provide increased productivity, efficiency, safety and value to its customers. Data is now the differentiating feature in supply chain.
Bi-modal Business
How is a business to cope with these changes? Gartner presented the bi-modal business model. Operating in a bi-modal fashion fills the divide between what the organization currently provides and what it needs now.
Mode 1 is traditional. It is the operational caretaker of the organization. It focuses on optimizing cost and operational excellence. The systems and processes that support it must be reliable, predictable and safe. Even though stability is core, change in Mode 1 is possible but there is an emerging second mode. 
Mode 2 is non-sequential and emphasizes agility, innovation and speed. Mode 2 enables the supply chain to be the growth partner of the CEO. This mode is about pursuing crazy ideas and succeeding in creative ways but also being willing to fail and learn. In fact, as Sondergaard mentioned, "70 percent of transformational projects fail but the rest can pay off in a big way."
In mode 2, you don't have a predefined plan.  You let the path define the direction. It is not about setting a single strategic direction and never changing. Consider BASF created BASF 4.0, which evaluates the opportunities and risks of digital to reinvent the organizations' products, business models, and manufacturing processes. It is tasked with creating "lighthouse" projects in a very short period of time. The company will launch 10 digital exploration efforts that need to be proven or fail in three months. It expects to use design principles and seek to foster new cultures.
Simply having a solid supply chain isn't good enough anymore. Supply chain executives must enable innovation and fluidity. There was a lot to think about, and that was from a small part of the overall conference.