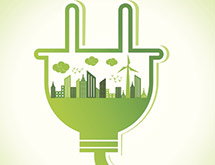 Smart meters free utility companies from having to dispatch meter-readers to collect billing information. What's more, they provide near real-time information about energy consumption. In 2012, the United Kingdom mandated that every residence and small business install smart meters by 2020 as part of a long-range plan to reduce carbon emissions. That equates to at least 53 million smart meters. Between 2012 and 2030, the policy will have a net benefit of an estimated $21 billion, according to an Oxford Economics research report commissioned by British Gas.
But reducing those carbon emissions and energy costs is anything but simple. For British Gas, the U.K.'s largest energy utility, the policy requires reinventing an aging supply chain management system. It needed to schedule millions of smart meter installations and track the flow of new and old meters between its distribution centers and customer buildings. With TCS' help, British Gas has modernized quickly: enabling an industrial-strength supply chain management system; accelerating implementation time without increasing errors; and establishing precise planning for a major reverse logistics initiative. 
British Gas needed the system to support the installation of millions of smart meters. It had to track supplies of the new meters, monitor the recovery of the old ones, process orders and direct service engineers in delivery vans to customer locations. It also had to optimize warehouse space. 
British Gas brought TCS in to implement the new supply chain system, and in less than the typical timeframe. It was implemented in nine months – much shorter than the typical 12 to 24 months. 
Achieving Goals
Installing new smart meters faster was only one benefit. Others included:
+ Lower warehousing costs. British Gas must pay meter suppliers extra money when a meter is stuck in its supply chain for more than 90 days. This project reduced the proportion of meters held over that limit by 75 percent, thus reducing costs.
+ A stronger reverse logistics capability. British Gas replaces old meters and recoups value by refurbishing and returning them to third-party suppliers. But they can disappear between when they're removed and when they're ready to be returned. The new system tracks 60 percent of these return assets.
+ Faster order fulfillment. British Gas can now handle meter requests from field engineers in five to six hours, instead of eight hours. The system handles more orders and provides field staff with the most efficient delivery route.
+ Automated business processes: supply forecasting, procurement and reverse logistics.  
Project Takeaways 
British Gas automated many manual tasks, redesigned inefficient supply chain processes and helped employees embrace and master new work routines. Three lessons stood out: 
1. Minimize software customization. Implementing a new supply chain management system is difficult. British Gas learned to stick as closely as possible to SAP software and avoid customization. Using software vendor-provided tools to map British Gas business processes to the supply chain system also shortened the project.
2.Roll out the project in phases. TCS advised British Gas to do the release in phases. The team chose system elements that could be deployed in four months, with the remainder five months later. The phased approach accelerated rollout. Teams could test and adjust elements of the system along the way. The approach demonstrated the system's financial benefits to senior management long before the last release was implemented and employees learned work routines earlier. 
3.Bring experts in business and technology change. The smart meter mandate forced British Gas to rapidly master new skills. We brought in experts in reverse logistics, large-scale order fulfillment and other business processes. Each supply chain process had IT and business experts assigned. 
These factors were critical to the project's outcome. As of June 2014, British Gas installed 1.4 million smart meters across the U.K. and now has the supply chain processes and systems to help the U.K. reach its goal of more than 50 million smart meters installed by the end of the decade.