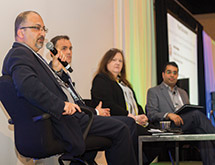 Building on this trend, an increase in the prevalence of flexible, center-led models indicates that top leadership in procurement is now occupied with more strategic roles. Forty-nine percent of procurement executives report that their departments are organized around a Center Of Excellence (COE), reflecting a longstanding trend of consolidation of oversight and jurisdiction within companies. 
What is interesting to note is that the newer, center-led model is behind by a margin of only ten percentage points, accounting for 39 percent of the response. Put in perspective, a decentralized procurement model was in use within only 12 percent of represented organizations. 
What becomes clear from these numbers is that procurement's increasing responsibilities can no longer be met within a decentralized environment. The consolidation of control within businesses is now being reflected in the structure of procurement departments themselves. 
Building Alignment 
In a center-led procurement model, the COE can have a centralized thought leadership function, creating policy and participating in goal setting along with other members of the C-suite. Given that procurement may be a globalized function, allowing individual procurement teams some flexibility within their own jurisdictions can help keep friction to a minimum, while at the same time ensuring that the proper oversights are applied to spend. 
As the COE is able to manage from a central vantage point without becoming bogged down in minutiae, it has room to become more closely aligned with the goals of the business at large. Forty-one percent of benchmark respondents indicated that the level of value placed on procurement by management was slightly above average, with an additional 39 percent reporting an average rating. 
These numbers, while not bad, have room to be improved, and in order to do so, a greater emphasis on internal salesmanship is being added to the hiring wish list of procurement departments. Ultimately, it is no longer enough for procurement to create savings on a case-by-case basis. Savings must be worked into the larger strategic plan of the organization. 
Standardized Process
Occurring in conjunction with the structural shifts within procurement departments is a movement towards more streamlined and digitally managed back office processes. Contract management can typically be the bugbear of an otherwise efficient team, in particular within cases where an overreliance on physical documents results in important papers being misplaced. 
Managing compliance language is the most common reason for contract delays, benchmark results found, with 52 percent of respondents listing it as a frequent setback. Developing a strong rapport with legal departments is in the best interest of procurement leaders, especially in the context of global procurement. Developing a roster of up to date contract templates can cut down the time it take to create legally compliant documents, although it is important to ensure that this process is not considered to be a replacement for proper oversight. 
Out of date contracts also hold up progress within departments, with 37 percent of respondents citing this as a source of frequent delays. Eliminating these inefficiencies is a priority for procurement officers looking for greater jurisdiction and strategic oversight. 
Making the Case
Ultimately, as procurement's role shifts within organizations and the structure of departments aligns around a COE, embracing the digital solutions that will allow for the maximum level of transparency and standardization will enable procurement leaders to fill a better strategic function within the ranks of executive managers. Gaining greater visibility on an organization's spending is key in order to demonstrate the effectiveness of departments, and through increasing the spend categories that procurement is responsible for, this effectiveness can be carried further by creating a more complete picture. 
While procurement has come a long way, in order to truly evolve, it must be made more efficient through technology and that efficiency conveyed through internal selling. The changes taking place in procurement are all to be covered in depth at ProcureCon West, hosted in Phoenix this September. The event presents an opportunity for procurement executives to network and share best practices, as well as participate in another round of ProcureCon's benchmarking survey. 
It will be interesting to discover if more organizations have gravitated away from a decentralized approach to embrace the benefits of a centralized and strengthened structure.