The Berry Family of Nurseries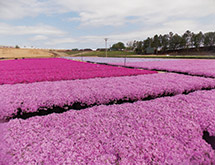 Founded in 1993, The Berry Family of Nurseries has grown into a leading nationwide nursery and logistics network in its industry. Originally owned by a family from Oklahoma, the company was acquired by the private equity firm Insight Equity in 2010. The Berry Family of Nurseries now offers a wide selection of high-quality plants, trees and shrubs to customers around the country.
Headquartered in Irving, Texas, The Berry Family of Nurseries has 7,500 acres at sites in Florida, North Carolina, Tennessee, Michigan, Oklahoma and Oregon. These strategic locations allow the company to have a strong, growing footprint.  The company has more than 4,000 employees in its peak season, which is from February to June for harvesting and loading of trucks for shipments. 
"We ship to retail big-box stores, regional stores and independent garden centers," COO Michael Jackson says. "The company is the largest wholesale plant provider in the industry.
In his role, Jackson works closely with all site general managers to ensure that all operating costs are managed effectively. On the supply chain and purchasing side, the goal is to buy the right products at the right price points to ensure the company has enough quality product at its nurseries and enough inventory for retailers and their customers. In terms of logistics and transportation, Jackson's focus is on making sure issues such as transport mode and load capacity are addressed. 
"At all levels, we must be efficient in growing, maintaining and shipping product while managing labor and operations costs," Jackson says. 
Inside and Out
Over the last 12 months, The Berry Family of Nurseries has been working to put together more accurate sales forecasts based on everything from customer demand and historical sales trends to its current product mix and throughput. By using more intelligence, it can devise a more robust sales forecasting and planning process. 
"We have strong partnerships with growers and breeders, working with them as far in advance as we can and getting volume commitments with structured pricing," Jackson says. "The end-result is less speculative bulk buying and more SKU rationalization." 
The company's outbound logistics operations employ a hybrid model split evenly among brokers, contract carriers, and a private fleet.  The Berry Family of Nurseries also has in excess of 170 trailers, which carriers can utilize to deliver to customers. 
"Working with contract carriers of all modes ensures adequate capacity," Jackson says. "Within the company we move a lot of freight, mainly from west to east, and we have better forecasting that allows us to move that more efficiently over rail."
Ongoing Evolution
Investing in lean Six Sigma to improve production and manufacturing has been a big focus for The Berry Family of Nurseries. It engaged in a pilot project launch at its Florida location to study process flow to find gaps and waste. The company was able to identify and implement improvement projects and save around $500,000 from the value stream mapping and Kaizen events facilitated. 
"We are standardizing processes, putting in auditing controls, measurements systems and training people," Jackson says. "Our intention is to duplicate that at our other sites and engage in a second wave in Florida." 
Other investments have focused on aggressively investing in capital equipment to expand automation capabilities and reduce manual labor and errors. The company has purchased farm equipment to automate processes and improve precision and larger tractors with boom sprayers for a more even spray of herbicides and pesticides. It is investing in equipment to increase shipments, and it has also built a new shipping dock. "We are leveraging automation to reduce labor costs and dramatically improve capacity and efficiency," Jackson says.
As The Berry Family of Nurseries continues to evolve and maintain its leadership position in the industry, it will seek to utilize a strong transformation strategy around supply chain operations. The company aims to have 80 percent of its product propagated internally, which will provide better economies of scale than purchasing finished goods. 
"We must have strong relationships with primary and secondary suppliers," Jackson says. "The lean Six Sigma journey will continue, and we will take best practices from the pilot project in Florida and move them across our entire footprint at the nursery, production, process discipline, material flow, supply chain and logistics, and transactional levels." 
The company plans to standardize processes across its entire enterprise while also putting S&OP processes in place with analytical tools that can enhance demand planning to the SKU level and ensure the right product mix at farm level. 
This will allow the company to ship product directly to its customers, reduce internal cost, maximize gross margins and ensure strong inventory levels for customers.  The Berry Family of Nurseries will also consider bringing logistics and transportation capabilities in-house.
"We will do everything we can to make sure we have the right inventory at the right nursery from quality and quantity standpoints," Jackson says.